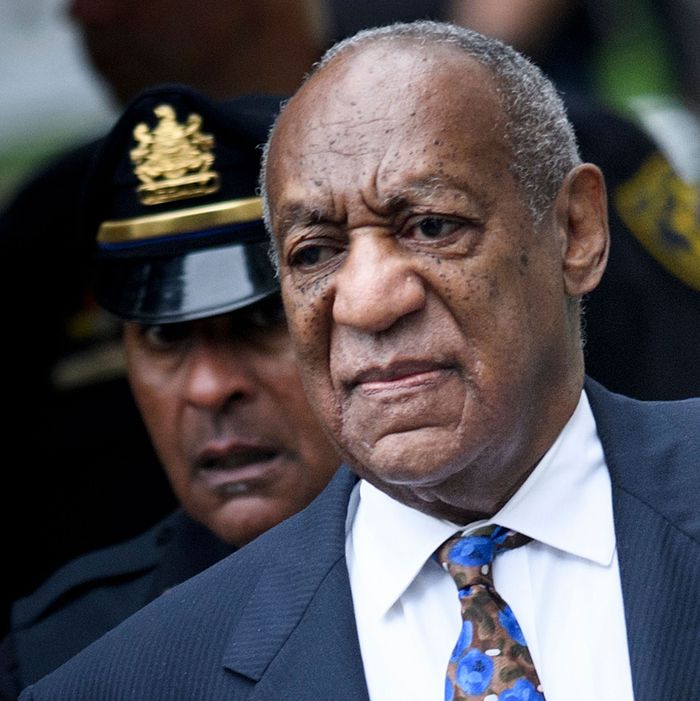 Photo: BRENDAN SMIALOWSKI/AFP/Getty Images
Bill Cosby arrived at what's expected to be a two-day sentencing hearing at the Montgomery County Courthouse outside of Philadelphia this morning. Rain didn't deter onlookers from catching a glimpse of the disgraced 81-year-old entertainer, who smiled as he was led into the courthouse on the arm of his handlers.
After being convicted of three felony counts of sexual assault and drugging former Temple University athletic director Andrea Constand during a retrial in April, the former TV dad now faces up to 30 years in prison. Cosby's first trial in 2017 ended in a hung jury — this was before allegations against Harvey Weinstein and other famous men became public along with the growing #MeToo movement. What a difference a year made. During the second trial in April of this year, the judge permitted five women to testify about being drugged and sexually assaulted by Cosby — and the jury unanimously found the comedian guilty of all three felony charges.
In Pennsylvania, the felony charges for which he's been convicted come with a mandatory sentence of at least one to four years each, though the judge could decide to give Cosby probation or house arrest due to his advanced age and health (Cosby says he's legally blind). Other considerations: Cosby's legacy and philanthropic work.
Since being found guilty this spring in what many say is a stunning victory for the #MeToo movement (he's the first famous man accused of sexual assault to be convicted during #MeToo), Cosby has been under house arrest in his sprawling suburban Philadelphia home. It's the same home where Constand says he assaulted her in 2004. It's also where he celebrated his 81st birthday this summer with a party that got so loud police were called.
As the two-day sentencing begins, all eyes will be on presiding Judge Steven O'Neill, who will ultimately decide whether Cosby is deemed a violent sexual predator (which would mean he would need mandatory counseling and be placed on the community sexual predator registry for life) or if he is simply sent home to serve house arrest with a GPS monitoring device as he's been doing. During a brief recess this morning, prosecution and defense have been arguing over the constitutionality of placing Cosby on the registry.
Despite the best efforts of Cosby's wife Camille to ask the judge to recuse himself from the case citing he was biased after it was revealed that he and the former DA, Bruce Castor, had an adversarial relationship (Castor said he would not prosecute Cosby during his tenure as DA), O'Neill refused to step down.
During a special event at a hotel in downtown Philadelphia yesterday, attorney Gloria Allred (she represents many of Cosby's accusers) celebrated the sentencing by literally dancing in front of the press and a collective of attorneys. "Judgment Day has finally arrived for this convicted sexual predator who betrayed the trust of so many women," she said. "It's time for him to face the consequences of his criminal acts."
She added that Cosby should not be treated differently because he's a celebrity. Allred is currently involved in a civil case against Cosby in California in which her client claims he drugged and raped her while she was underage.
Before the media even assembled today outside the courthouse where the hearing is taking place, Constand — the woman at the center of the retrial that ultimately convicted Cosby — tweeted a Bible verse: "Be wrathful, but do not sin; do not let the sun set while you are still angry; do not give the Devil an opportunity."
It's expected that Constand will make a statement at the hearing. She is seated on the prosecution's side, which is filled with other accusers and supporters (in contrast, Cosby's side of the courtroom is sparse). Her mother and sister both took the stand during the trial and could also make statements.
Initially, it was the prosecution's hope to allow other accusers to confront Cosby during sentencing much like the hearing for disgraced Olympic doctor Larry Nassar in which more than 150 young women spoke in court, but the judge rejected the motion. It was a somewhat surprising decision given that O'Neill allowed five women to testify during the retrial against Cosby, citing the state's so-called "prior bad acts" rule which can be used to show a pattern of behavior. It's unclear if, at the very least, the women who testified in the retrial will have the opportunity to make statements, or who from Cosby's camp will come to his defense.
Cosby will also have the opportunity to speak today or tomorrow, though it's unclear if he will do so. He did not take the stand in either his first trial in 2017 that ended in a hung jury or the retrial in April.
To date, more than 60 women have accused Cosby of drugging and/or sexually assaulting them over the past four decades. He has denied the accusations, saying many of these incidents were "consensual."