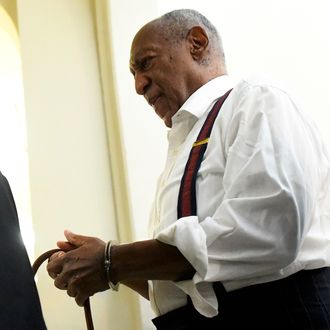 Photo: Mark Makela/Getty Images
Bill Cosby has been sentenced to three to ten years in state prison for sexual assault. Cosby was led out of the courtroom in handcuffs this afternoon on his way to the Montgomery County Prison for processing. "This was a serious crime," said Judge Steven O'Neill from the bench at the Montgomery County Courthouse outside of Philadelphia moments ago. "The day has come. The time has come." Cosby, 81, once considered to be "America's Dad," had no witnesses testify in his defense today. He will also be required to pay a $25,000 fine and court costs.
The sentence was reduced from a maximum of 30 years. It comes after the comedian was convicted of drugging and sexually assaulting Andrea Constand in his suburban Philadelphia home in 2004. The comedian's first trial in 2017 ended in a hung jury. He was later convicted of all three aggravated sexual-assault offenses during a retrial in April.
After much debate yesterday, both the defense and prosecution came to an agreement that Cosby would only face a maximum of ten years by merging all three felony counts into one for the sake of a swift sentencing. This is not unusual, say legal experts, when multiple charges stem from the same event. What is unusual is that after being convicted of these serious sex crimes in April, the judge sent Cosby home under house arrest rather than directly to prison, something prosecutors requested but were ultimately denied.
According to the state sentencing guidelines for similar offenses, Cosby could have conceivably gotten anywhere between 22 and 36 months in prison (plus or minus 12 months). The prosecutors originally asked for five to ten years, while the defense requested house arrest based on Cosby's advanced age and claim that he is legally blind. Many experts watching the case believed Cosby would face at least some jail time.
Cosby, a felon who is now officially classified as a "sexually violent predator" for life, will require mandatory counseling and community notifications.
For his part, Cosby did not make a statement to the court. When the judge questioned the usually chatty comedian about whether he understood his decision not to address the court, he audibly answered, "Yes."
Cosby was also asked if he understood the terms of his sentencing, most notably that he'll now be included in the state of Pennsylvania's sex-offender registry. He said he understood, though he did inquire if he would need to personally notify Constand of his whereabouts. The prosecutor explained that the process would be taken care of internally and that, no, he would not have contact with his victim.
"Good," Cosby said. "Good."
Throughout the almost two-day sentencing, the prosecution reiterated Cosby's crimes and what they call his "predatory" nature: "He violated Ms. Constand's trust, which, unbeknownst to her, he spent time and energy cultivating with the specific intent of having sexual contact with her. He also abused his power." They said he used "his stature at Temple University, and, of course, his acting success and public persona to facilitate his drug-induced sexual assault. The totality of his crime was severe."
The prosecutors also pointed out that Cosby has never admitted nor shown remorse for his crimes: "The defendant has never accepted responsibility for his crime, nor has he shown any remorse. Quite the opposite, he tried to silence Ms. Constand with money because he was concerned about his own potential financial harm if news of the assault became public."
Sonia Ossorio, president of the National Organization for Women of New York, praised Constand and each of the more than 60 women who have come forward to tell their stories about Cosby. "The courageous survivors who spoke out and the diligent prosecutors made his trial and conviction possible," Ossorio says. "They exposed Bill Cosby, and they helped pave the way for the #MeToo movement that is transforming our world."
Cosby's attorneys have already filed an appeal. The comedian also faces several civil suits in California in the coming year, as well as defamation suits around the country.
Update 3:15 p.m.: Cosby was placed in handcuffs by the Sheriff's Department, and his suspenders, shoes, and other personal items were taken away. It's unclear at this point where Cosby will serve his prison term.
In a statement read on the courthouse steps, Camille Cosby said the DA in the case used falsified evidence to convict her husband. She said she has evidence that a recording of Cosby has been doctored. The defense team is now seeking a motion for Cosby's immediate release from prison. (Her statement was read by a spokesperson. She was not present.)
Cosby's publicist Andrew Wyatt compared Bill Cosby to Jesus on the courthouse steps. He also called the trial and sentencing "racist." He accused white women of making money by turning Cosby into a black predator. He also said the judge conspired against Cosby and that the county used "falsified evidence."
"Mr. Cosby has shown no remorse," said attorney Gloria Allred on the courthouse steps. "This has been a long journey to justice for all of the accusers … justice day has come." She represents several of Cosby's accusers.
Update 4:52 p.m.: A mug shot of Cosby was released after he was processed at the Montgomery County Correctional facility.
Update, September 26 11:45 a.m.: TMZ obtained a new mug shot of Cosby as he was transferred to a maximum-security facility, the Pennsylvania State Correctional Institution. You can see the mug shot here.
This is an ongoing story. We will update it as we learn more.