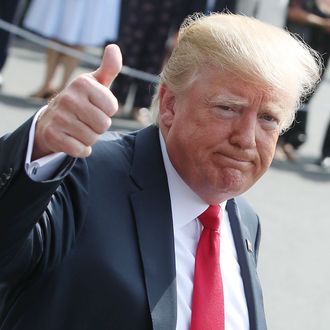 Donald Trump.
Photo: Mark Wilson/Getty Images
There are many theories as to why Donald Trump ran for president. Some say it was because Seth Meyers and President Obama made fun of him at the 2011 White House Correspondents' Dinner, others say it was to further his business, and this week, Michael Moore told The Hollywood Reporter that Trump ran for president because of former No Doubt frontwoman and The Voice judge Gwen Stefani. According to THR, Moore suggested that Trump was inspired to announce his run for president after learning that Stefani was earning higher performance fees from NBC as a judge on The Voice than he was as host of The Apprentice, because he thought staging his elevator-heavy campaign announcement at Trump Tower in June 2015 would show the network just how popular he was. Moore, who is currently promoting his upcoming documentary Fahrenheit 11/9, was reportedly "delighted with the audacity of the claim" after making it.
"He'd been talking about running for president since 1988, but he didn't really want to be president," Moore said. "There's no penthouse in the White House. And he doesn't want to live in a black city. He was trying to pit NBC against another network, but it just went off the rails." It is, indeed, a theory. And it's not hard to imagine that Trump, upon learning the distressing news that a woman was being fairly compensated for her work, would be prompted to do something drastic. Then again, maybe he just ran so he could spend more time fondling flags.