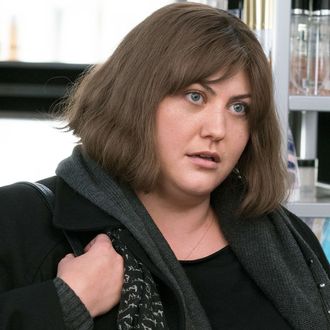 Nash.
Photo: Patrick Harbron/AMC
AMC has canceled its critically hailed comedic drama Dietland after one season, Vulture has exclusively learned.
Despite mostly positive reviews for the Marti Noxon–created series, audiences never turned out for the Skydance Television–produced show. Its heavily promoted June 4 premiere opened with a bit fewer than 1 million viewers (including three days of DVR repays), but by the time its finale aired on July 30, that audience was down to just 537,000 viewers (only 300,000 of whom showed up to watch the night it premiered). Among adults under 50, the ratings were even worse: A mere 158,000 viewers in the demo watched the finale.
An AMC rep confirmed the cancellation of Dietland, and offered a statement praising the show as "bold, original and brave" and noting it "garnered critical acclaim and passionate fans. We are beyond proud of our partnership with Marti Noxon, Joy Nash, Julianna Margulies, Skydance and everyone else involved in bringing Sarai Walker's story to the screen." AMC tried to make Dietland a summer event, with months of advance marketing and even an Aisha Tyler–hosted companion show. But even in an era when networks are willing to accept low ratings, the numbers for Dietland just didn't add up, particularly since so many viewers abandoned the show from start to finish (and didn't return for the finale). It probably also didn't help that AMC didn't produce Dietland itself, as it did with past low-rated season one series such as Halt and Catch Fire and Turn. As a result, the financial calculations became less favorable for AMC.