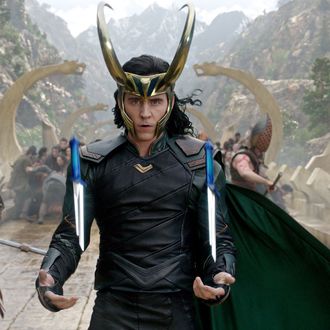 Tom Hiddleston as Loki.
Photo: Walt Disney Studios Motion Pictures
Disney has very big plans for its long-gestating streaming service. In addition to its already massive catalogue of classic properties, the company has announced plans for Star Wars shows, and now Variety reports that some Marvel series are in the works, too. The especially big part of this news is that the programs might feature some A-list supertalent. The company didn't comment for the Variety report, but stars like Tom Hiddleston and Elizabeth Olsen "are expected to play them in the streaming shows," which are speculated to have sizable budgets "rivaling those of a major studio productions [sic]." Disney is tapering off its licensing deals with other streaming hubs like Netflix so its own platform can be the exclusive home for native properties. And while there's currently no launch date for that yet-to-be-named service, it will likely arrive sometime in 2019.