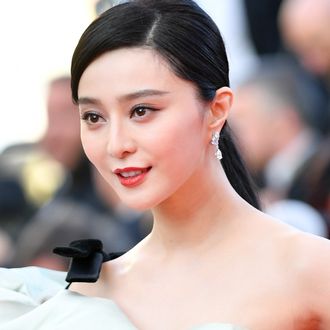 Fan Bingbing.
Photo: Emma McIntyre/Getty Images
Chinese actress Fan Bingbing is set to co-star in the upcoming thriller 355 alongside Jessica Chastain, Penelope Cruz, and Lupita Nyong'o, but that's assuming they're able to locate her. According to The Hollywood Reporter, Fan, who was recently China's highest-paid actress, became embroiled in a scandal earlier this summer over leaked documents suggesting she had misled the government about her income to avoid the country's heavy taxes on highly paid actors. The scandal has resulted in a lot of bad press and a major crackdown on celebrity pay in China. Meanwhile Fan, who played Blink in X-Men: Days of Future Past, has not been seen in public, or posted on social media, since July.
Speculation on where the actress is and what she is up to has since run rampant, with one viral rumor claiming Fan was "under the control" of Chinese authorities, although this story was later retracted. Others claim she's been spotted in Los Angeles, and has fled to the U.S. to seek asylum at the instruction of Jackie Chan himself, although he has denied this story. So, if you see her, at least let us know she's okay?