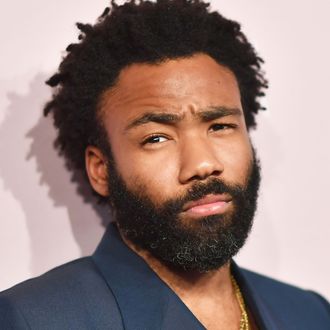 Donald Glover, feet not pictured.
Photo: ANGELA WEISS/AFP/Getty Images
We still don't know the identity of the person who masqueraded as Atlanta's Teddy Perkins at the Emmys, and now we've got an even murkier Donald Glover investigation to launch. What the hell is going on with his foot? On Sunday, Glover reportedly had to end his Childish Gambino show in Dallas early after sustaining an injury during "This Is America." Except no one really knows what happened or if the injury might've been preexisting. According to TMZ, he either was "attempting to do the splits and hurt himself" or "misstepped during a dance move." Either way, he never returned to the stage. But now TMZ is also reporting that when Glover performed at the iHeartRadio Music Festival on Friday, he arrived to the show in a wheelchair and leg brace, which he removed before going onstage. Then on Sunday, he "aggravated" a "preexisting" injury. But what was it? An official at the Dallas venue tells TMZ it's apparently a broken foot. But we have our own theory: After tricking us all into thinking that was him again as Perkins, turns out he's really just been cosplaying this whole time as Perkins's disabled former jazz legend brother, Benny Hope. We're onto you, Glover.
Update, September 26: Whatever is wrong with Donald's foot, it has now caused him to postpone the remainder of his Childish Gambino tour. His manager, Fam Rothstein, tweeted that Glover "played through the pain, but has to sit some dates out." He assured fans that the tour is not canceled, but will resume presumably whenever Glover's not doing the 75 other things that he's always doing.
Update 8:34 pm: Glover has announced re-arranged and makeup tour dates for shows that needed rescheduling due to his injury. The show scheduled for Seattle will be canceled entirely, however, due to facilities issues, and refunds will be provided to ticket holders.
December 2
Nashville, TN
Bridgestone Arena
December 4, 2018
Denver, CO
Pepsi Center
December 7, 2018
Vancouver, BC
Rogers Arena
December 11, 2018
Oakland, CA
Oracle Arena
December 12, 2018
San Jose, CA
SAP Center
December 15, 2018
Phoenix, AZ
Gila River Arena
December 16, 2018
Los Angeles, CA
The Forum (rescheduled from Sept 26)
December 17, 2018
Los Angeles, CA
The Forum (rescheduled from Oct 3)