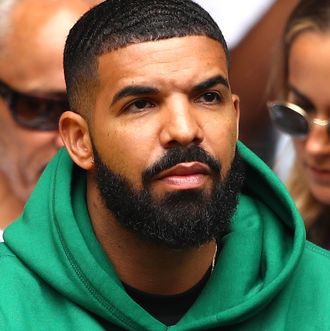 Drake.
Photo: Michael Steele/Getty Images
Drake has filed a lawsuit against a woman whom he claims to have had a consensual sexual encounter with, who then went on to allegedly make false accusations against him. The rapper met the woman, Layla Lace, after a concert in the U.K. in February 2017, when the lawsuit claims she "voluntarily and seemingly happily" performed oral sex on him. He then sent her home, which, according to the lawsuit, she did not like. Drake claims the woman created a "fantasy relationship" with him, and supplied text messages that he claims support this, which TMZ has posted. Lace then announced she was pregnant on Instagram in April of 2017, and even made an appearance on Sirius XM Radio to discuss the alleged pregnancy.
According to Drake, she then hired a lawyer in May and started demanding money from the rapper, but after allegedly refusing to take a paternity test, she ceased contact. The suit then claims that Lace went to authorities in New York to accuse Drake of raping her, and that the case was referred to authorities in the U.K. who interviewed and ultimately cleared him. She then hired a new lawyer who demanded money from the rapper in exchange for silence about the accusation. Drake is now suing Lace for civil extortion, emotional distress, fraud, defamation, abuse of process, and is also asking for unspecified damages.