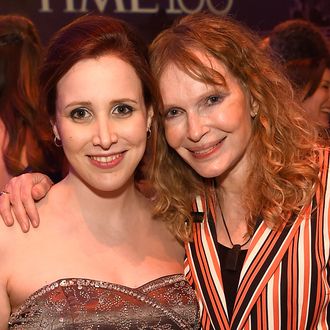 Dylan and Mia Farrow.
Photo: Kevin Mazur/Getty Images for Time
Earlier this evening, Vulture posted Daphne Merkin's New York Magazine profile of Soon-Yi Previn, the wife of Woody Allen and the adopted daughter of Mia Farrow. Shortly afterward, Dylan Farrow issued a statement, responding to Previn's description of their upbringing and reiterating her experience of alleged "abusive touching" by Allen.
"Thanks to my mother, I grew up in a wonderful home, filled with love, that she created," Farrow posted on Twitter Sunday evening. "I have a message for the media and allies of Woody Allen: no one is 'parading me around as a victim' — I continue to be an adult woman making a credible allegation unchanged for two decades, backed up by evidence." Farrow also made a statement included in the profile itself, denying Previn's accusation that their mother "pushed" or otherwise coached her to accuse Allen of sexual abuse, calling the claim "offensive." Said Farrow, "This only serves to revictimize me. Thanks to my mother, I grew up in a wonderful home."
Farrow followed that with a statement of support from a number of her siblings:
Not long after that, Dylan's brother Ronan Farrow issued his own critical response to the profile.
And New York Magazine released a statement explaining the reasons for publishing the piece: