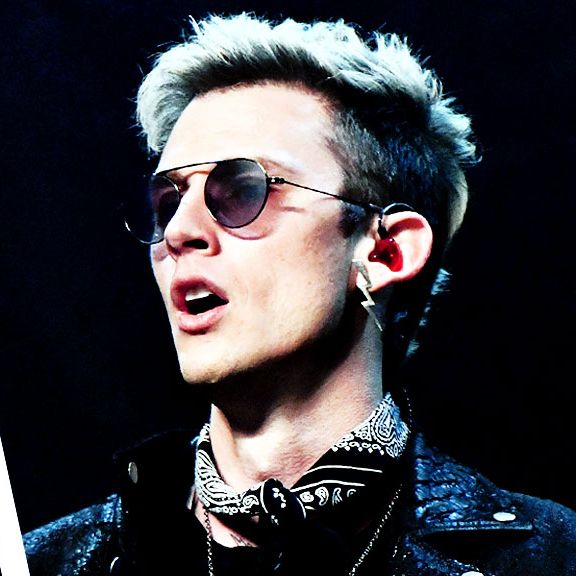 Eminem and Machine Gun Kelly are beefing and it's time to grab the flavorless popcorn. After two weeks at each other's throats over a beef that can be traced back to at least 2012, Eminem has officially issued the response to MGK's "Rap Devil" diss. But how did we even get here? Their beef first started cooking when MGK called Eminem's daughter Hailie "hot as fuck" when she was 16 and he was around 21, though it remained dormant for some years. Em told Sway Calloway earlier this week that he never even heard the comment until a year after the fact, then finally decided to address it in a diss on his surprise album Kamikaze two weeks ago.
However, that wasn't the real reason he dragged MGK on the album. Instead, he says, it was because of MGK's longstanding claim that Eminem sabotaged his career early on by having him blackballed at Shady Records and elsewhere, an accusation MGK further detailed in his Kamikaze response, "Rap Devil." Over a week later, Eminem has decided to lay this feud to bed and released, "Killshot," which exists to do exactly as its title strategically aims. There are no revelations of a secret child — just some good ol'-fashioned ethering. Let's run down the most fatal shots from Eminem's best song in half a decade.
"Stan, Stan, son, listen, man, dad isn't mad
But how you gonna name yourself after a damn gun and have a man bun?"
This one hurts twofold: First, it's Eminem reimagining his biggest hit "Stan," about an obsessed fan who idolized him to the point of insanity, as if the titular character were actually Kelly and this is who Stan grew up to be. And in doing so, he sons him. It also hurts because, well, you just don't talk about a dude's hair, bro.
"You're fuckin' salty 'cause young Gerald's balls-deep inside of Halsey"
Did we mention that in these same two weeks, somehow G-Eazy was also involved? It mostly had to do with G-Eazy and Machine Gun Kelly fighting over Eazy's on-again girlfriend, the singer Halsey, and who slept with whom. Here, Eminem gets in on the drama in his own typically graphic way.
"Say you got me in a scope, but you grazed me
I say one call to Interscope and you're Shwayze"
Rude as this song is to Kelly, it's almost even ruder to the folks who catch stray bullets elsewhere. One of them being the forgotten rapper Shwayze, who had that one "hit" then disappeared from wherever he came from. In reviving that dude's name, Eminem is threatening to also send Kelly into irrelevance with just one phone call, which is all the more cruel for being believable.
"But Kells, the day you put out a hit's the day Diddy admits that he put the hit out that got Pac killed, ah"
Would it be a rap beef without dredging up old conspiracies from the most fabled rap beef of all time? Eminem is making a play on words here by bringing up the long-believed theory that Diddy arranged for Tupac to be murdered as part of his East Coast allegiance to Biggie. And because both murders have never been solved (Johnny Depp and Josh Duhamel's best efforts be damned), well, hey, never say never. Of course, Eminem ends the whole response by cutting in to say he's just joking and it's all love between him and Diddy. It's the only line in this whole diss he doesn't want you to take seriously.
"I'd rather be 80 year old me than 20 year old you"
The meat of this beef is simple: MGK thought he could buy himself attention by attacking his hero for letting him down by aging ungracefully, which has then backfired by reinvigorating said hero to the point that he's impassioned and skilled enough to operate as he would have in his prime. Eminem has multiple jabs on this track about how age ain't nothing but a number and as washed up as MGK thinks Eminem is, MGK's looking like the geriatric rapper whose career is on life support:
"Ow, Kelly, ooh, but I'm 45 and I'm still outselling you /By 29, I had three albums that blew"
"My biggest flops are your your greatest hits"
"Cause as long as he knows I'm Shady, he's gon' have to live in my shadow"
Remember those stray bullets? Not even Iggy Azalea, an innocent bystander in this vanilla vortex ( for once), is safe.
"As big as you're gonna get, so enjoy it
Had to give you a career to destroy it
Lethal injection, go to sleep six feet deep"
Eminem won't admit that he sabotaged MGK's career, but he's not afraid to dangle the fact that he's always had the power to make or break it if he wanted to right in Kelly's face. And, somehow, that's gotta sting even worse knowing someone else could either help or hurt you at their own will and has happily chosen the latter.
"So just leave my dick in your mouth, and keep my daughter out it"
As if we'd make it out of an Eminem rap without at least one dick joke. Please.