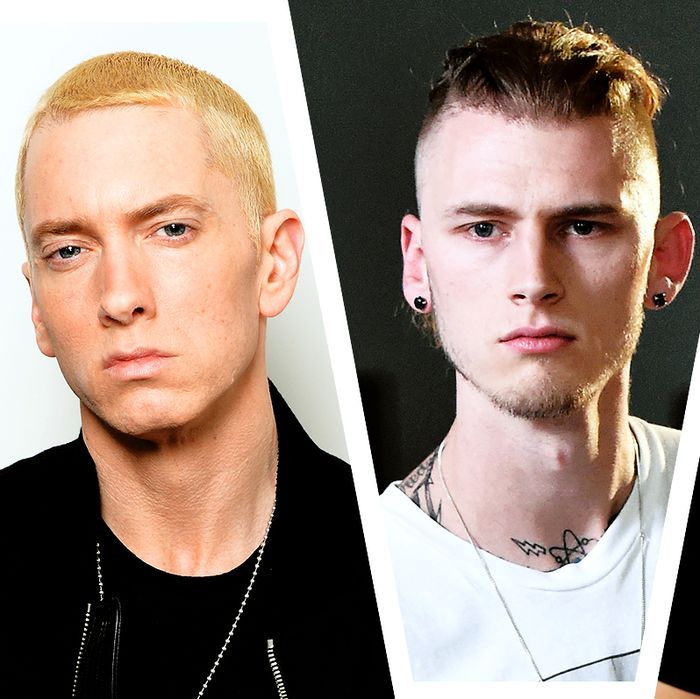 Brace yourself.
Photo: Getty Images
It may be PSL season, but the flat white is all year round, baby. Over the last three weeks, Eminem, G-Eazy, and Machine Gun Kelly have been beefing. Not all with each other, but all at the same time, making for a whole tangled web of confusion. Who's mad at whom and for what, exactly? Wait, which is which? And sorry, how is Halsey involved? Let us be your guide through the best unseasoned rap beef since whomever on Al Gore's internet Bhad Bhabie has cursed out this week.
August 31: Eminem drops his surprise album Kamikaze, which was about how much he wishes this new class of rappers would get off his lawn. Machine Gun Kelly is mentioned by name on "Not Alike" — which sarcastically borrows our girl Bhad Bhabie's flow — to get a few things off his chest: "Now you wanna come and fuck with me, huh? / This little cock-sucker, he must be feeling himself / He wants to keep up his tough demeanor, so he does a feature / Decides to team up with Nina / But next time you don't gotta use Tech N9ne if you wanna come at me with a sub-machine gun / And I'm talking to you but you already know who the fuck you are, Kelly / I don't use sublims and sure as fuck don't sneak-diss / But keep commenting on my daughter Hailie."
Now, back up, what's this about Eminem's daughter? This may be a shock to anyone over the age of 25, but Hailie Scott is no longer the child Em rapped nonstop about in his prime, but is now a 22-year-old Instagram model. And for that reason, MGK tweeted in 2012 (when she was 16 and he 21) that she's "hot as fuck." Em has not forgotten.
Later that same day: G-Eazy sideswipes MGK with a shot of his own on a song called "Bad Boy," in which he refers to MGK as his "mini-me." He mocks MGK's album sales and being jealous of his on-and-off relationship with Halsey: "Call a Uber, turn on the radio, imagine hearing me / 'Him & I's on, mad you're listening to Halsey sing to me."
Let's backtrack again. Over the summer, when G-Eazy and Halsey were on a break or something, a photo of Halsey with MGK on the beach surfaced that implied they might be a new Thing. Halsey, however, shut it down, saying the photos were old and she was single both then and now. She and G-Eazy have since rekindled their romance, but it appears G-Eazy didn't get the memo about MGK being a nonfactor.
Even later that same day: The longest day in vanilla rap history ended with MGK dropping a freestyle diss on Hot 97 coming for G-Eazy. His shots: G-Eazy copied his blond hair (an accusation he subliminally made over the summer) and, oh yeah, MGK did have sex with Halsey. (Her own denial be damned, apparently.) "I fucked his girl now he look like me / This shit overbearing / How dare him, I dare him," he rapped. He also posted an Instagram photo of himself and G-Eazy side-by-side, saying G-Eazy is his mini-me, not the other way around and that G-Eazy has been lying.
September 1: G-Eazy kisses his on-again girlfriend Halsey onstage. Which is the rap bro-y equivalent of screaming "Suck on that!" into the ether.
September 3: Oh, but don't worry. MGK didn't forget about Eminem. He drops a diss track for Em called "Rap Devil" (a shot at Em's "Rap God"), claiming that Em tried to sabotage his career early on. He later tweeted, "I'm standing up for not just myself, but my generation. I'm doing the same shit you did back in ur day. Life is still real on my side, and I had to take time from the grind to defend myself from someone I called an idol."
September 6: Hoo boy, it's reported that Eminem has an MGK response "in the works" that should have MGK shook. "I'll tell you this: I wouldn't wanna be [Machine Gun Kelly]," Em's producer, Mr. Porter teased. "It's great that you took that opportunity and did that, hey, kudos to you, good for you. You remember when Thanos threw that whole planet at Iron Man? It will be like that."
September 7: Eminem teases said response on Instagram Live with a video of himself playing Pac-Man, which is a sly reference to MGK's Pac-Man neck tattoos. (As in, yes, he'll be coming for MGK's neck.) So if MGK's been, say, hiding a child or something, now would be the time to air out that laundry before someone else gets to it first.
September 12: Eminem sits down with Sway Calloway to clarify why he even dissed MGK in the first place, saying it wasn't necessarily because of what was said about his daughter, which he didn't hear about until a year after the fact anyway. Though he didn't love that either: "You know you go down a fucking wormhole of YouTube and whatever, right? So I see, 'Machine Gun Kelly talks about Eminem's daughter' or whatever, right? So I'm like, 'What the fuck?' I click on it. Then he starts doing a press run, basically, about Hailie. I'm like, 'What the fuck? Yo, my man better chill, right?' So, that's not why I dissed him. The reason I dissed him is actually a lot more petty than that." Instead, Eminem dissed MGK over his claims that Em had him blackballed. "First he said, 'I'm the greatest rapper alive since my favorite rapper banned me from Shade 45,' or whatever he said, right? Like I'm trying to hinder his career," he said. "I don't give a fuck about your career. You think I actually fuckin' think about you? You know how many fuckin' rappers that are better than you? You're not even in the fuckin' conversation.
He now says he's conflicted about having to respond to "Rap Devil" with a new diss track, if only because it gives the false impression that MGK is somehow relevant enough to warrant a response. "Now I'm in this fuckin' weird thing, because I'm like, 'I gotta answer this motherfucker,'" he said. "And every time I do that, it makes that person — as 'irrelevant' as people say I am in hip-hop — I make them bigger by getting into this thing, where I'm like 'I want to destroy him. But I also don't want to make him bigger.' You know what I'm saying? 'Because now you're a fucking enemy' […] I'll leave it at that. I'm not sure exactly what I'm going to do at this point right now."
September 14: Look what we have here! Eminem has dropped his Machine Gun Kelly response, titled "Killshot," in which he imagines MGK as the Stan from 2000, and says things like "how you gonna name yourself after a damn gun and rock a man-bun," "feel like I'm babysitting Lil Tay," and "had to give you a career to destroy it." He also, uh, talks about leaving hickeys on Rihanna's neck (????) and how "young Gerald is balls deeps inside of Halsey." Gerald being G-Eazy. Well then.
Later that day: MGK responds to Em's response in a tweet clowning Em for his slowness to act, essentially saying his shot missed the mark. He also announced that he'll be dropping a new EP, Binge, on September 21.
Later later that day: Iggy Azelea, yet another porcelain rapper to be dragged into this, speaks her piece, calling Em's sideswipe at her on "Killshot" "lazy."
Even later that day: Because this feud could not get more Who-y, TMZ reports that MGK allegedly has his bodyguards beat up an actor named Gabriel "G-Rod" Rodriguez for calling MGK a "pussy for going for family" to his face at a bar in Atlanta on Friday night. (The comment was apparently in regard to MGK hitting on Em's daughter.) MGK is seen in a video pushing G-Rod and his phone out of his face, after which G-Rod says he was kicked out of the bar by its manager and then allegedly jumped by MGK's team at a hotel across the street.
September 16: MGK performs in Orlando wearing a shirt with the image of himself with a target over his head from Em's "Killshot" artwork. He opens the show saying, "the real Slim Shady can't stand up" (because he's old, get it?) and leading the crowd in a "Fuck Marshall Mathers" chant, suggesting that he's victorious. Reports from concertgoers later paint a different story, however, saying that the chant and diss weren't well-received and that he got booed offstage. (MGK claims Eminem's team edited in boos to footage from that show.)
September 18: And onto a third week! Eminem's "Killshot" sets the YouTube record for the biggest hip-hop debut in a 24-hour period, with 38.1 million views. The numbers don't lie, but MGK isn't bothered: "The legend just got punched in the mouth, of course you're gonna tune in," he later commented. "You're gonna go see Rocky's last movie."
September 20: MGK appears on the Breakfast Club to set the record straight about his history with Eminem. "He should've said [what he said on Kamikaze] six years ago," he said of Eminem's delayed response to his comments about Hailie. "Truth be told, we had handled it behind the scenes six years ago." According to MGK, he never spoke to Em directly to squash their beef ("he's a recluse"), but he handled it with Eminem's manager, Paul Rosenberg, "because that is as man-to-man as it gets with him." "And man-to-man, I'll tell you, 'I apologize. Can I take the tweet down? Sure,'" he added. "But public apology? C'mon man." MGK claims that despite thinking they'd moved past the tension, Eminem continued to shut him out at Shade 45 and at Interscope (his label). MGK also says he had "another clip" ready to unload on Em, but after hearing "Killshot" he "put that shit back in the holster" because it wasn't worth it. And if Eminem wanted to have a conversation if the dust ever settles, this would be MGK's response: "Fuck you."
And as for G-Eazy, because that's still not over with either, MGK maintains that he's slept with "many of" the same women G-Eazy has, but he never previously mentioned Halsey. "The 30-year-old and the 50-year-old said those names, not me," he explained. But just in case you're still wondering, MGK "absolutely" did sleep with Halsey, according to MGK. "But that was when she and I were rockin' on some flirty shit," he clarifies. "Ironically, back when I had [the man bun]. I don't know why [her name] keeps getting thrown around."
September 24: Eminem's "Kill Shot" debuts at No. 3 on the Billboard Hot 100, higher than any song on Kamikaze and also higher than "Rap Devil," which has peaked at No. 9.
This post has been updated throughout.