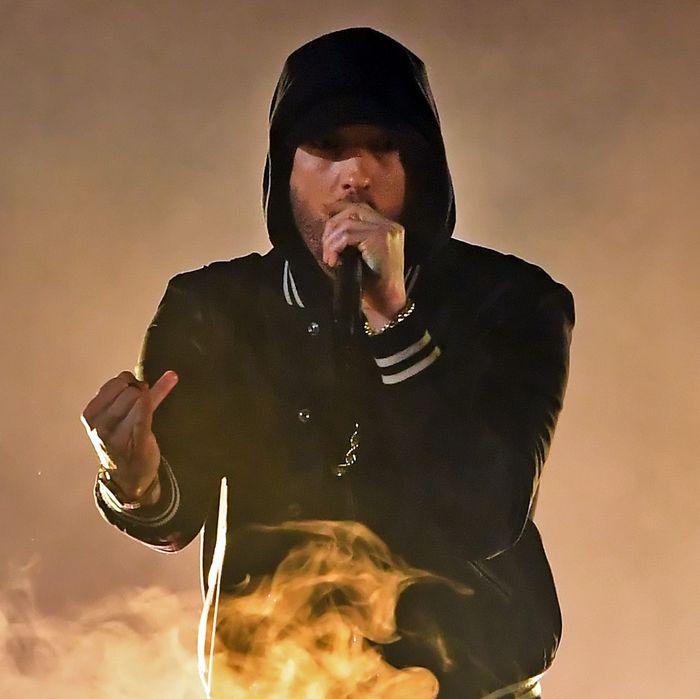 Yikes.
Photo: Kevin Winter/Getty Images
If ignoring beige beef is your thing, you are on the right side of history. However, we are sorry to report that Eminem has dropped a response to Machine Gun Kelly's diss to Eminem's other diss, and it is mercilessly lethal. It's also the best Eminem has sounded in half a decade. For context, on his surprise album Kamikaze, Em came for MGK's throat — he's that Cleveland rapper not named Kid Cudi, Pete Davidson's look-alike, the bad guy in Beyond the Lights, and Amber Rose's ex — on a track calling out MGK for calling his daughter, Hailie, "hot as fuck" in 2012 (when she was still underage). MGK later responded with "Rap Devil," accusing Eminem of trying to sabotage his career when he was coming up. After some internal back-and-forth about whether or not to give MGK even more attention than he's had in years, Em has dropped "Killshot." MGK never really had a career, but this has surely eviscerated what little was left of it.
In it, Em (of course) gets in his playground potshots ("how you gonna name yourself after a damn gun and rock a man bun" and "feel like I'm babysitting Lil Tay"), and drags innocent women into the fray (Rihanna, Iggy Azalea, and Halsey are all named). But its mastery and effectiveness is in calling up the narrative he first laid out on "Stan" in 2000 and rewriting its history as if MGK were Stan, the obsessed, deranged fan, all along. Behold Eminem literally sonning MGK: "Here's that autograph for your daughter, I wrote it on a Starter cap / Stan, Stan, son, listen, man, dad isn't mad / But how you gonna name yourself after a damn gun and have a man bun?" What unfolds after that is Eminem asserting himself as a rap elder still capable of playing with the youngins, while never letting them forget that doing so is just a courtesy. "Say you got me in a scope, but you grazed me / I say one call to Interscope and you're Shwayze," he raps, referencing another irrelevant rapper of yesteryear, and just how easy it would be to erase MGK altogether.
Eminem never outright cops to having MGK blackballed, as MGK claimed happened, but he does acknowledge he's always had the upper hand: "As big as you're gonna get, so enjoy it / Had to give you a career to destroy it / Lethal injection, go to sleep six feet deep." But the most painful jabs aren't about Kelly's appearance or lack of talent. They're about holding the mirror to his face and exposing him as the kid who failed to ever amount to his hero or, at the very least, make him proud. "I'm 45 and I'm still outselling you. By 29, I had three albums that had blew," Em raps. "I'd rather be 80 year old me than 20 year old you / My biggest flops are your greatest hits."
The bleeding of course doesn't stop just because Em's done wasting any further breath on Kelly. He viciously ends, "I'm sick of your blonde hair and earrings / Just 'cause you look in the mirror and think you're Marshall Mathers don't mean you are, and you're not about it / So just leave my dick in your mouth, and keep my daughter out it."