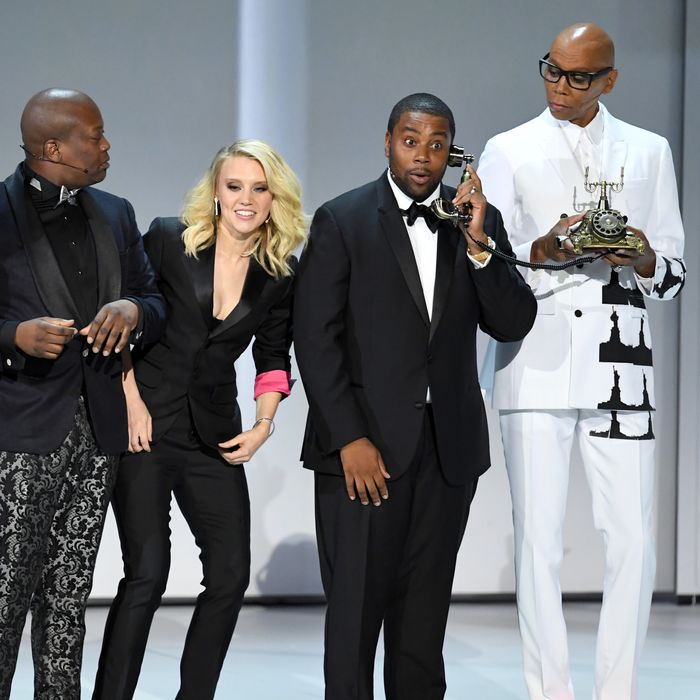 Photo: Kevin Winter/Getty Images
The Emmy Awards opened tonight with a parody song and dance sequence about how the show had fixed its problems with diversity, and then undermined themselves for the rest of the night. The long, very-white show included oh-so many awards for The Marvelous Mrs. Maisel, a surprising amount of love for Netflix's Godless and the horses in it, and a seemingly endless number of awkward pauses between hosts Michael Che and Colin Jost. Plus, there was a live TV proposal, and a mysterious appearance from Atlanta's Teddy Perkins. You can find the winners' list here, but for the true tally of how the night went, peruse our collection below of the highs and lows of this year's show.
LOW: Endless red-carpet spon-con. Ever wanted to hear Giuliana Rancic over-pronounce Samsung Galaxy 500 times a minute? E! has the coverage (and apparently, smartphone, tablet, and watch) for you.
HIGH: The brief moment when Kate McKinnon and Kenan Thompson walked out at the top of the show, and we wondered if they would be hosting the whole thing.
MEDIUM-HIGH: The increasingly awkward (and unintentionally meta) "We Solved It" song about how everything in Hollywood is okay now, with guests Tituss Burgess, Ricky Martin, Kristen Bell, Andy Samberg, Sterling K. Brown, RuPaul, John Legend, and the "one of each dancers." So cringe-inducing it's delightful — shout-out to Sandra Oh's delivery of "It's an honor just to be Asian" from the audience.
LOW: Colin Jost and Michael Che's tense, forced banter in their actual opening monologue. Someone get them them back to their Weekend Update desk, with some big cue cards and another SNL cast member to do the heavy lifting.
HIGH: Brian Tyree Henry reacting to that monologue:
Same.
HIGH: Henry Winkler finally wins his Emmy. "I wrote this 43 years ago!" Winkler announced, joyfully thanking a list of names before telling his adult kids, "You can go to bed now, Daddy won!" Hooray for the Fonz, now and always.
HIGH: Alex Borstein removing her jacket. Before walking onstage to receive her award, Alex Borstein took off her jacket as though she were about to do a striptease, told women to sit down when they use public restrooms, and called Amy Sherman-Palladino her friend ("I love you and I hate you"). Bonus: she wore her wedding dress!
HIGH: Sandra Oh fully commits to her presenter bit. She tore apart her envelope as part of a joke about speaking her truth, believably freaked out, screamed that the winner was La La Land, and then shouted out a guy she dated in high school. He could have won a directing award! They lost touch!
LOW: The presenters come out to banter after the nominees have already been introduced by some nameless announcer. Half the fun of the awards show is watching people internally freak out while trying to pronounce everything correctly, and if we don't get to watch that happens, what do we have in this lawless universe?
HIGH: Rachel Brosnahan stanning for democracy. While accepting the award for Best Leading Actress in a Comedy, Brosnahan took the opportunity to remind everyone to register to vote. Mrs Maisel is a show about "a woman who's finding her voice anew," Brosnahan said, "and one of the most important ways to find and use your voice is to vote."
HIGH: Teddy Perkins makes an appearance in the audience. If you aren't going to win the Emmys, haunt them, whoever you are.
LOW: Emmys history explainers with Maya Rudolph and Fred Armisen. In a very brief intro for Writing in a Limited Series, Bob Odenkirk and Aidy Bryant provided a goofy history of celebrities being forced to read bad scripted banter between awards. Those 20 seconds were milquetoast, and yet they were easily twice as funny as the actual "Emmys history" bits with Maya Rudolph and Fred Armisen. Rudolph and Armisen's deadpan lack of preparation was purposeful, but it was paired with Colin Jost and Michael Che's seemingly unintentional complete lack of charisma, and the whole thing was less funny than a half-hour prestige comedy.
AWKWARD MIDDLE PLACE: James Corden tried to address the direction of the evening by suggesting that everyone should get "EmmysSoWhite" trending. The crowd laughed uneasily.
SHOULDN'T HAVE BEEN A LOW BUT: Michael Che leads a "Reparations Emmys" segment, handing out Emmys to black actors, including Marla Gibbs, Kadeem Hardison, Jimmie Walker, Jaleel White, Tichina Arnold, and John Witherspoon, who were denied awards when their shows were on the air. It's a nice idea to highlight their work, undermined by Che's palpable boredom with everything involved with his hosting duties — plus a cheap Geoffrey Owens joke about how he's working at Trader Joe's.
WHOA: The proposal.
Glenn Weiss turned his acceptance speech for directing for a variety special for the Oscars into a proposal to his girlfriend. A baffling and yet movie choice, despite the fact that most public proposals feel very weird. The key upshot: Everyone in the audience reacted with genuine shock to something that happened that night for the first time.
HIGH: Specifically Betty Gilpin's reaction to that proposal.
She's crying and confused and overwhelmed, and so are we.
HIGH: Thandie Newton's delivery of "I don't even believe in God, but I'm gonna thank her tonight" after winning her Emmy. Good work, God.
HIGH: The elation of The Americans team after Joel Fields and Joe Weisberg won an Emmy for writing the finale. The Americans crushed your heart into beet juice, but at least it won a damn Emmy!
HIGH: Hannah Gadsby delivers the post-comedy Emmys presenter's speech, makes the Emmys briefly, actually funny. Gadsby joked about how far she'd gotten simply because she hates men. "Nobody knows what jokes are. Especially not men," she said. "Am I right, fellas?" Then for the bumbling finale, after Stephen Daldry won an Emmy but wasn't there to accept it: "So I guess I just leave now."
HIGH: Matthew Rhys winning his first Emmy and acknowledging that Keri Russell said she'd punch him if he proposed to her during the ceremony.
LOW: Keri Russell not winning an Emmy, because that is bullshit.
LOW: Lorne Michaels's odd "Hey, at least TV networks still exist, so hooray" speech in the middle of Netflix and Amazon winning everything else.
LOW: How is this show still so long?! They cut out so many awards and give them out at the Creative Arts Emmys earlier, and yet the show still runs three hours. Three hours would be a respectable time for an awards monstrosity … if more of it had been funny!
LOW: The Sound Mix. If you're going to have so many bits, ya gotta mic the audience loud and proud. The sound mix made the whole thing play like one of those YouTube videos of Big Bang Theory without the laugh track.
LOW: Game of Thrones for Outstanding Drama?
The shrug says it all.