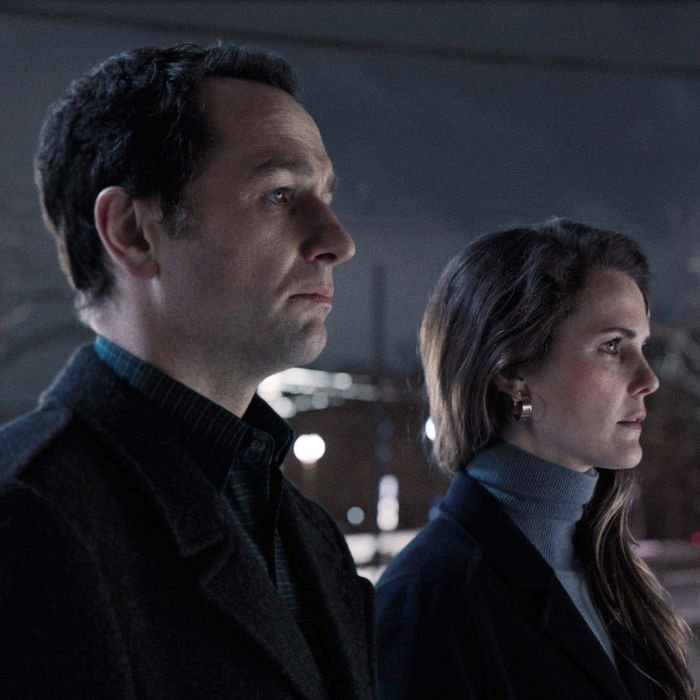 The 70th Emmy Awards air Monday, September 17, and all this week, Vulture TV critic Jen Chaney and New York Magazine TV critic Matt Zoller Seitz are breaking down the major categories with Emmy predictions for variety series, limited series, comedy, and drama. What will win? What actually should win? That's what we're here to determine.
Today's focus: Drama series.

Outstanding Drama Series
• Game of Thrones (HBO)
• Stranger Things (Netflix)
• The Americans (FX)
• The Crown (Netflix)
• The Handmaid's Tale (Hulu)
• This Is Us (NBC)
• Westworld (HBO)
Westworld improved on its freshman season, but it's still so conceptually dense and narratively complex that it's hard to imagine Emmy voters handing it the top prize. Watching it probably feels too much like work for some voters. Every other nominee in this category has had better (in some cases, much better) seasons, particularly Game of Thrones (a global phenomenon heading into its final season) and The Crown (which has comparable sweep, but without all the savage fantasy violence).
This Is Us, Stranger Things, and last year's winner A Handmaid's Tale all struggled to equal or top nearly perfect freshman seasons, and in the case of Handmaid's, there were complaints that the show was rubbing the audience's nose in misery rather than finding new notes to strike. But there's still a strong chance that any of the three (or any of the other ongoing series, for that matter) could take the top prize anyway, because shows that have won Emmys are exponentially more likely to continue winning Emmys.
The Americans, meanwhile, had one of the most consistently outstanding final seasons in recent memory, and notched one of the best-ever finales, but the Academy of Television Arts & Sciences hasn't shown it much love in the past, so it would count as a minor miracle if it decided to give it a going-away present of this magnitude (acting or writing awards seem more likely, though they're still long shots).
The Emmy should go to … The Americans. For the finale alone, but really for all of it.
The Emmy will to to … Probably A Handmaid's Tale — or perhaps The Crown, because it's very English, plus a good many Emmy voters would prefer that everything be on Netflix because it's just easier that way.
Outstanding Lead Actor in a Drama
• Jason Bateman, Ozark (Netflix)
• Matthew Rhys, The Americans (FX)
• Milo Ventimiglia, This Is Us (NBC)
• Sterling K. Brown, This Is Us (NBC)
• Jeffrey Wright, Westworld (HBO)
• Ed Harris, Westworld (HBO)
Jason Bateman is adept, likable, and unnerving on Ozark, a.k.a. Discount Breaking Bad, and has enjoyed real success as a big-screen comedy lead this year. He might've been the obvious front-runner in this category, were it not for his abject failure (along with other male co-stars of Arrested Development) to properly side with Jessica Walter in a notorious New York Times interview that illustrated how men tend to reflexively close ranks and protect other abusive men without realizing they're doing it. The show is still widely liked (at least it seems that way to me anecdotally; almost everyone who asks me about my job wants to discuss it), so he could win anyway; it's just not a sure thing.
Matthew Rhys and Jeffrey Wright are the most technically impressive performers nominated in this category, playing multiple iterations of the same character in the same episodes, and inhabiting every version so full that it's as if none of the others existed. And both have a powerful emotional component if you're willing to tune into the show's somewhat analytical wavelengths and get past the fact that the characters aren't really likable in any conventional TV sense; but Emmy voters have proved consistently unwilling to do this, which is why it took The Sopranos' James Gandolfini and Mad Men's Jon Hamm so unconscionably long to win prizes in this category. (Rhys could sneak in if The Americans unexpectedly beats the odds and wins a bunch of major awards to create a mini-sweep, especially if his onscreen and offscreen mate Keri Russell wins Best Actress; but it's never happened in the past, so why would it happen now?)
Milo Ventimiglia is wonderful on This Is Us, but his nomination seems entirely a function of This Is Us finally giving us all the details about his character after dancing around them for a season and a half. If he wins on that basis, it'll seem kind of fluky. Sterling K. Brown deserved it last year and deserves it again this year, and has been such a star presence across media (in films and on variety and talk shows) that he might have the necessary presence to take the prize again as if by right. Ed Harris is as accomplished and uncompromising a presence as has ever appeared on any screen, small or large, but his incarnation of the Man in Black is still so opaque and chilly (even after that wrenching episode starring Peter Mullan as his father-in-law) that it'd be a shock if he got compensated for his Westworld work. His co-star Wright has a slightly better shot, and even that's a long shot, because somehow you never sense the effort that must've been involved in his performance(s), and in situations like this, actors who make it look easy tend not to reap rewards (unless it's just his time — and wouldn't it be great if it were?).
The Emmy should go to … Rhys. For the parking-garage scene in the finale alone — what an acrobatic display of tone-shifting that was!
The Emmy will go to … Probably Brown, because he's great, he's royalty, because he won last year, and the character is beguiling.
Outstanding Lead Actress in a Drama Series
• Sandra Oh, Killing Eve (BBC America)
• Tatiana Maslany, Orphan Black (BBC America)
• Claire Foy, The Crown (Netflix)
• Keri Russell, The Americans (FX)
• Elisabeth Moss, The Handmaid's Tale (Hulu)
• Evan Rachel Wood, Westworld (HBO)
Tatiana Maslany wasn't any less awesome in her final year of Orphan Black than she was in any of her other years, but she finally won an Emmy in 2016 for her performance as multiple characters on the series, and that was such an unusual occurrence in itself (given the sort of series it was) that it's hard to imagine her repeating two years later. Claire Foy is masterly as young Queen Elizabeth II in The Crown, the sort of production that seems tailor-made for these kinds of contests, and was even more impressive in her second outing than in her first. Last year's winner, Elisabeth Moss, could repeat because of Academy reflex and the deserved admiration she commands (she was nominated for Top of the Lake and multiple times for Mad Men), though the slight pushback against season two of The Handmaid's Tale could hurt her chances. Wood was movie-star material in season two of Westworld, but the same shift that made her character more dynamic (a vengeful-action-heroine role with lots of scenes where she got to threaten people) paradoxically gave her fewer subtle shadings to play.
Keri Russell would have been a deserved winner in any year for her work as the fiercely maternal, patriotic, brutally violent spy on The Americans, arguably even more so for her final outing, a season in which the chickens come home to roost for the Jennings family. But here, as in other categories, it's hard to imagine a voting membership that had never warmed to her character before suddenly doing so. Her main competition could be Sandra Oh, a well-liked industry veteran who got the role of her life as the title character in a great series (though one that was regrettably not nominated in the top category), and gets to be screwball-funny as well as sexy and dark. She's also a history-maker as the first Asian woman nominated in the category.
The Emmy should to to … Russell, because she's been excellent but subtle throughout her stint on The Americans, and this is her last chance in the role.
The Emmy will go to … Oh, even though she'll have many more chances, because she's just as impressive, and because of the historic nature of her nomination.
Outstanding Supporting Actor in a Drama
• Nikolaj Coster-Waldau, Game of Thrones (HBO)
• Mandy Patinkin, Homeland (HBO)
• Matt Smith, The Crown (Netflix)
• Peter Dinklage, Game of Thrones (HBO)
• David Harbour, Stranger Things (Netflix)
• Joseph Fiennes, The Handmaid's Tale (Hulu)
Nikolaj Coster-Waldau and Peter Dinklage continue to be superb on Game of Thrones, and as a two-time winner in this category, it's always possible that Dinklage could repeat. But the series has struggled a bit creatively in its second season without George R.R. Martin's source material to adapt, and the characters felt a bit thinner this time around. Patinkin, a four-time Emmy nominee for Homeland and seven-timer overall, could benefit from the sentiment factor (plus the excellence of his submitted episode, "Species Jump," which is built around an investigation, a situation where his character tends to shine).
Dashing as he is as Prince Philip on The Crown, Matt Smith might be too subtle to take this one (John Lithgow won last year for playing Winston Churchill, a far showier part). Joseph Fiennes is uncompromisingly un-self-aware as Commander Waterford in season two of The Handmaid's Tale, a "Good German" role that resonates with current events, but that could just as easily be a minus as a plus. Repeat nominee David Harbour is far and away the most crowd-pleasing choice here, and even though Stranger Things was unsteady in its second season, he got some of his best material, playing opposite the preternaturally assured Millie Bobby Brown (also a repeat nominee for the series) as her character's guardian.
The Emmy should go to … Patinkin. After an early burst of affection, the Academy largely seems to be over the show, though it continues to nominate it in certain categories; but Patinkin is a wily pro who was at the top of his game this season.
The Emmy will go to … Harbour, because who doesn't love this character, and this performance? As the character's name, Hopper, suggests, it's got a touch of Dennis Hopper's smart-alecky hard edge in 1980s supporting performances, but also the broad-shouldered leading-man magnetism that Harrison Ford brought to American cinema during that same decade. Plus, he's acting opposite Eleven, which makes him look even better than he might've already.
Outstanding Supporting Actress in a Drama
• Lena Headey, Game of Thrones (HBO)
• Vanessa Kirby, The Crown (Netflix)
• Millie Bobby Brown, Stranger Things (Netflix)
• Yvonne Strahovski, The Handmaid's Tale (Hulu)
• Ann Dowd, The Handmaid's Tale (Hulu)
• Alexis Bledel, The Handmaid's Tale (Hulu)
• Thandie Newton, Westworld (HBO)
With three out of seven slots claimed, this category is either The Handmaid's Tale's to lose or the category it can't win because of vote-splitting. Ann Dowd has the best shot because she won last year, though as strong as she and Yvonne Strahovski were, my sentiments are with Alexis Bledel, who's giving something reasonably close to an old-fashioned silent-movie performance where it's all in the eyes.
Lena Headey is up for the fourth time in this category for playing Cersei Lannister on Game of Thrones, but if the Academy didn't give it to her for her "walk of shame" year, or the year when her character settled all family business in a kinetic and ultimately explosive montage à la Michael Corleone, it's hard to see why they'd finally hand her the statuette for this last season, except to make up for past opportunities to honor her.
Millie Bobby Brown had slightly juicier material this year than in season one of Stranger Things, even though the series was weaker overall, and her character even got a stand-alone episode that felt like a dry run for an Eleven-centric spinoff, but she's so young that voters might figure, "What's the rush?"
Thandie Newton might deserve it most, purely because of the technical precision demanded of every recurring character playing a lead role as a synthetic person on Westworld. Like her colleague Jeffrey Wright, who's up in the Lead Actor category for the same series, she's essentially playing several parts in the same drama (if you consider the different iterations of self-awareness plus the character's memories of herself in flashbacks as separate but related performances, and I do). But it never seems like a purely theoretical exercise because of the emotional transparency that Newton has brought to pretty much every role she's played in the past, on film and in television.
The Emmy should go to … Newton. There isn't a single frame of her performance on Westworld that isn't both impeccable and affecting. And the extra-dramatic factor of her being one of the most famous voices in the #MeToo movement might give voters one more reason to mark her name on the ballot.
The Emmy will go to … Dowd again.
Outstanding Direction
• Game of Thrones, "Beyond the Wall," Alan Taylor (HBO)
• Game of Thrones, "The Dragon and the Wolf," Jeremy Podeswa (HBO)
• Ozark, "The Toll," Jason Bateman (Netflix)
• Ozark, "Tonight We Improvise," Daniel Sackheim (Netflix)
• Stranger Things, "Chapter Nine: The Gate," The Duffer Brothers (Netflix)
• The Crown, "Paterfamilias," Stephen Daldry (Netflix)
• The Handmaid's Tale, "After," Kari Skogland (Hulu)
This is the "Go big or go home" category, and has been ever since Game of Thrones staged its first big battle episode; nobody should be surprised if Thrones wins here, because the only thing more impressive than the sight of HBO burning through incredible piles of money is when they do it with real showmanship, as was definitely the case in both "The Dragon and the Wolf" and "Beyond the Wall."
The latter is jaw-dropping in its audacious enormity, which is really saying something, considering what series we're talking about here. It's clearly the episode to beat, although "Chapter Nine" of Stranger Things — the one where all hell finally breaks loose after eight hours of buildup — could pull an upset, particularly if enough Emmy voters treat watching the series as a parent-child bonding experience (as is the case in the Seitz household).
It's a shame that sweep and volume tend to drown out the comparatively subtler pleasures to be had in this category's representative episodes of The Crown (no slouch in the production-value department, and with Oscar nominee Stephen Daldry behind the camera); Ozark (featuring the star directing himself, always a favorite Emmy activity); and especially The Handmaid's Tale. "After" is the only nominated episode in this category directed by a woman, Kari Skogland, and in sheer lyrical horror, it equals or exceeds anything involving dragons, zombies, or extra-dimensional creatures.
The Emmy will go to … Alan Taylor for "Beyond the Wall," because damn.
The Emmy should go to … Kari Skogland, for an episode with images that owe as much to real-world photojournalism as they do to dystopian sci-fi.
Outstanding Writing in a Drama Series
• Game of Thrones, "The Dragon and the Wolf," David Benioff and D.B. Weiss (HBO)
• Killing Eve, "Nice Face," Phoebe Waller-Bridge (BBC America)
• Stranger Things, "Chapter Nine: The Gate," The Duffer Brothers (Netflix)
• The Americans, "Start," Joel Fields and Joe Weisberg (FX)
• The Crown, "Mystery Man," Peter Morgan (Netflix)
• The Handmaid's Tale, "June," Bruce Miller (Hulu)
The only two contenders I'm really bullish on in this category are the series finale of The Americans ("Start") and the pilot of Killing Eve ("Nice Face"). The former, written by series creators Joel Weisberg and Joel Fields, was one of the best series-enders in years, an episode that should've been up for direction as well. Not only did it pull off that impossible trick of surprising die-hard fans with events that they didn't see coming and that were as good or better than what they'd imagined, it functioned equally well in several different modes, including the borderline stage play (the parking-garage scene) and the extended montage (the final section was nearly wordless, and at times had the sustained emotional intensity of a late-period silent film).
Phoebe Waller-Bridge's "Nice Face," on the other hand, was pure pop delight in comparison to The Americans' inky Russian tragedy. I've watched it four times now and would gladly watch it one more time, because it's note-perfect. Just remembering that razor-edged opening scene puts a grin on my face.
The Emmy should go to … Either The Americans or Killing Eve. The end or the beginning.
The Emmy will go to … Killing Eve, because it's so much damned fun, and because Emmy voters know from industry meet-and-greet events how charismatic and hilarious Phoebe Waller-Bridge is (even if they've never seen a frame of her excellent Amazon star vehicle Fleabag) and will want to see her absolutely kill up there onstage.