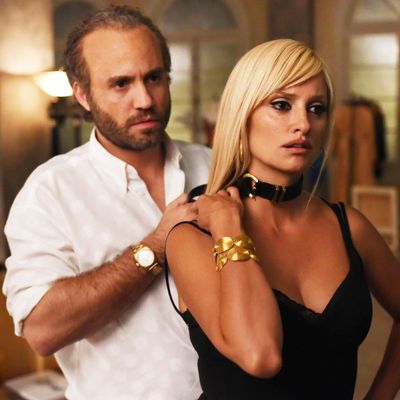 How many Emmys will
American Crime Story
win?
Photo: Ray Mickshaw/FX/FX Networks. All rights reserved.
The 70th Emmy Awards air Monday, September 17, and all this week, Vulture TV critic Jen Chaney and New York Magazine TV critic Matt Zoller Seitz are breaking down the major categories with Emmy predictions for variety series, limited series, comedy, and drama. What will win? What actually should win? That's what we're here to determine.
Today's focus: Limited Series.
Outstanding Limited Series
• The Alienist (TNT)
• The Assassination of Gianni Versace: American Crime Story (FX)
• Genius: Picasso (National Geographic)
• Godless (Netflix)
• Patrick Melrose (Showtime)
"Limited series" used to conjure thoughts of the prestige network mini-series, which told a multipart but self-contained story that was under no obligation to keep going. (Though it did when the ratings were big enough. See: Rich Man, Poor Man; Roots; and The Winds of War, among others.) In the past few years, however, the phrase has increasingly described anthology shows where the unit of measure is the season rather than the episode. This year is no exception.
The Assassination of Gianni Versace: American Crime Story and Genius: Picasso are officially anthology series — the second entries in their respective franchises. In theory, The Alienist and Godless could go on as well, by, respectively, giving the titular alienist a new case to crack, and either revisiting the Western town of Godless or telling a new story that exemplifies the same themes of gender conflict and feminist empowerment. The only one of the five nominees that feels somewhat like a throwback is Patrick Melrose, but even that one is derived from a series of novels by Edward St. Aubyn featuring the title character (played here by Emmy nominee Benedict Cumberbatch). If the Emmy voters shower it with statuettes, it could turn into something along the lines of Prime Suspect — essentially a regular series with long gaps between seasons.
National Geographic's Genius: Picasso would seem to check all the right boxes: It's a period piece about an unpleasant, well, genius, played by a one-time movie star, Antonio Banderas, who's aged into the "character actor" category but still gets a chance to be sexual, flamboyant, and volatile here. The show's first season got ten Emmy nominations, including one for Oscar winner Geoffrey Rush in the title role as Albert Einstein, but went home empty-handed. I expect a similar shutout this year, with competition being so stiff, and with Hannah Gadsby having done a tap-dance on Picasso's "difficult" reputation in her much-discussed Netflix special Nanette. The Alienist seems tailor-made, too, though sewn from a different pattern: Set in post–Civil War New York, and recounting the roots of what we now call criminal profiling, it's adapted from Caleb Carr's best-selling novel, essentially The Silence of the Lambs by way of Gangs of New York. But it didn't make the sort of splash that TNT wanted, and despite strong performances and atmosphere, it's mainly a triumph of world-building.
The Assassination of Gianni Versace: American Crime Story is the most challenging, in some ways off-putting nominee, focusing much of its attention on Versace's killer, Andrew Cunanan (Emmy nominee Darren Criss). It works its way back in time from the shooting of Versace through the early 1980s, to create a Memento-like psychological profile that doubles as a study of Reagan-era homophobia and self-loathing. It's also the most acclaimed title in this category, with 18 nominations—and four off-camera wins already for hairstyling, makeup, casting, and costumes. In sheer audacity as well as indifference to being liked, it's the front-runner, but that could ultimately be what trips it up in the top categories, where audiences tend to react poorly to material that takes a clinical and dire approach to its subject matter. It's still possible that it might sweep anyway as a gesture to super-producer Ryan Murphy, who had one of the best and most significant years in TV history with this, FX's Pose (which fell outside of the eligibility window for this year's Emmys), and the FOX drama 9-1-1 (popular enough to get renewed but not respected enough for Emmy nods) all in the same calendar year. In any case, look for Versace to claim some behind-the-camera awards.
Which leaves Godless and Patrick Melrose. The former, Scott Frank's brutal, elegant Western Netflix series, was criticized (mildly, all things considered) for not making as much of its premise as it should've early on — it's set in a community run by women, but initially focuses on the sorts of hard-bitten men who always anchor these kinds of tales — but it eventually became a word-of-mouth sensation and ended up on a number of best-of-the-year lists. The combination of lush production values (it was even shot in CinemaScope ratio!), singular vision, strong ensemble acting, and the show's "discovery" status make it a sleeper candidate to take the top prize.
But it's still going to be damned hard to beat Patrick Melrose, which is caustic, sexy, sad, super-duper-English, and anchored by a movie star with a mellifluous baritone voice whose character destroys himself with Don Draper–like flair.
The Emmy will go to … Patrick Melrose. Come on, now. It's like it was engineered to make the Anglophiles that populate the Academy cry a single tear of joy over a stiff upper lip.
The Emmy should go to … The Assassination of Gianni Versace: American Crime Story. I've been reviewing TV for over 20 years, and I've never seen anything remotely like it, thematically, stylistically, or structurally. Only a producer as powerful and audacious as Ryan Murphy could've made it happen. Yeah, sure, it's ostentatiously monumental and cold, but so are the Great Pyramids. And it makes a perfect, albeit alarming companion piece to Murphy's other 2018 FX production, Pose, which is set during the same era.
Lead Actress in a Limited Series or Movie
• Jessica Biel, The Sinner
• Laura Dern, The Tale
• Michelle Dockery, Godless
• Edie Falco, Law & Order True Crime: The Menendez Murders
• Regina King, Seven Seconds
• Sarah Paulson, American Horror Story: Cult
This is another scorcher of a category. Jessica Biel, a comedy-drama switch hitter for much of her career, went super-dark (and tactically opaque) in The Sinner, playing a murderer whose motivations were unpacked over the course of a season. In The Tale, Laura Dern incarnated the sensitivity and rage of the #MeToo era as the avatar of director Jennifer Fox, gradually coming to understand her childhood experience as sexual abuse. As Alice Fletcher, the Godless farm owner who stands up against evil, Michelle Dockery submerges the Downton Abbey primness that made her an international TV star, and looks as secure wielding a firearm as Lillian Gish at the end of The Night of the Hunter. Edie Falco's performance as Leslie Abramson, counsel for the title characters in The Menendez Murderers, created a mesmerizing impersonation of a real woman many of us are quite familiar with, then went beyond that to make her a psychologically complex character. In Seven Seconds, Regina King outdid herself as the mother of a teenage boy mistakenly run over by a cop who then covered up his crime; the performance is so raw that it's difficult to watch. And of course, Sarah Paulson, a.k.a. the Meryl Streep of Ryan Murphyland, was riveting and touching in a part that could've been a one-note, even one-joke gimmick, playing a woman gripped by anxiety following Donald Trump's election to the presidency.
The Emmy will go to … Michelle Dockery. She's a Brit who was on Downton Abbey, she's an excellent actress, and she's playing a gun-toting American woman in a Western.
The Emmy should go to … Regina King. She outdid herself here, which is really saying something. She's been so excellent for so long — recently on HBO's The Leftovers and on three consecutive seasons of ABC's late, lamented American Crime — that fans started to wonder if she was at risk of being taken for granted. Seven Seconds itself got mixed reviews and didn't seem to make much of an impression on the wider culture, which is a shame. Her already-buzzed-about work in Barry Jenkins's If Beale Street Could Talk ought to return her to the forefront of awards discussions, though.
Lead Actor in a Limited Series or Movie
• Antonio Banderas, Genius: Picasso
• Darren Criss, The Assassination of Gianni Versace: American Crime Story
• Benedict Cumberbatch, Patrick Melrose
• Jeff Daniels, The Looming Tower
• John Legend, Jesus Christ Superstar
• Jesse Plemons, Black Mirror, "USS Callister"
As Picasso, Antonio Banderas chews up melodrama-rich material and spits it out in Cubist fragments. Darren Criss is chilling and, occasionally, strangely touching as the killer in The Assassination of Gianni Versace, distilling a decades' worth of cultural anxieties into a single performance. Benedict Cumberbatch implodes spectacularly in Patrick Melrose and is charming as hell, even when the character is most loathsome; that the story ultimately moves in a life-affirming direction can only help his chances. Jeff Daniels has played a lot of dyspeptic, eloquent authority figures recently; he's good in The Looming Tower, but the didactic script doesn't do him many favors. John Legend already just achieved EGOT status when he won a producing award at the Creative Arts Emmys for helping bring a live version of Jesus Christ Superstar to the small screen; the temptation to give him an acting award will be enormous, and he's superb in the part. Jesse Plemons is creepy and hilarious as an entitled monster in Black Mirror's "USS Callister," playing a modern-day answer to the little boy turned demon god in the classic Twilight Zone episode "It's a Good Life."
The Emmy will go to … John Legend. A lot of folks will vote for him just to see the inevitable viral video of him making another batch of pancakes.
The Emmy should go to … John Legend. Criss gives the most daring of all the nominated performances in this category, playing a serial killer who's just wired differently from other people yet still somehow plugged into the national Zeitgeist of the Reagan era. But Legend faces and bests his own impossible challenges as Jesus, a role that, in stage productions, often fizzles into beautiful tedium or gets outshone and outsung by the more dynamic character of Judas.
Supporting Actor in a Miniseries or Movie
• Jeff Daniels, Godless
• Brandon Victor Dixon, Jesus Christ Superstar Live in Concert
• John Leguizamo, Waco
• Ricky Martin, The Assassination of Gianni Versace: American Crime Story
• Edgar Ramirez, The Assassination of Gianni Versace: American Crime Story
• Michael Stuhlbarg, The Assassination of Gianni Versace: American Crime Story
• Finn Wittrock, The Assassination of Gianni Versace: American Crime Story
The Emmy will go to … Jeff Daniels. He plays one of the greatest Western baddies in memory, a prairie snake with a hypnotic stare. And the character's signature line — "This ain't my death. I've seen my death; this ain't it" — is right up there with Gene Hackman's last line in Unforgiven: "I don't deserve to die this way. I was building a house."
The Emmy should go to … Brandon Victor Dixon. Pretty much everybody who's ever played Judas in Jesus Christ Superstar has killed in the role, on top of enabling a killing. Dixon is the most physically as well as musically muscular performer ever to sing the part, but he acts it with just as much precision and force.
Supporting Actress in a Miniseries or Movie
• Sara Bareilles, Jesus Christ Superstar Live in Concert
• Penelope Cruz, The Assassination of Gianni Versace: American Crime Story
• Judith Light, The Assassination of Gianni Versace: American Crime Story
• Adina Porter, American Horror Story: Cult
• Merritt Wever, Godless
• Letitia Wright, Black Mirror, "Black Museum"
The Emmy should go to … Letitia Wright. Her humane performance anchored a tricky episode of Black Mirror that, even more so than most, kept threatening to spin off into academic abstraction.
The Emmy will go to … Judith Light. She's a multiple Primetime Emmy nominee, two-time Daytime Emmy award winner, and Tony winner who did some of the best work of her career in The Assassination of Gianni Versace, as Marilyn Miglin, the wife of a murdered real-estate tycoon with a secret life.
Outstanding Writing for a Limited Series, Movie or Dramatic Special
• American Vandal, "Clean Up," Kevin McManus and Matthew McManus
• The Assassination of Gianni Versace: American Crime Story, "House by the Lake," Tom Rob Smith
• Godless, Scott Frank
• Patrick Melrose, David Nichols
• Twin Peaks: The Return, Mark Frost and David Lynch
• USS Callister, "Black Mirror," William Bridges and Charlie Brooker
The Emmy should go to … Mark Frost and David Lynch. Yes, really. It's a travesty that the most original and arresting dramatic TV production of the last ten years (and maybe the most instantly memeable) didn't get more Emmy love, and it seems safe to assume that the best script nomination here is a substitute for the accolades it could never receive because it was just too strange. But we shouldn't forget that those stunning scenes, images, and performances were meticulously scripted down to the syllable and gesture.
The Emmy will go to … Scott Frank. Just a feeling. If nothing else, Godless is a great, image-driven oater with that hardtack-and-saddle leather feeling that you want out of a Western, along with the feminist text and subtext that made it play like something other than a glorified nostalgia act.
Outstanding Directing for a Limited Series, Movie, or Dramatic Special
• The Assassination of Gianni Versace: American Crime Story, "The Man Who Would be Vogue," Ryan Murphy
• Godless, Scott Frank
• Jesus Christ Superstar Live in Concert: David Leveax and Alex Rudzinski
• Paterno, Barry Levinson
• Patrick Melrose, Eric Berger
• Twin Peaks: The Return, David Lynch
The Emmy should go to … David Lynch. Seriously. For "Episode Eight" alone. It's hard to imagine the Television Academy giving it to him, so I'll fantasize about Jesus Christ Superstar taking it — and the fact that it was a logistically complex and visually dazzling live production means it at least has a shot.
The Emmy will go to … Scott Frank. Again, just a feeling that Godless will be a strong contender.