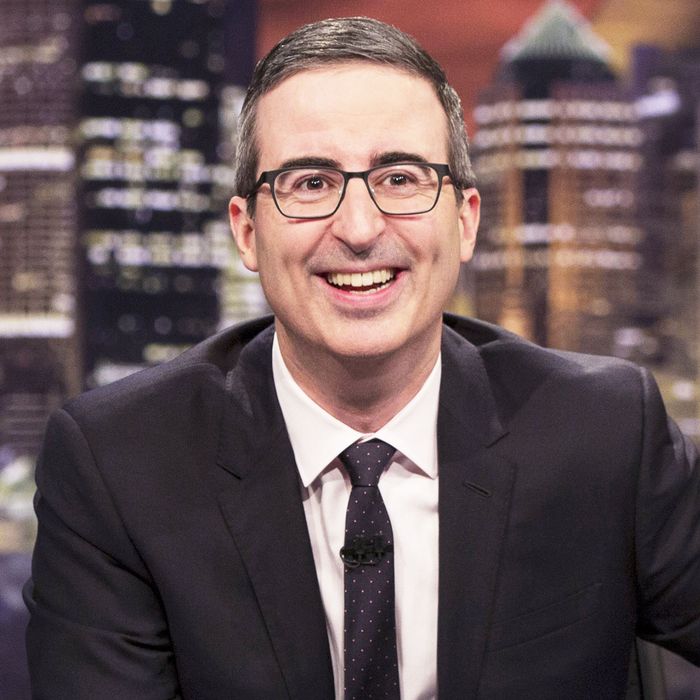 Will John Oliver be the talk-show man of the Emmy hour for a third year in a row? Yeah, probably.
Photo: Eric Liebowitz/HBO
The 70th Emmy Awards air Monday, September 17, and all this week, Vulture TV critic Jen Chaney and New York Magazine TV critic Matt Zoller Seitz are breaking down the major categories with Emmy predictions for variety series, limited series, comedy, and drama. What will win? What actually should win? That's what we're here to determine.
Today's focus: Variety Series.
Outstanding Variety Talk Series
• The Daily Show With Trevor Noah (Comedy Central)
• Full Frontal With Samantha Bee (TBS)
• Jimmy Kimmel Live! (ABC)
• Last Week Tonight With John Oliver (HBO)
• The Late Late Show With James Corden (CBS)
• The Late Show With Stephen Colbert (CBS)
In its best series categories, Emmy voters tend to want to make a statement, which is why I doubt that The Late Late Show With James Corden will triumph in this category. To single out Corden from a group of shows and hosts that have been so outspoken about Trump would make a political statement — one that says Emmy voters value lightness, car karaoke, and escapism over speaking out about what's happening in our country. There are some Emmy voters who may indeed feel that way, but the majority, I suspect, will be want to celebrate a talk show that's more tuned in to the times. There's a reason why Jimmy Fallon wasn't nominated at all.
This is the first year since Jon Stewart's departure that The Daily Show — once a consistent winner in this category — has been recognized here. I don't necessarily expect Trevor Noah & Co. to be the victors, though. Noah has become even more comfortable and on-point as the host of America's premier fake news program, but my hunch is that the biggest honor for The Daily Show will come from just being nominated.
Which leaves us with four nominees. The Late Show With Stephen Colbert has been very successful in terms of ratings, and Colbert understands intuitively how to mine current events for comedy. But if voters decide to honor a network late-night host this year, it's more likely to be Jimmy Kimmel and Jimmy Kimmel Live! Where Colbert has always been a political animal, over the past year, we've watched Kimmel change species before our eyes, turning his opening monologues into moving, highly personal speeches about the need for better health care and opportunities to challenge members of Congress for their inaction on issues like gun violence. As our Mark Harris put it last fall, "Jimmy Kimmel … has become television's most unlikely spokesman for a nation baffled and frustrated by Trump and the Republican Congress in 2017." Jimmy Kimmel Live! could pull off a surprise upset here.
To do so, it will have to get past Full Frontal With Samantha Bee and Last Week Tonight With John Oliver, a pair of shows that possess incisive hosts who, along with their staffs, do some real and valuable reporting. (See Bee's hour-long special devoted to Puerto Rico six months after Hurricane Maria.) Bee could theoretically have an advantage here if voters feel compelled to embrace women in the first ceremony since the Time's Up movement began. A win would not only recognize the value of Bee's voice on late-night television, but also highlight the fact that she's one of the only women who gets to have one.
Still, the Emmy tea leaves suggest this will go to Oliver. Last Week Tonight has won in this category for the past two years, and at the Creative Arts Emmy ceremonies held last weekend, Last Week Tonight won the Emmy for outstanding writing for a variety series. Oliver continues to attack political and cultural issues with intellectual vigor and a barbed British-accented tongue that clearly resonates with Emmy voters, who have a tendency to vote for the same shows over and over, especially in this category.
The Emmy will go to … Last Week Tonight With John Oliver, for the reasons I just suggested. What Jon Stewart was to the George W. Bush era, Oliver is to the Trump era, and I expect he and his show will continue getting Emmys the same way The Daily Show once did. That said, if Bee or Kimmel pulls off an upset, I won't be totally shocked.
The Emmy should go to … Last Week Tonight With John Oliver. I admire Kimmel for the candor and political passion he's brought to his program. (As much as I like Colbert, I still can't shake the sense that he would be so much more interesting at this political moment if he were still doing The Colbert Show.) I like Bee a lot, too, but Oliver tends to be the first person I want to hear from when something particularly crazy happens in the political realm. Which is, you know, a lot. He's also the host who most surprises me with his inventively sly jabs at the Establishment. In my mind, Oliver and his team won the Emmy as soon as they released a children's book about Mike Pence's homosexual pet rabbit, Marlon Bundo, then outsold Pence's actual book about his pet rabbit, Marlon Bundo.
Outstanding Variety Sketch Series
• At Home With Amy Sedaris (TruTV)
• Drunk History (Comedy Central)
• I Love You, America With Sarah Silverman (Hulu)
• Portlandia (IFC)
• Saturday Night Live (NBC)
• Tracey Ullman's Show (HBO)
It's pretty obvious what's going to win in this category, but sure, let's go through the process of elimination.
Tracey Ullman is an immense talent, but I'll confess that I never got around to watching her most recent HBO series. Based on the barely audible buzz around it, I'm betting a lot of Emmy voters never did either, so I'll scratch that one off right away.
Given its format, which includes a monologue and interviews in addition to other prerecorded segments, I Love You, America With Sarah Silverman feels more like a variety talk show than a pure sketch series. I am guessing Hulu decided to submit it here because it had a better chance of getting a nod in this category, a strategy that proved correct. But I think voters will be more inclined to honor something that's more purely a sketch series.
Drunk History is clever, often hilarious, and even educational, but it can also be a bit hit-or-miss, even within the same episode. It's been nominated every year since 2015, the first year the Emmys broke out sketch shows into their own category. It's never won and I doubt that will change in 2018.
It would be a total gas if At Home With Amy Sedaris won because it's such an odd hybrid of home-entertaining advice, sketch comedy, and whatever the hell is going on in the brain of Sedaris and her fellow writers. What other sketch series staged a holiday special that turned into an homage to the '70s schlocky made-for-TV horror movie Trilogy of Terror? Who else other than Sedaris would host a crafting segment about DIY castanets that features Michael Stipe reading a poem about castanets, and then in the same episode, present a murder mystery that casts Michael Shannon as a possible killer? No one, dammit. No one.
But the most likely contenders this year are either Portlandia, the influential Fred Armisen–Carrie Brownstein sketch comedy that raised Portland's profile in the public consciousness and produced some absolutely genius sketches, and Saturday Night Live. Since Portlandia's eighth season was its last, this is the final chance to give it an Emmy. It's possible voters will seize on that opportunity, the same way they did a couple of years ago so that Key and Peele would finally get its props.
But the Saturday Night Live juggernaut stands in its way. Although this season was not as consistently strong as the previous one, which won the Emmy in this category last year, it still remained front and center in the national conversation. More importantly, Emmy voters have an obvious soft spot for the Godfather of American Sketch Comedy Shows. This year, it received 21 nominations overall, and it won seven prizes at the Creative Arts Emmys last weekend, including one for guest actress Tiffany Haddish, one for directing, and one for the song "Come Back Barack." With all that hardware in its favor, it's hard to imagine it losing.
The Emmy will go to … Saturday Night Live. It's worth noting that the Emmys are airing on NBC this year, Lorne Michaels is producing the ceremony, and Weekend Update co-hosts Michael Che and Colin Jost are hosting. That doesn't mean this win is a done deal, but it's so a done deal.
The Emmy should go to … At Home With Amy Sedaris. I honestly would be thrilled if this happened because Sedaris is a maniacal national treasure who's underappreciated by the masses. Her series is also so idiosyncratically odd — no one else could do that show but Sedaris — that it stands out. Her acceptance speech also would undoubtedly be memorable and weird. But alas, Sedaris probably can't beat SNL, which, by the way, would be wise to ask Sedaris to host one of these days.
Outstanding Directing for a Variety Special
• Dave Chappelle: Equanimity, Stan Lathan (Netflix)
• Jerry Seinfeld: Jerry Before Seinfeld, Michael Bonfiglio (Netflix)
• The Oscars, Glenn Weiss (ABC)
• Steve Martin & Martin Short: An Evening You Will Forget for the Rest of Your Life, Marcus Raboy (Netflix)
• Super Bowl LII Halftime Show Starring Justin Timberlake, Hamish Hamilton (NBC)
Only one Super Bowl halftime show has previously been nominated in this category, in 2009 when Bruce Springsteen and the E Street Band were the entertainment. It didn't win, and I can't imagine that a halftime show that starred Timberlake and the ghost of Prince is going to win either. If it does, expect Twitter to boil over and straight-up explode.
While Dave Chappelle: Equanimity won the Emmy for best variety special at the Creative Arts Emmy ceremonies, it's rare for a stand-up comedy special to be honored for its direction. Emmy voters tend to reward specials that involve more components — singing-and-dancing numbers, a bigger ensemble — than a one-person extended monologue, no matter how well-directed it might be. That doesn't bode well for Equanimity or Jerry Seinfeld: Jerry Before Seinfeld. Steve Martin & Martin Short: An Evening You Will Forget for the Rest of Your Life is a mix of music, chat, and two-man comedy routine, and Raboy directs it with a sense of intimacy.
But neither it nor any of the others seem like as daunting a task as directing The Oscars. Glenn Weiss, who has 11 Emmys to his credit, won last year for guiding the Academy Awards broadcast. He'll do so again this year.
The Emmy will go to … The Oscars. (That's a weird sounding sentence, isn't it?)
The Emmy should go to … The Oscars. Honestly, and this surprises me as much as you, but I think this would be the right call. The ceremony has a lot of flaws, the same ones that are repeated year after year: It's bloated, it drags in spots, and some of the host's gags — in this case, Jimmy Kimmel's — could stand to be jettisoned. But it's an undeniably enormous, high-pressure undertaking and Weiss, handling it again after 2017's Moonlight mix-up, ushered it from beginning to end as well as anyone could expect.
Outstanding Writing for a Variety Special
• Full Frontal With Samantha Bee Presents: The Great American* Puerto Rico (*It's Complicated) (TBS)
• John Mulaney: Kid Gorgeous at Radio City (Netflix)
• Michelle Wolf: Nice Lady (HBO)
• Patton Oswalt: Annihilation (Netflix)
• Steve Martin & Martin Short: An Evening You Will Forget for the Rest of Your Life (Netflix)
Unlike the variety directing category, the writing for a variety special favors the work of comedians. Of the five here, I think there are three potential contenders: Full Frontal With Samantha Bee Presents: The Great American* Puerto Rico (*It's Complicated), John Mulaney: Kid Gorgeous at Radio City, and Patton Oswalt: Annihilation.
The Steve Martin and Martin Short special is charming, but it's exactly what you'd expect a Martin-and-Short routine to be. The fact that it's not trying to be edgy or groundbreaking is precisely what's refreshing about it, but I don't think that will be enough to raise it to Emmy-win level. Michelle Wolf: Nice Lady is a solid encapsulation of her comedic sensibility, but it doesn't feel quite as urgent as Oswalt's or Mulaney's shows do. Patton Oswalt won in this category two years ago for Talking for Clapping, and Annihilation is an even richer work that riffs on Trumpian politics and, more emotionally, the sudden loss of his wife Michelle McNamara. That he's able to wring laughter out of a horrifying moment when an airline attendant reminds his bereaved daughter that it's Mother's Day, despite Oswalt's best efforts to distract her from that fact, is a testament to how cathartic comedy can be. Meanwhile, Mulaney is simply one of the smartest comics currently working. His "horse in the hospital" routine in Kid Gorgeous is a Trump take for the ages. Everything in this special is written with drone-strike precision.
But Bee's Puerto Rico special does something that none of the other nominees do, and that's draw attention to a major catastrophe from which American citizens are still struggling to recover. Along with members of her broadcast team, Bee visits sections of the island still struggling to regain electricity and finds people using solar power to their advantage, all while getting in some solid digs at FEMA and our government's refusal to effectively provide aid. The other nominees may be entertaining and personal, but Full Frontal With Samantha Bee Presents: The Great American* Puerto Rico (*It's Complicated) feels important in a way that I think voters will feel compelled to recognize.
The Emmy will go to … Full Frontal With Samantha Bee Presents: The Great American* Puerto Rico. I also think voters will feel less guilty about voting for John Oliver in the outstanding variety talk series category if they throw something Bee's way here.
The Emmy should go to … This is really, really hard. I do think Bee's special performed a valuable service, in addition to being funny. But this Emmy is specifically about the quality of the writing. On that metric, I have to give it to John Mulaney: Kid Gorgeous because he crafted the kind of stand-up performance that I could imagine reading and laughing at just as hard as I laughed when Mulaney spoke his words out loud.