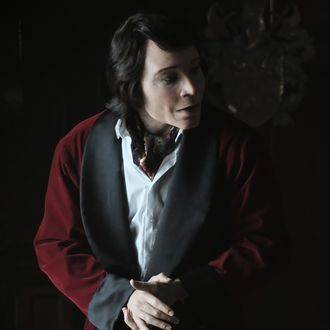 Viewers were thrilled and/or horrified to see Donald Glover's eerie Atlanta character Teddy Perkins in the audience at the 2018 Emmys. People were quick to applaud Glover for committing to stiflingly hot prosthetics, especially because he sadly did not win any of the three awards he was nominated for. But was it him after all? If only Donald Glover had won, we would have heard Teddy's telltale voice! But barring vocal matching, there is still plenty of evidence to analyze. So sit back and crack open a fresh ostrich egg as we consider: who portrayed Teddy Perkins at the 2018 Emmys?
Donald Glover
Let's be absolutely clear on one thing: That was not Donald Glover under all that Teddy Perkins makeup at Monday night's Emmy Awards. (Unless of course, it was, in which case, why did he not win his Emmys?!) Glover might have portrayed the almost iridescently pale peculiar man on his FX series, but just look at this Emmys Teddy.
Too. Damn. Tall. Plus Donald Glover currently has a substantial beard. Not that you can't hide a thick, full beard under prosthetics, only to have it look immaculate when the cameras capture you applauding Thandie Newton's Outstanding Supporting Actress in a Drama win later in the evening. This is the Emmys, after all. They have pros.
But the real tell is Teddy's height. Hunched over, he's still roughly as tall as the purportedly six-one Bill Hader. And look the wingspan. Huge wingspan on this Teddy.
Lakeith Stanfield
But if it's not Donald Glover, then who might this Teddy be? Twitter and Reddit's pick is his Atlanta co-star Lakeith Stanfield. However, Stanfield walked the red carpet prior to the show and, according to a inside source who had a ton of other stuff they needed to get done while we continually bothered them, the actor was spotted taking his Emmy portraits just before the awards ceremony began.
The cameras then showed Teddy embracing Hader after the Barry star's Outstanding Lead Actor in a Comedy win over Glover, the sixth award of the evening, which occurred at approximately 5:43 pm PST/8:43 pm EST. Could Lakeith Stanfield be transformed into Teddy in that amount of time? The cheekbones, hands, and height say yes, but if it's not either of those actors, then who are we looking at?
Literally Anyone Else
That's right: literally anyone else. In the vein of Hannibal Burress hiring a Hannibal Burress sort-of look-alike to walk the Spider-Man: Homecoming red carpet in his stead, perhaps Glover brought in a hired Teddy, someone who could be leisurely Teddy-ied out and ushered in at will, with Lakeith and Donald coordinating their entrances and exits to muddy the waters. We may never know for sure (jk, it's probably Lakeith), but by the end of the night, the intrigue had already been overwhelmed by another, more baffling mystery: how did Atlanta get shut out at Monday's awards? Sacrifices are necessary, but come on!
Update, 11:30pm: When discussing the show with L.A. Times staff writer Yvonne Villarreal, Teddy, still very much in costume, diplomatically ruled the ceremony "good."
Update, September 18, 8:30am: And the plot thickens. At the Governors Ball after-party, Teddy Perkins was spotted in the wild once again, this time among his cast members. All of them. (Except Zazie Beetz, hmmm.) Photographed beside him are Donald Glover, Lakeith Stanfield, and Brian Tyree Henry in the flesh, ruling out our first two suspects, at least for this particular sighting.
And it's not director and showrunner Hiro Murai either, because here's Teddy with Murai and Stanfield again. The sorcery!
But not so fast. A quick scan of Donald's brother Stephen's Instagram Stories reveals actual audio of this Teddy Perkins sounding suspiciously like Donald's voice as Perkins. ("Ooooh, look at him. He's the brother. He's the brother from another," he says. And then for your further amusement: "Yes, Teddy, yes. Bitches, hoes, and turn up.") Orrrr an actor who studied that episode all too well and now deserves their own Emmys category. So 2019, watch out.
Update, September 18, 1:00 pm: Vulture caught up with Brian Tyree Henry and Donald Glover at an Emmys after-party where both actors played coy about the man behind the Teddy Perkins mask. "That was the real Teddy Perkins. Not Donald," Henry swears. But how can he be so sure? "I was looking at Donald when Teddy Perkins walked in so it definitely was not Donald," he says. "At least we kept the Emmys entertaining!" Naturally, Glover wouldn't divulge the truth either: "Teddy's a fun guy. I like magic," he told us. Like we said, sorcery.
Update, September 18, 10:35 pm: Insecure star Issa Rae was apparently just as shocked as anyone that the Perkins strolling around the ceremony was not Glover. But it seems like whoever was behind the makeup knew Rae well enough to fool her. "I had just finished talking to Teddy, thinking it was Donald the whole time," the actress and writer confessed on Twitter in response to a photo where she looks, um, pretty surprised to see both Glover and Perkins together.
Additional reporting by Diane Gordon.