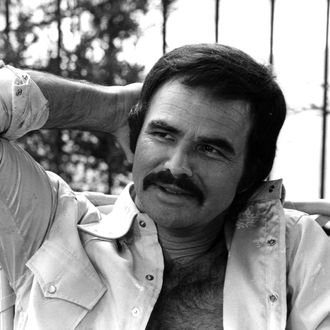 Burt Reynolds.
Photo: Archive Photos
The death of Burt Reynolds this week sparked remembrances of the man as a talented actor, a charismatic celebrity and, of course, an enduring Hollywood sex symbol, a status perhaps best exemplified by his iconic 1972 Cosmopolitan photoshoot. However, if you personally paid homage to the actor with images of the spread, which depicts Reynolds tastefully nude save for a well-placed forearm, you may have found your post removed by Facebook. Now, the platform, which has a no nudity policy, has apologized for taking down the photos, which it says were "mistakenly removed."
As Facebook said in a statement Friday, "It does not break our standards and apologize for any inconvenience this may have caused." So, please, go back to enjoying Mr. Burt Reynolds on social media all you like. That being said, if anyone posts any footage of Deliverance featuring Burt Reynolds bow hunting in an unzipped neoprene vest, the entire Internet will need to be temporarily shut down and rinsed under a cold shower.