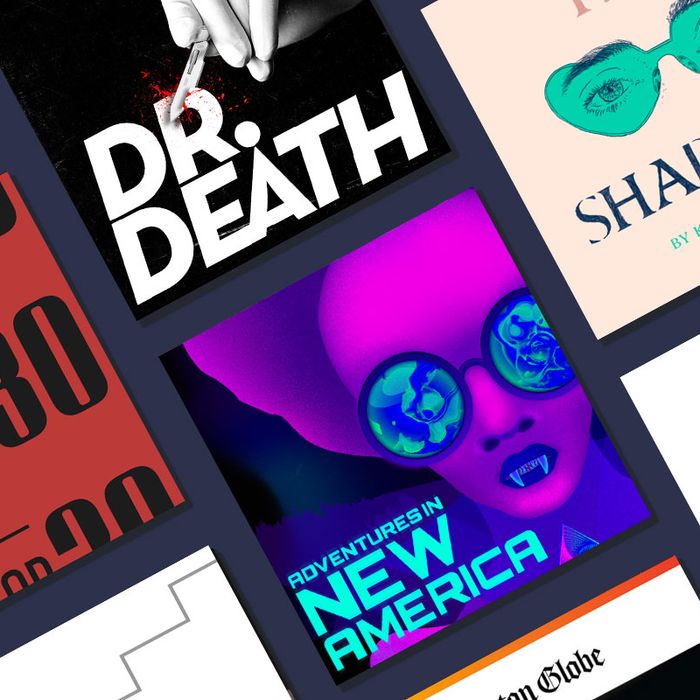 It's a stacked season for podcast listeners. You've got true crime, audio fiction, spinoffs, and the returns of some real heavies. (Serial goes to Cleveland!) To help you keep track of what's coming this fall, here are the ten podcasts Vulture is most excited to listen to.
Dr. Death (Wondery, September 4)
Remember last year's Dirty John, the salacious hit podcast that's now being adapted into not one, but two TV shows? Well, Wondery is doubling down on the grisly Investigation Discovery–style formula with its latest true-crime production, Dr. Death. The podcast will explore the harrowing story of Christopher Duntsch, a Dallas neurosurgeon convicted last year for maiming a patient, and who's been accused of hurting (and killing) many more. Reported and hosted by former Dallas Morning News reporter Laura Beil, the series is pitching itself as an examination of murder and a failed medical system.
Origins, the podcast adaptation of James Andrew Miller's celebrated oral histories, could use some sound quality improvements and tighter editing, but it's absolutely delicious stuff for fans of Miller's work and his subjects. After spending previous seasons on Curb Your Enthusiasm, the legendary college football coach Nick Saban, and ESPN, Miller will return with deep dives on Saturday Night Live (which he first covered in 2002's Live From New York, written with Tom Shales) and Sex & the City. The latter is a particularly timely choice, given Cynthia Nixon's current gubernatorial run in New York.
Last Seen (WBUR, September 17)
On March 18, 1990, a group of thieves dressed in police uniforms broke into Boston's Isabella Gardner Museum, tied up the security guards, and stole 13 pieces of art collectively valued at $500 million, including Rembrandts, a Vermeer, a Manet, and paintings by Degas. To this day, the case remains unsolved and the art still unrecovered. (The museum currently offers a $10 million reward for information leading to the recovery of the stolen works.) The Boston public radio station WBUR is collaborating with the Boston Globe on this investigative podcast documentary about the crime, featuring unprecedented access to the case files and first-ever interviews with key figures.
Serial Season 3 (Serial Productions, September 20)
The podcast phenomenon returns, and this time, they're going to Ohio. Instead of focusing on a single case — a murder in Baltimore in season one, a soldier's desertion in season two — the upcoming season will try to more explicitly weave a larger story about the American criminal justice system by delivering weekly stories from inside Cleveland's criminal courts. "It's one courthouse, week by week," as the Serial team puts it. Host Sarah Koenig will be joined by This American Life staffer Emmanuel Dzotsi, who co-reports the season.
The Dream (Stitcher, September 24)
Ah, the multi-level marketing scheme: a curious, complicated, and controversial capitalist construction that pushes participants to turn friends and family members into a sales force. Led and produced by This American Life alum Jane Marie, The Dream is a journey into the world of MLMs that boasts a reach far wider than one would ever expect — from family get-togethers to social media feeds to remote midwestern towns to the White House.
The Shadows (CBC, September 25)
Kaitlin Prest is known among podcast fans for her work exploring intimacy, sex, and love as the creator of The Heart, which ended its run (for now) last December. She returns this fall with a new fiction project up her sleeve. The Shadows will be a six-part serialized narrative that tells the story of a fictitious love triangle — based on Prest's own experiences — from the perspective of all three participants, and it's built on a mixture of improvisation, written scenes, and out-of-studio recordings. It sounds wild, and given Prest's tendency to push the boundaries of comfort, it probably will be.
A scarf isn't simply just a scarf, of course. The beloved design podcast 99% Invisible is releasing a mini-series later this month that's all about the things people wear, and all the things that fall from the concept. The six-episode spinoff, which is called Articles of Interest, is the brainchild of 99% Invisible staffer Avery Trufelman, who wrote, produced, and hosts the show. It's set to tackle a broad range of fashion-related topics, like the rise of casualwear, the environmental impact of the textile industry, and the suspicious absence of pockets in womenswear. [Insert Miranda Priestly's cerulean monologue from The Devil Wears Prada here.]
Adventures in New America (Night Vale Presents, September 28)
Once scheduled for the spring and now slated for the fall, this new upcoming audio drama from the Night Vale team suggests a vibrant streak of the psychedelic. Here's the official show description: "In Adventures in New America a depressed man with cancer joins forces with a sociopathic criminal mastermind, and together they embark on a supernatural Afrofuturistic adventure in a desperate attempt to procure health care." The series is written by Stephen Winter, the acclaimed director behind 2015's Jason & Shirley, and Tristan Cowen. Podcast fans should further note: AINA will also feature Mystery Show's Starlee Kine in a starring role.
After its season-long serialized look into the troubling world of Bikram Yoga — which was one of the best podcasts of the year so far, by the way —  ESPN's sports documentary podcast returns to its classic anthology format. This season, the show will feature stories on Jose Canseco, a protest at the New York City marathon, and the legendary 2003 World Series of Poker. Strap in, folks.
Headlong: Surviving Y2K (Topic Studios and Pineapple Street Media, TBD)
Last time, he chased after the mystery of a celebrity. This time, he takes on what was supposed to be the fall of civilization. Dan Taberski, the man behind Missing Richard Simmons, is back with a new podcast project that examines the Y2K phenomenon, a.k.a. the moment at the turn of the millennium that many believed was supposed to be the End of the World … and the beginning of a new one. Expect personal narratives, unbelievable stories (including one about a guy who stocked his bunker with 100 pairs of live hamsters to breed an endless armageddon meat supply), and the exhausting humanness of human beings.
(One housekeeping detail: I'm told Surviving Y2K is the second season of what is now Taberski's podcast anthology series, titled Headlong. Missing Richard Simmons is retroactively considered as the series' debut season. A third season, I'm also told, is already in production.)
An earlier version of this story incorrectly said the art stolen in the Gardner Museum heist is valued at $50 million. In fact, it is worth $500 million.