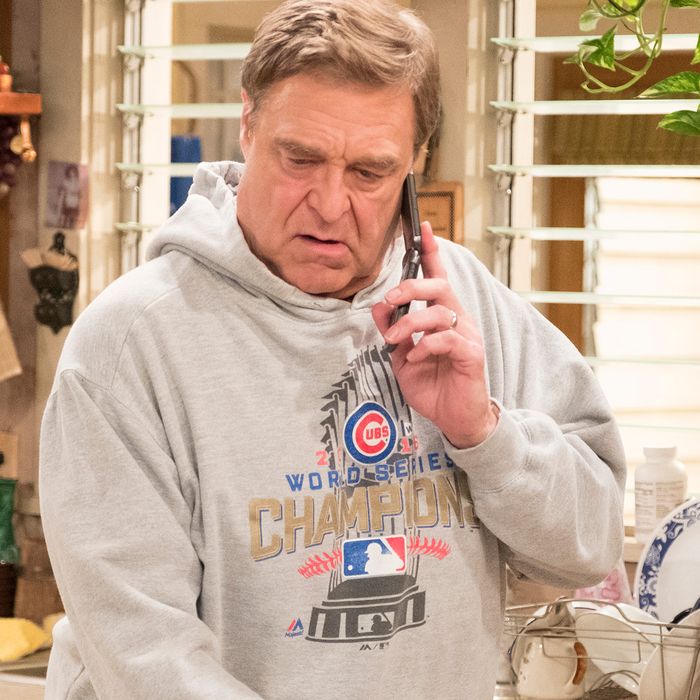 Photo: Adam Rose/ABC via Getty Images
If 2016 marked the beginning of Too Much TV, 2018 is the boiling point for a new phase that's equal parts annoying and endearing: Nostalgia Fever. These days, it's rare that a week or two goes by without the inevitable X Is Getting Rebooted, Y Is Set for a Revival headline staring us down. The trend is set to keep roaring along this fall 2018 TV season, with seven shows of the sort set to debut. Reboots, revivals, spinoffs, you name it: The comfort food of yesteryear is back, and there's no point in trying to stop it.
Last Man Standing (September 28, Fox)
Based on: A continuation of the Tim Allen–fronted series, which was cancelled by ABC in early 2017 after six seasons. Fox revived it, likely owing to the ratings success of other network sitcoms revolving around white working- and middle-class families in the age of Trump.
The premise: Allen's character, who may or may not be a Trump supporter, lives a comfortable life with his family in Denver, Colorado, as an executive at an outdoor sports chain. With three independent daughters and a wife, he just wishes there was another man in the family he could spend some time with. Conservative hijinks ensue!
Murphy Brown (September 27, CBS)
Based on: A continuation of the original series that aired for ten seasons, bowing out for the first time on CBS in 1998. The network had reportedly wanted to revive the sitcom since Trump's inauguration, and it was officially announced in January.
The premise: Candice Bergen's unapologetic journalist is back with an updated take on broadcast news … except this time, she and her reunited FYI team have to deal with the rise of "fake news" and the vicious, 24/7 social media cycle. There's also going to be a #MeToo episode.
Magnum, P.I. (September 24, CBS)
Based on: The Tom Selleck–fronted crime dramedy that aired on CBS from 1980 to 1988. Sadly, the reboot will be a mustache-free zone.
The premise: Magnum, who's played by Latino actor Jay Hernandez, has a similar origin story as the original: A former Navy SEAL who did a few tours of Afghanistan, our maverick decides to settle into a groovy Hawaiian lifestyle as an investigator and security consultant. And his Navy pals are along for the ride! Yes, he'll still live in a picturesque estate by the water, but this time his caretaker and foil, Higgins (Perdita Weeks), will be a woman.
Dancing With the Stars: Juniors (October 17, ABC)
Based on: The regular, adult-sized Dancing With the Stars, which has been a reality-show staple on ABC since its debut in 2005.
The premise: Exactly what the title implies, but if you need further clarification: A bunch of B-list and C-list celebrity youths are going to be duking it out for the coveted Mirrorball Trophy. The salsa, the mambo, the tango, other dances that end in vowels! You name it, they'll be doing it.
Charmed (October 14, the CW)
Based on: The cult-favorite supernatural drama that aired on the WB from 1998 to 2006. Too bad the original stars don't seem too jazzed about the reboot.
The premise: After their mother is murdered by a mysterious, otherworldly entity, two college-age sisters not only discover they have a secret older half-sister, but together, the trio possess the almighty "Power of Three" — which happens to make them the most powerful witches in the world. Too bad the powers of telekinesis and time-freezing won't help them with their homework. It may with demon-slaying, though!
The Conners (October 16, ABC)
Based on: Since there's no encyclopedic term for "a spinoff from a revival," we'll explain this pesky situation as concisely as possible. The Conners was birthed from ABC's 2018 Roseanne revival, which found its footing after the network cancelled plans for an intended second season, following a racist tweet from the show's star and creator, Roseanne Barr. A month after all that hoopla, The Conners was officially greenlit, on the condition that Barr wouldn't be creatively or financially involved.
The premise: ABC has kept details under very tight lock and key when it comes to everything plot-adjacent to the show, so much so that the network has deemed the levels of secrecy something right out of the "Marvel and Shondaland playbook." However, John Goodman let slip the following, not-so-surprising nugget: Barr's matriarch character will be dead, but the show's core values of depicting a working-class, midwestern family will linger on.
Legacies (October 25, the CW)
Based on: We've got a fun one here: It's a spinoff from a spinoff! The CW's Vampire Diaries produced its first spinoff with The Originals, which has, in turn, brought forth Legacies. Although both shows have since concluded, chronologically, this will take place two years after The Originals ended.
The premise: Because teen vampires will seemingly never go out of style, Legacies follows a "tribrid" daughter from the prominent Mikaelson family — so, she's got a coveted trifecta of vampire, werewolf, and witch bloodlines — as she navigates her way through a school for fellow supernaturally gifted students. Controlling her powers is one thing, but will she be able to make any friends?