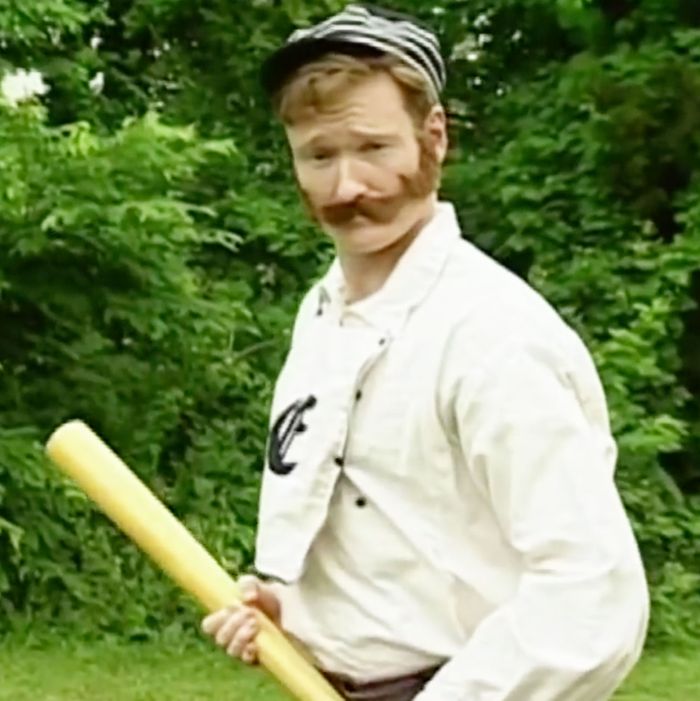 Conan O'Brien plays old-timey baseball on
Late Night With Conan O'Brien.
Photo: NBC
It's hard to imagine the amount of pressure Conan O'Brien must have felt 25 years ago, in 1993, when Late Night With Conan O'Brien premiered. He was 30. Excluding a couple of cameos and one-off segments, he wasn't often in front of the camera, working instead as a writer on Saturday Night Live and The Simpsons. And now he was taking the reins from the beloved David Letterman, who was at that time the elder statesman of late-night television. It probably isn't all that surprising, then, that the first thing O'Brien did on his show was attempt to hang himself.
O'Brien's Late Night forever changed what a late-night talk show could be. It gravitated toward the silly and strange: Puppet animals would talk, curse, and vomit, and fake guests would show up on the couch in between movie stars. In the premiere episode alone, Conan and sidekick Andy Richter introduce us to "Actual Items," a parody of the standard late-night bit of showing funny mistakes from local newspapers, blown out to its most frivolous extreme (look closely in the corner of a mini-golf ad and you'll notice it says, "We are a really bad miniature golf course. You shouldn't come here"). Then the show's first guest, John Goodman, leg wrestled audience member George Wendt. O'Brien paused the show so that a special-effects technician could take center-stage and sway rhythmically to Phil Collins's "One More Night" for seven seconds. Finally, O'Brien closed the show by earnestly singing "Edelweiss" from The Sound of Music as a nun in the audience, and eventually, a Nazi in full regalia, cried at its beauty.
The network and the critics were crying for a different reason. The Washington Post's Tom Shales called the show "aimless dawdle" and O'Brien "a living collage of annoying nervous habits." Uncertain of their untested host, NBC put O'Brien on 13-week contracts.
But O'Brien and his murderers' row of talent in the writers room proved them wrong. They were uncompromising in their absurdity, leaning into their 12:35 a.m. time slot and making Late Night feel like a secret club, where they could get away with anything while the executives were asleep. Slowly but surely, Late Night found its footing. O'Brien became a stronger interviewer. They introduced a puppet by the name of Triumph. And by 1995, Tom Shales did an about-face and named O'Brien as one of his "25 Reasons Not to Give Up on TV."
O'Brien is still hilarious on TBS 25 years later as he takes his show abroad, plays video games cluelessly, and is occasionally interrupted by a giant candy cane. But Late Night could not exist in the same way that it did in today's age of social media. Jokes might go awry, and characters might go wrong and it was fine, because they'd disappear into the ether, like a private in-joke between you and a television show.
To celebrate Late Night's 25th anniversary, I spoke with several writers from the show's history about their favorite moments and what made this late-night show different from all the rest.
Robert Smigel
Head writer/producer, occasional writer/performer — Triumph, The Lips of Bob Dole, Bill Clinton, and Arnold Schwarzenegger
I was head writer/producer when we started, never wanted a job more, and had some very clear opinions of what would make the show exciting and original. Conan and I both loved high-concept, nonsensical stuff, but Letterman had brilliantly cornered the market on a lot of that on his Late Night. We had just come from Saturday Night Live, and I wanted to bring sketch comedy to a talk-show format, which hadn't been done since Steve Allen's version of Tonight in the '50s (I got to tell Steve Allen once that we stole the half of his show that Letterman didn't steal). So we did a lot of celebrity interviews (in our own abstract, cartoony form with "Clutch Cargo"), silly characters, and presentations that allowed us to sneak in absurdist humor. We used to say we reacted to Letterman's penchant for "found humor" by being "the show that makes things up."
A perfect example was the sketch that led to Triumph. Letterman was getting laughs on the Late Show by having Westminster dogs run down the aisles of the Ed Sullivan Theater. That was it, but it was funny. So I thought we should present Westminster dogs using these realistic dog puppets my wife had just bought for me, and have the dogs display various ridiculous talents … dogs playing dueling banjos, a magic act, a Jack Nicholson impersonator who put his paw over his forehead to do Jack like every hack comic did back in the day. I didn't suggest "insult comic dog" until about four years into the bit, long after I'd left the head writer job.
We set down plenty of restrictions early on that helped us separate ourselves from Dave and establish our own style, including no comedy using stagehands, and, believe it or not, no remote segments with Conan (unless they were scripted sketches), which makes me sound like the dumbest producer in television history now. But it helped force us to come up with lots of original looks and concepts, like Conan's idea to "drive his desk" in front of a key screen. And within a year we started sneaking in some less structured remotes with Conan, and, of course, they — and Conan himself — became the best part of the show.
Getting that show off the ground was both the best and toughest experience I've had on television. We took a lot of crap around the studio for doing so many complicated sketches that took a lot of time and work, cost money, and all for a completely unproven, unpolished performer. Only the writers knew how funny he was back then. I remember hearing some staff grumbling that "it's like we're doing 'Every Night Live.'" Years later, I visited the Fallon show in its early stages, and now they were doing even more elaborate sketches than we were, only with a host that everyone knew well and had full confidence in. And I actually heard a staffer saying "We love it! It's like we're doing 'Every Night Live'!"
Brian Stack
Writer/performer — The Interrupter, Artie Kendall the Ghost Crooner, Frankenstein
There were so many Late Night characters I loved — some very famous, like Triumph the Insult Comic Dog, some just silly one-offs, like Jabba the Foxworthy (Jabba the Hutt with a Jeff Foxworthy–like mustache and joke delivery). I'll always be very grateful that I got to do a few recurring characters myself like Hannigan the Traveling Salesman, the Interrupter, Frankenstein, and Artie Kendall the Ghost Crooner, but I'll always have a very special place in my heart for "Andy's Little Sister," Stacy, a 13-year-old girl with pigtails and orthodontic headgear, played by the brilliant Amy Poehler, who had a huge crush on Conan.
It was the first character sketch I ever wrote at Late Night and Amy's brilliant performance made my very simple sketch idea 100 percent better. I'll always be grateful to her for that. I was originally going to cast a real 13-year-old girl as Stacy, but Amy managed to actually look 13 while giving a full-on powerhouse performance. She can do anything though, obviously.
Jon Glaser
Writer/performer — Ehud Henkleman: Shofar Player, The Slipnut who falls down, Pubes
"Satellite TV" was always fun to write. It was completely open-ended to whatever short, weird, random, stupid idea you could think of. [Late Night] obviously catered to a specific, weirder sensibility, and it was fun to work with a group of people who shared that sensibility. And having to write that type of show on a daily basis allowed for a wide variety of extreme stupidity to make it onto TV. It was a very fun job.
Andy Blitz
Writer/performer — The Chanting Sports Fan, Leonard, Vin Diesel's Brother, Slipnut Andy
I loved doing the remotes. I brought my desktop computer to India to find the NBC helpdesk woman, Sharon, who had been trying to help me over the phone. Another time, I hailed taxis in midtown trying to find one to take me to Toronto and finally found a cabbie named Happy who was up for the drive. There's another where Conan takes me apartment hunting/becomes a dictator and we annoy everyone.
It showed how an extremely ridiculous decision could get approved as long as it was funny. NBC effectively and inexplicably agreed to cover a vacation to India for me and my girlfriend and a crew as long as I came back with good TV. India is a beautiful country filled with people who are kind, hospitable, and great at playing along with insanity. Dan Goor came along to produce the piece with me. He went on to have much more success with Brooklyn Nine-Nine than he did avoiding diarrhea on that trip.
I took a short leave from the show to be in a sitcom pilot and was rudely introduced to the massive amount of useless interference in a show the network is paying attention to. I was ecstatic to return to Rockefeller Center and a show NBC (except for Rick Ludwin) had forgotten they make. The only people standing guard between a stupid idea like the Slipnutz and 2 million people were the two funniest humans on the planet, Conan and Mike Sweeney.
Well, also a studio audience very capable of sitting in confused silence.
Tommy Blacha
Writer/performer — Lumbar Lew, Must-See Marshall, Shirtless Moron
My favorite all-time bit was "Satellite TV." Usually it was on a Friday and you had all week to produce around ten channels. You had a whole staff of talented writers that would pitch wonderfully smart or amazingly stupid channels. Often the pitch process was this quick: "How about a potato that is a judge?" "Potato Judge?" "Yeah. Do it!"
It certainly was a big pressure-filled workload at times, but it was a rare treat working on that show for me. Producing TV can often be an overthought, grueling, soul-sucking, bureaucratic process. Late Night would often have a visceral feel that made you feel a part of this lineage of shows like Ernie Kovacs, Steve Allen, Jack Benny, and Letterman.
It was rumored that Richard Nixon once commented on the show calling it "madcap." I don't know why but that made me happy.
Andrew Weinberg
Writer/performer — Shoeverine, Heavy Hands Harry
Overall, I'm most proud of the aggressively stupid things we did. "Cactus Chef Playing 'We Didn't Start the Fire' on the Flute" comes to mind. It was exactly what it sounds like: a cactus wearing a chef's hat, holding a flute with its branch-arms, while a flute-only version of the Billy Joel song played. It wasn't clever or smart. There was no deeper meaning to it. It really had no reason to exist at all. But it did, because we all agreed it was somehow funny.
That's what I loved most about working on the show. The image of a cactus wearing a chef's hat popped into my head, and two days later the General Electric Corporation paid people to build it and broadcast it on network television.
Brian McCann
Writer/performer — Preparation H Raymond, Pimpbot 5000, FedEx Pope
I always thought Late Night was at its best when we got to present insane ideas, and I think the bit that allowed that the most was "Satellite TV." Conan and Andy flipping through channels to see what's on and finding stuff like a channel called "Babies Reminiscing" where there is sappy music playing over a montage of babies looking out over lakes and parks. Or the "What Hurts More" channel where Matt Walsh just whipped objects at me and I shouted out which one hurt more. "Satellite TV" allowed for a fast-paced dose of crazy, and the stuff we shot had really good production value.
The way Conan embraced the absurd was so refreshing. Other shows tried to go that way and it didn't feel authentic. I had the most fun when the whole staff was urged to bring their own voice to whatever they were doing. Most shows I've worked on have a single voice and single point of view, which greatly narrows the type of comedy that can be done successfully.
Mike Sweeney
Writer, head writer
I have hundreds of favorite bits from Late Night, but for now I'll mention just one: "The Kayak Guy," a.k.a. the "There's No Reason to Live Guy," has a warm place in my heart because (a) it was born out of desperation as we sat in the writers room at 10 p.m., still needing a second sketch for the next day's show; (b)it was pitched and performed by the always brilliant Brian McCann; (c) it contained the hidden drama of McCann having to stick two entrances by running off-camera down two hallways and a long flight of stairs; and most importantly, (d) it was an instant hit with the audience, allowing us to bring it back a dozen times and thereby avoid a dozen more desperate meetings at 10 p.m.
Kevin Dorff
Writer/performer — Coked-up Werewolf, Bartender at Joe's, Suburban Dad
My favorite piece from my time writing for Conan is certainly the field trip Conan took to Old Bethpage, New York, to interview the men and women dedicated to the historical preservation of 19th-century baseball. The whole piece was sparked by our excellent stage manager, Steve Hollander, an avid baseball fan. Steve showed me a newspaper article about an "olde tyme" baseball league, and he and I chatted about how "neat" it all looked — amateur ballplayers in period uniforms playing by 1864 game rules. I took the article directly to Mike Sweeney, and Sweeney took it in to Conan. I think in less than an hour the remote was approved.
When we got to Bethpage and started rolling, Conan dutifully dug in with the players and the umpire, asking them why they were so committed to this kind of silly project. His tone was gently mocking — pretty much just being a wise-ass, nothing too major. Then Conan noticed that there were actual spectators at the game. They were interns from the Restoration, dressed in period costume, and importantly, they were mostly young women. One of them went by the name "Nell." She was shy and rather intense, according to the other interns. She affected a slight Irish lilt and she'd done her makeup to make her look consumptive. Her companions literally did not know her real name. Conan's laser beam was activated, right then and there. It was a joy to watch them together. Conan asked Nell if she was married. When she said her husband was away fighting in the Civil War, Conan immediately suggested that they should have sex behind his back. When she refused, Conan casually wondered aloud if her husband might already be dead.
The next shot is a reveal of Conan, in full uniform, and in character, as an egotistical, hectoring, obnoxious 1864 jock asshole, determined to bang a terminally-ill widow. He took turns batting and pitching, terribly, all the while berating his teammates in mostly his own invented 1860s slang. It sounded like a coked-up Teddy Roosevelt channeling a drunk Bobby Knight. In an amazing stroke of luck, Conan's tirade was suddenly interrupted by a low-flying jet overhead. The flying anachronism terrorized him and he ran off the field, shrieking. The last shot of the piece has Conan and Nell walking down a country path. As he reaches over to cuddle her, she bats his hand away. Then there's a lovely dissolve to a formal daguerreotype of Conan with his team, "The Wabash Mashers."
In the edit, I added Flatt & Scruggs's "Foggy Mountain Breakdown," which was replaced in reruns with less expensive music. But that manic hillbilly energy was just perfect — it sounds so zany and absurd until you realize just how much darn technique it takes to pull it off. That's true of Conan, too. Under every bit of his "jack-assery" (as he calls it) is homework. Lots of homework. Late one night we showed Conan the final cut. [He said] "It's like Field of Dreams meets the Donner Party." I was too tired at the moment to understand what a high compliment that was. Conan wanted it to be the last piece on his last Late Night episode. He said he wanted it played at his funeral.
I will always cherish this piece because it records the transformation of Conan from prepared comedian to motivated actor in a few short minutes. At the very moment Conan the comedian acquires his target, in this case the lovely Nell, Conan the performer takes the wheel, now fully armed with a genuine feeling: "I'm gonna play me some baseball and get me that girl." Heck, that's the reason I played baseball.
The headline of this post has been updated to reflect the correct status of the writers interviewed.