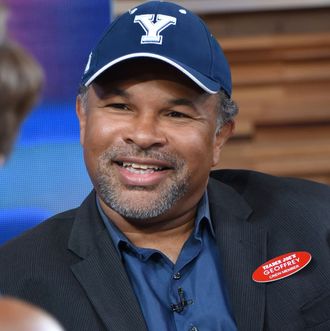 Photo: Paula Lobo/ABC via Getty Images
A little over a week after Cosby Show alum Geoffrey Owens was job-shamed for working at Trader Joe's, the actor has booked another role. ET reports that Owens will have a guest-starring role on NCIS: New Orleans. Owens will play Commander Adams, who's described as an old friend of Scott Bakula's character Dwayne Pride. Pride will visit Adams for "both medical and spiritual advice," according to ET.
In addition to the NCIS gig, Owens recently booked a recurring role on Tyler Perry's show The Haves and Have Nots, which airs on OWN. When Owens appeared on Good Morning America to discuss the response to a news report shaming him for taking the grocery store gig, Owens said, "No one has to feel sorry for me. I'm doing fine." Congrats!