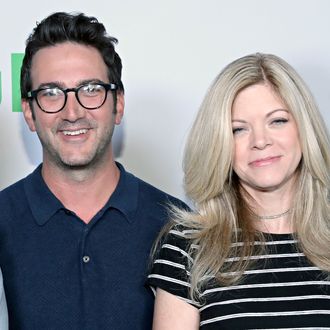 Josh Schwartz and Stephanie Savage.
Photo: Jonathan Leibson/Getty Images
After creating what was perhaps the greatest teen mystery of all with Gossip Girl (well, until we found out that Dan was Gossip Girl), Josh Schwartz and Stephanie Savage are developing a whole new slate of mysteries for the CW. Deadline reports that Schwartz and Savage are overseeing a new show about an 18-year-old Nancy Drew written by The Magicians' Noga Landau. "Set in the summer after her high school graduation, Nancy thought she'd be leaving her hometown for college," the plot description goes. "But when a family tragedy holds her back another year, she finds herself embroiled in a ghostly murder investigation — and along the way, uncovers secrets that run deeper than she ever imagined." CBS TV is developing the series, its third attempt to get a Nancy Drew show off the ground after CBS passed on a Sarah Shahi–led show in 2016, and NBC passed on one this last season. Schwartz and Savage also produced the CW's Dynasty reboot as well as Hulu's Runaways. Basically, they're behind all the shows about teens, rich people, or both.