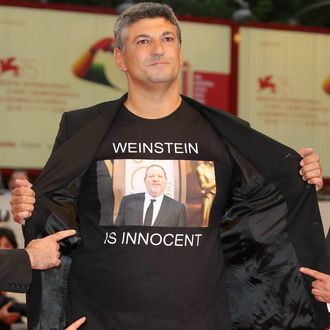 Photo: Andreas Rentz/Getty Images
Picture, if you will, Italian director Luciano Silighini Garagnani making the "Weinstein Is Innocent" T-shirt he wore to the red carpet before Venice Film Festival's world premiere of Luca Guadagnino's Suspiria. Did he Photoshop it himself? Did he have it commissioned? Did he rush order it, or did he plan his look weeks ahead and have it delivered with plenty of time to spare? Does Garagnani know there are literally dozens of women who have made allegations of sexual harassment, sexual assault, or rape against the disgraced Weinstein Company producer? Did he think, even for a second, of not wearing it with faded jeans and a blazer?
While it's unclear whether his Weinstein top was a sincere sign of support for the disgraced producer, who faces felony sexual assault charges in New York this month, or a dark, poorly thought-out jab at the festival circuit Weinstein allegedly used as a "hunting ground," one thing's for sure: this guy spent the time, money and energy to make this t-shirt, and then he wore it, in public, in front of everyone.