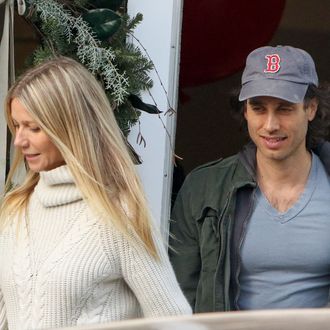 Gwyneth Paltrow and Brad Falchuk.
Photo: BG004/Bauer-Griffin/GC Images
It's happening! Just a few hours ago People reported that Gwyneth Paltrow was in the process of getting married to Glee co-creator and TV producer Brad Falchuk. So by now she's probably reached the part of the evening where she does the Electric Slide with her bridal party, which includes Cameron Diaz, Nicole Richie, and Rachel Zoe. Other guests of the Hamptons nuptials reportedly include Jerry Seinfeld, Steven Spielberg and Robert Downey Jr. Meanwhile, her ex-husband Chris Martin is currently performing at the Global Citizen Festival, so it's hard to say which of them will get the better Instagrams out of all this.