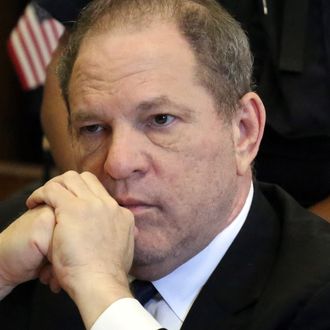 Weinstein.
Photo: Jefferson Siegel/Getty Images
Harvey Weinstein is now being investigated by federal prosecutors, who are looking into whether the Hollywood producer broke any laws while working with the private intelligent service agency Black Cube, according to The Wall Street Journal. The New Yorker originally reported that the agency, which is operated largely by former Israeli intelligence agency officers, was hired to gather information on Weinstein's accusers in an attempt to stop them from going to the press. Though he is already facing state charges in New York for rape and felony sexual assault, federal prosecutors are investigating whether his activities with Black Cube could constitute wire fraud.
In a statement to Deadline, Weinstein's lawyer Benjamin Brafman said that Black Cube's activities were supervised by prominent lawyers "who would never have authorized illegal activity of any kind." Brafman also rejected the notion that the producer was attempting to silence his accusers, saying that "the sole objective was to enable Mr. Weinstein to effectively defend himself through legal action from serious and patently false allegations." While Weinstein has pleaded not guilty to state charges, Deadline reports the federal charges may be a separate case to be pursued if the state fails to secure a conviction.