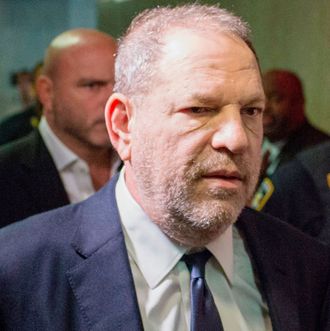 Harvey Weinstein.
Photo: EDUARDO MUNOZ ALVAREZ/AFP/Getty Images
Casting JonBenét director Kitty Green is at work on a new fictional feature-film about Harvey Weinstein. According to Deadline, Green's movie will tell the story of a day in the life of one of Weinstein's assistants. Green spent nearly a year researching the former super-producer, currently facing charges of sexually assaulting three women. "What was perhaps the hardest part of all my researches and discussions was the repetitive nature and banality of Weinstein's reign, which lasted over 30 years, over the hundreds of young people — and specifically women — who came to his companies ready to start their careers," Green said in a statement to Deadline. "When you actually imagine and then live through even one day of what it must have been like, it's terrifying." The project is still in preproduction, with casting to be announced soon.
A series of reports in The New Yorker and New York Times last fall exposed decades of sexual assault accusations against Weinstein. Some of the women accusing Weinstein of rape and assault said that his assistants would often be used as "honeypots" to lure actresses into hotel rooms alone with the Weinstein Company boss. In the early '90s, a group of ex-Miramax employees started meeting informally as "Mir-Anon," a support group for Weinstein's former employees.