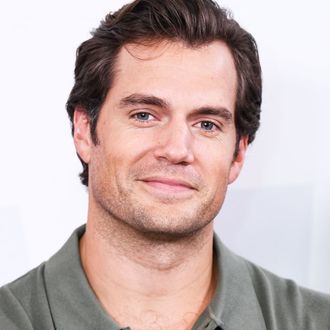 Give his dog a role, too!
Photo: Yanshan Zhang/Getty Images
Instead of playing video games on your TV, soon you'll be able to watch Henry Cavill act one out in front of you. Netflix announced today that Cavill, the human version of a maxed-out muscle slider on a character selection screen, will play Geralt of Rivia in Netflix's adaptation of the Witcher fantasy book turned video game series. Geralt is "a solitary monster hunter" who "struggles to find his place in a world where people often prove more wicked than beasts," and also enjoys baths. "But when destiny hurtles him toward a powerful sorceress, and a young princess with a dangerous secret, the three must learn to navigate the increasingly volatile Continent together." Netflix's series will have eight episodes, with Lauren Schmidt Hissrich (Marvel's Daredevil) executive producing and showrunning, and Alik Sakharov (House of Cards, Game of Thrones) executive producing and directing four episodes, including the first. Alex Garcia Lopez (Marvel's Luke Cage) and Charlotte Brändström (Outlander) will also direct two episodes each. To answer the most pressing question: Geralt does not start the game with a mustache (bad news, Henry!), but he can grow facial hair (good news, Henry!).