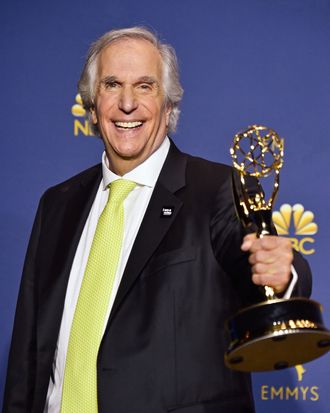 Photo: Frazer Harrison/Getty Images
Beloved TV icon status? Check. Character's wardrobe in the Smithsonian? Check. Respected career producing classic TV shows? Check. An Emmy for his acting performance? Finally, for Henry Winkler, check!
"It feels unbelievable," said Winkler, who became a TV legend for his decadelong stint playing Arthur "the Fonz" Fonzarelli on the sitcom Happy Days in the '70s and '80s, in the press room Monday night following his very first Emmy victory. After four-and-a-half decades as an actor — and five previous Emmy nominations — Winkler won for playing the eccentric acting coach Gene Cousineau on HBO's critically hailed comedy Barry. "I was 27 when I started doing the Fonz. I'm now 72, and I'm standing right here in front of you with [an Emmy]. Wow."
Not only was Winkler, long considered one of the industry's most kindhearted figures, seen as the clear favorite among the many Emmy contenders this season, he knew that he'd earned a unique distinction: From 1976 to 1979, Winkler was nominated four consecutive times for an Emmy for Outstanding Lead Actor in a Comedy Series, and received a nomination for Outstanding Guest Actor in a Drama Series for a stint on The Practice in 2000. That made for a 42-year span between his first nomination and his most recent, as Outstanding Supporting Actor in a Comedy — an achingly long stretch before ultimately claiming his first Emmy trophy.
"I'm a record-breaker," Winkler said. "I think that I have the longest drought between nominations of anyone in the Academy. I think over 7,400 people have been nominated between my last and tonight."
The actor, who's also produced classic series like MacGyver, says the weight of the experience and the support from his colleagues was not lost on him. "Maybe because I'm a little older, I was present for the moment," he told Vulture at HBO's Emmy after-party. "I literally saw the room. I felt them. And it was great! And my brain was racing a mile a minute … It was just so warm and supportive. What I am glad of is that I did not cry, because I could have so easily — and then I would not have thanked anybody."
Proving his nice-guy cred, Winkler also spent much of the night telling reporters about his one regret onstage: "I forgot to thank HBO. I wanted to say, for everybody that works between the roof and the lobby on both coasts, they took such good care of our show. And I forgot that. "
"I was so thrilled," said Bill Hader, the star and co-creator of Barry, of Winkler's victory. "What was so cool, what I said to [co-creator] Alec [Berg] after Henry won, was I said, Remember when he came and read for us? He came into work one day in our casting, and there was Henry with the other actors sitting there with a script, coming in to read for Gene Cousineau. And to see him up there, it was nice. It was great."
Winkler said that claiming an Emmy trophy was certainly a big wish, but all along the way, it was the opportunity to keep acting that mattered most to him. "Being a star has nothing to do with why we do what we do," he said. "Here's my advice. Be yourself. Be honest about your ability. Prepare so that you are not a flash in the pan. When I first started here in Hollywood in 1973, I thought of myself as a tree. I planted it and then I was the forest ranger, and I wanted it to grow and be strong until I couldn't do this anymore. And what a great tree it is."
Still, he said, the Emmy was a nice perk, and he didn't want to downplay its significance as he pondered where he might place it in his home, "Well, let's just say it's not a door stop," he laughed. "It's not going in the bathroom. Maybe right next to my bed."
Additional reporting by Taylor Ferber.