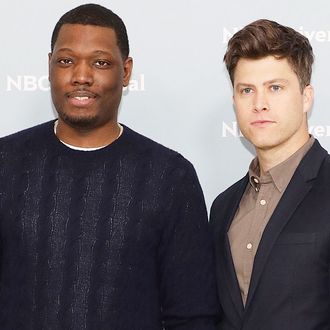 Saturday Night Live
co-head writers and "Weekend Update" co-anchors Michael Che and Colin Jost.
Photo: Taylor Hill/FilmMagic
Saturday Night Live returns to NBC for its 44th season in less than three weeks now, and in addition to the departure of featured player Luke Null, there will be another change at the show this season. A source has confirmed to Vulture that last year's co-head writers Michael Che, Colin Jost, and Kent Sublette will return as co-head writers next season, while last year's fourth co-head writer Bryan Tucker will step down from the position to be a senior writer.
Tucker — a longtime SNL writer for over ten years — originally became a co-head writer during season 39 back in 2014. Sublette has been a co-head writer since season 42. Jost was promoted to the position alongside Seth Meyers during season 38 in 2012, stepped down prior to season 41 in 2015, then returned to the position again last year with Che.
It is unlikely that more co-head writers will be added prior to the upcoming season premiere, which airs Saturday, September 29. The show has not yet revealed the premiere's host and musical guest, but if it's not Awkwafina and Lady Gaga, we're rioting.