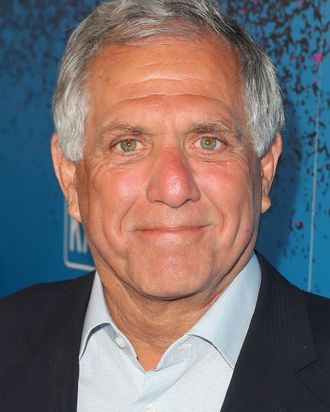 Les Moonves.
Photo: Joe Scarnici/Getty Images for Apple
According to anonymous sources speaking to the New York Times, former CBS CEO and chairman Les Moonves's downfall was far from certain once the network became aware of the first allegations against the executive. In January, when rumors first began to swirl that there was a story coming out about the CEO, Moonves met with Michael J. Aiello, a lawyer hired by the network's board of directors, and he insisted that there were only a few incidents from before his time at CBS and nothing current for the network to worry about.
Once the Ronan Farrow story was published in The New Yorker in July, Moonves explained in a closed meeting with an independent group of loyal board members that the allegations were "grossly overstated" or untrue. "I don't care if 30 more women come forward and allege this kind of stuff," board member Arnold Kopelson is alleged to have said in a meeting shortly afterwards, "Les is our leader and it wouldn't change my opinion of him." Kopelson later clarified to the Times that he didn't think Moonves deserved to be removed based "on magazine reports which are hearsay to begin with." The board decided not to suspend him pending an investigation. Then, in August, the Los Angeles Times reported that Phyllis Golden-Gottlieb had filed a complaint to the police in late 2017, months before Moonves met with the network's lawyers.
Moonves refused to take part in a second meeting until pressured by the terms of his contract. In this second meeting, with his own lawyers also present, Moonves admitted he knew about the police complaint, and he also revealed the existence of another accuser, whom he was currently working to silence by offering her a job at CBS. Moonves claimed he'd told Aiello about both these things in January, but Aiello denied this. None of the notes taken during that meeting by any of the lawyers present backed up Moonves's claim.
The board had still, after all this, intended to give Moonves around half of the $180 million his contract required upon his being terminated without cause. But then New Yorker fact-checkers contacted the network to alert them to six more on-the-record, previously unknown accusers. It was then decided that the former CEO's evasiveness meant he could be terminated with cause, and in the end Moonves left the network without a dime.