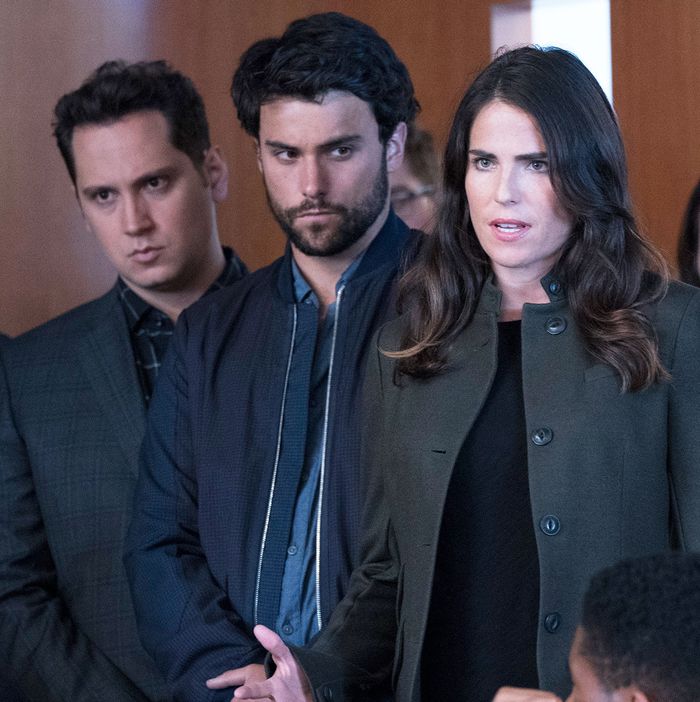 Don't you love this time of year? The leaves are still green but there's a crispness in the air. You can pull your favorite jackets out from the back of your closet. The eternal debate about whether or not pumpkin spice is just cinnamon stirs again on Twitter. How to Get Away With Murder still makes sense! There's still a clear narrative thrust and there aren't 13 different timelines and realities rapidly collapsing in on themselves. There are less than three genetic-based secrets floating around. Aaah, fall. Also, it feels great to sit with Annalise Keating, a black female lawyer in recovery, a survivor of assault, who just defended the rights of the underprivileged in front of the Supreme Court. For no reason at all. There's no reason why hearing this specific voice, even if it is fictional, is important today of all days. Let's get to it.
What's the best way to get this episode of How to Get Away With Murder started? The same flash-forward device we've seen for five seasons. Ooooh, yeah! The wedding of Connor and Oliver and Annalise is GETTING DOWN. Annalise has got her party wig on but Frank interrupts the fun. She looks at him and asks, "Why do you look like someone just died?" Frank doesn't answer her and Annalise slaps him. Oh, no. We don't know who it is but someone is out in the snow, stumbling and bleeding. They're outside the wedding and the camera is their eyes. They fall down when suddenly we're back on campus, three months earlier. Who do we see but Gabriel Maddox. He's rolling into Annalise's class and it's packed. Everyone wants to be in class with the woman who just took on the Supreme Court. When I just typed that, my eyebrows shaped themselves and I felt an eerie sense of calm come over me. Hmm … strange.
She tries to scare everyone away from her class but she's going to make them compete for a spot. Annalise also looks great this season. So far, all of the wigs have been a delight. Everyone will have 30 seconds to argue for what they're passionate about and then will be sorted into who is in the class and who gets kicked to the curb. Everyone argues for what they believe in. Gabriel Maddox unleashes his argument for a case he intends to lose so it gets more publicity. Annalise is intrigued. The next assignment is to argue the other side of your position.
Annalise starts going on job interviews. She's looking for a firm with the resources so she can take her plaintiffs' cases to trial. She's asking for a lot but she knows she's worth a lot. She's a big score for any law firm. She goes to Caplan & Gold, even though Teagan doesn't think it's a good idea, and demands a ton of money because they need her since their biggest client is locked up. Put a pin in all that.
Nate goes to visit Bonnie at work and she's flirting with Miller, a.k.a. Matt McNamara, a.k.a. her new interim boss. Nate finds this all very suspicious, but Annalise doesn't know and she takes Bonnie aside to tell her she's really close to getting them all set up at a new law firm. Bonnie isn't ready to leave the DA's office yet because he might have shown the files to Miller and she needs to stay on top of him … er … the situation.
Laurel gets a package and it's from her mother … so her mother is alive? Okay, sure.
Nate steals a coffee cup from Bonnie's desk and takes it to the DNA lab along with a file that has the words "CHILD ALIVE?!??!" written in the margin. It's Bonnie's file from her assault trial.
Back in class, Annalise is hearing everyone's counterarguments and Gabriel's is all about how murderers are bad and if you murder, there's no hope for your soul. Mmm … dramatic irony! Annalise gets an important call and class is canceled. All of the law firms are suddenly pulling their offers. There's her probation with the Bar, her malpractice insurance. These are all things they already knew about, so Annalise storms into the office of the female-led firm to ask what's going on. The governor has been calling law firms and saying they'll be looking at any client at any firm where Annalise is a lawyer. Oh, fuck. There's that pin. See how it dropped.
Oh, Frank and Laurel are banging again. Nate is banging the lab tech and Bonnie is trying to get Miller to bang her. It's just in the air — banging.
After everyone is done banging, Oliver takes some of the Keating Gang to a dilapidated old frat house. Connor thinks it's a potential wedding venue but Oliver wants to buy it and have everyone live there together. Because that's a totally normal thing that friends do together. Frank tells Annalise that there's something shady about Gabriel and she should kick him out of her class. Also, he's only a second-year student.
Annalise goes back to Caplan & Gold to tell them that they should fund her pro bono clinic because they could use the good press. They don't bite and she heads out to her car, but then the impossible happens: they call her and offer the resources. So now Annalise has to select who will be working in her clinic. She selects Michaela, Laurel, and Connor. There's one seat left. Is it going to Asher or Gabriel? Annalise lectures Gabriel about relying on the law instead of emotion and tells him he's in. Asher wants to know why he didn't make it and Annalise says he's still hung up on Michaela and is using his assignments in class to impress her. I desperately need Asher to get a personality.
Back at home, Laurel comes in to see Frank and tell him that she's moving out. He says that he gives and gives and doesn't expect anything in return as if that's a healthy relationship. To really drive home how healthy this relationship is — he proposes. Oh, Frank. I want what's best for you.
Now it's time for the The Godfather reference of the episode. Laurel is getting her baby baptized and Frank and Annalise are the godparents. Do I want Laurel to disappear and Annalise and Frank to raise Christopher and literally solve mysteries? Yes. Yes, I do.
We find out in the baptism montage that Annalise ends up at Caplan & Gold, but only one of the partners wanted her there. Michaela blew her chance with sexy Marcus, whom she cheated with. And we learn that Bonnie's DNA is a match for whoever's DNA it was tested against. The show immediately cuts to Gabriel, so I guess we're really doing this, huh? Finally, we cut back to the wedding, and who is next to the victim in the snow? BABY CHRISTOPHER! Bonnie comes out and puts her hands on the mouth and eyes of the victim in the snow.
It's gonna be one of those seasons.