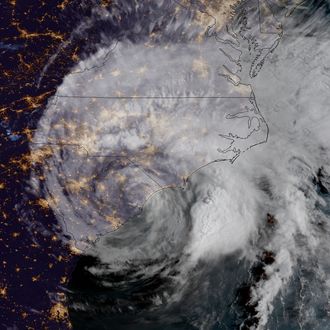 Photo: NOAA/NOAA Environmental Visualization Laboratory
A conspiracy has finally reached the Weather Channel, and it involves neither the sun or the rain, but rather the foe of toupéed gents everywhere, the wind. If you've been keeping up with viral clips this weekend, there's a chance this 20-second vignette reached your timeline, which shows seasoned reporter Mike Seidel reporting live from Wilmington, North Carolina, as Hurricane Florence rapidly approached the city. He's flailing around with the confidence of an inflatable tube man at a car dealership, declaring the winds to be "about as nasty as it's been." Too bad for Seidel, two people soon walk behind him in the frame, strolling normally and by no means hindered by any winds. Was Seidel exaggerating Mother Nature's plan for the sake of a juicy scoop? It's possible.
Regardless if Seidel was flirting with the truth or not, the Weather Channel is standing by its man. Because the real culprit has stepped forward in the police lineup, and it's green and narrow and slippery. "It's important to note that the two individuals in the background are walking on concrete," the channel told THR, "and Mike Seidel is trying to maintain his footing on wet grass, after reporting on-air until 1:00 a.m. ET this morning and is undoubtedly exhausted." Case closed. Or is it? Put in a call for Burt Macklin.