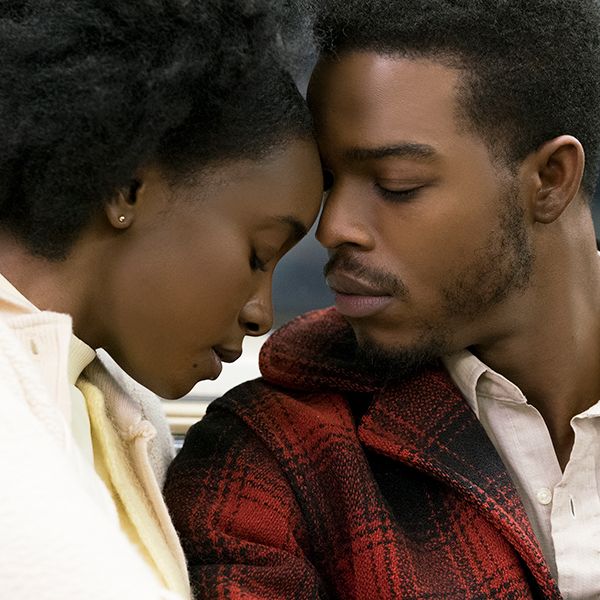 Photo: Annapurna Releasing, LLC.
With his third feature, an adaptation of James Baldwin's novel If Beale Street Could Talk, Barry Jenkins (Moonlight) has cemented his style: lush and romantic on the surface, hyperrealistic and grim a short flight down. The tone oscillates: seductive, abrasive, seductive — but always beautiful, because Jenkins and his cinematographer, James Laxton, don't do ugly. There's always a jukebox, a spinning vinyl record, a full moon, to suggest a better world elsewhere. It's overripe, but heady.
The title is heavily symbolic. Memphis's Beale Street is where the blues were said to have been born, and for Baldwin the story that it would tell is one that would sum up black life in 20th-century America. There is the pure-hearted girl, 19-year-old Tish (KiKi Layne), who longs to escape her corrosive New York City milieu; the boy she loves, 22-year-old Fonny (Stephan James), who's unjustly accused of rape; and an extended family of disparate men and women — some prim, some crude, some law-abiding, some crooked — who scramble to save Fonny from the fate of so many young black American men.
Jenkins opens If Beale Street Could Talk with an overhead traveling shot of the two radiantly beautiful young people on the night they've decided to become lovers. ("Are you ready for this?" "I've never been more ready for anything in my whole life.") It's a magic-in-the-moonlight moment, but it turns out to be a flashback. Fonny (short for Alonzo) now sits in jail, charged with a rape for which he's so obviously not guilty that the prosecutor would be a laughingstock if Fonny weren't black and the white cop who put him in a lineup wasn't bent on settling a score. The film drifts back and forth between the couple's wondrous expectations before the arrest, and the lonely quest to get the charges dropped once Fonny is inside and Tish is carrying their baby.
You'll notice at once how old-fashioned the movie looks, its palette warm, its colors deepened by Nicholas Britell's score, which ranges from a distant, forlorn trumpet to a string quartet in which the players dig in as if they're having their own dialogue between hope and despair. The close-ups are immense, the emotions archetypal. And then, like a slap, come stark, black-and-white photographs of men, woman, and children surrounded by filth and handled brutally by white cops — a sudden chiaroscuro montage in a film so rich in reds and golds and browns. Baldwin's words — intoned by Tish, who narrates — are also a slap:
Though the death took many forms, though people died early in many different ways, the death itself was very simple and the cause was simple, too: as simple as a plague: the kids had been told that they weren't worth shit and everything they saw around them proved it. They struggled, they struggled, but they fell, like flies, and they congregated on the garbage heaps of their lives, like flies.
Jenkins uses that passage in the film, though he omits the novel's subseqent, pragmatic admission from Tish that perhaps she "clung to Fonny because he was the only boy [she] knew who wasn't fooling around." That bit of dissonance wouldn't fit with Jenkins's tone poem, in which Tish and Fonny are together because it's destiny and only a society this cruel would tear them asunder.
The approach might have seemed soppy if Layne and James weren't so gorgeous and the actors around them so magnetic. The broad-shouldered Colman Domingo with his lusciously deep voice plays Tish's dad, who'll do anything to make his family happy. Regina King, her features exquisitely empathetic, is Tish's mom, who treks to Puerto Rico on a seemingly hopeless mission to convince her future son-in-law's damaged, terrified accuser to recant her identification of Fonny. Brian Tyree Henry is Fonny's big, once happy-go-lucky friend, shattered now after a stint in prison. It's Henry's character who warns Fonny, a gifted sculptor of wood and metal who'd otherwise have no reason to fear white people, "The white man has got to be the devil."
If Beale Street Could Talk would be even richer if Jenkins didn't photograph the white cop who has in it for Fonny as if he really is the devil (and the devil had bad skin). Jenkins pre-chews the material, which he never did in Moonlight or his first feature, Medicine for Melancholy. On the other hand, when Tish gets a job at a perfume counter, a montage of her customers after is overpoweringly eerie. Jenkins makes visceral Tish's feeling that, more than a century after the freeing of slaves, she feels owned. Her pregnancy, with its violent, incapacitating kicks, is a near-monstrous reminder of what's in store when the child is born with a father in jail. The movie ends with Billy Preston's mournful, ironic rendition of "My Country 'Tis of Thee," which suggests that there is actually no medicine for this kind of melancholy. Beale Street has spoken.
If Beale Street Could Talk was nominated for three Oscars in 2019, including Best Supporting Actress, Best Adapted Screenplay, and Best Original Score.