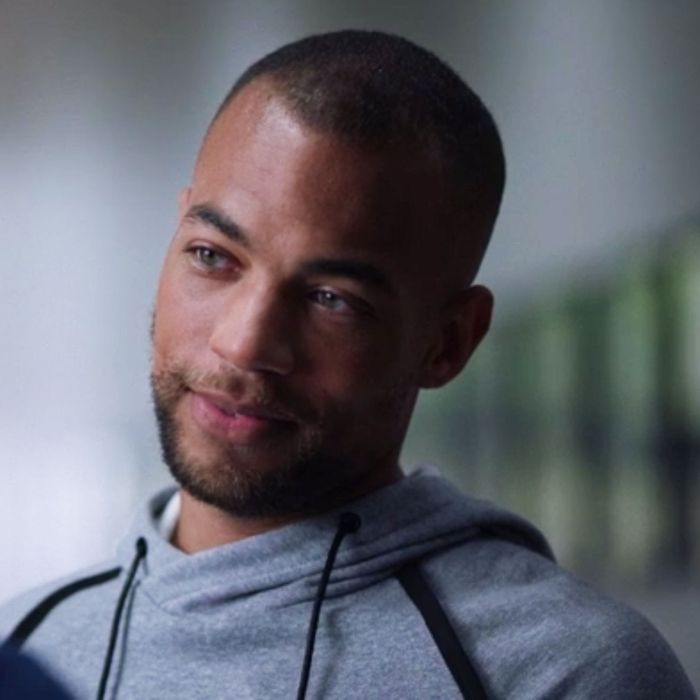 Kendrick Sampson as Nathan on "Insecure."
Photo: HBO
Issa has a new man on this season of Insecure: Nathan. He is extremely attractive — his eyes are a color Benjamin Moore would name "Pregnancy Inducing," his skin is the same golden brown of Popeyes fried chicken — and he is both relaxed and cool. HBO's supporting actor factory couldn't conjure up a better mate. He talks about the differences between his native Texas and his new home of Los Angeles too much, but let she who is without annoying hills to die on cast the first stone. Nathan is a perfect man … except that he has has curiously disappeared. Issa hasn't heard from him in days, or about two episodes, which is two weeks in real time, and approximately 17.5 infinities in new relationship time.
It's possible that Nathan is in jail, a common theory among Insecure stans. It's possible that he just got distracted by an Law and Order: SVU marathon, which can definitely suck up entire days at a time. But it's also possible that he fell into a deep internet hole looking into the behind-the-scenes drama of the 2005 Jennifer Aniston romantic comedy Rumor Has It and just lost track of time. Or maybe Nathan just sucks. (Didn't he kill someone on How to Get Away With Murder?) Vulture has run down the ten best theories about how he could be so busy. Nathan, if you are reading this: Turn your location on!
Maybe he's just listening to Scorpion
Here's — extremely Oprah voice — what I know for sure: Light-skinned men love Drake. May the reign of the beige king never end! Scorpion, his latest release, is a whopping 89 minutes. (For reference: Scorpion is longer than Before Sunset, longer than the animated Beauty and the Beast, longer than Borat!) It seems entirely plausible that Nathan got caught up listening to Scorpion, and then got caught up listening to More Life, and then by that point he realized that More Life has exactly two good songs, so why not revisit Views? But, of course, post-Views he needed to reconnect with his roots ("Headlines"), and is he really just going to listen to Drake and not press play on If You're Reading This It's Too Late? And as long as Nathan is getting in his feelings, he might as well return to Take Care and add "Look What You've Done" to the queue because "It's like '09 in your basement and I'm in love with Nebby." After a certain point, before Nathan even realized it, he wasn't listening to Drake anymore. He was just listening to Common, and just like that, there goes the whole weekend.
Maybe he's at Whole Foods
My guy, you cannot go to Whole Foods on Sunday. The lines will send you to an early grave!
Maybe he's with another woman (who isn't Beyoncé)
This is the obvious one, right? That, in between his last text with Issa and now, he has met and fallen head over Heelys with a power-suit-wearing tax attorney, or a single mom who's working on her own skin-care line that will soon overtake Glossier, or maybe even a really cool dentist. And, like Justin and Hailey or Pete and Ariana, he's proposed to this woman, this woman said yes, and now they're living happily ever after together. They have a dog and a front yard and a hammock and he gently closes her laptop at night when she falls asleep to the boring episodes of Sharp Objects. Meanwhile, Issa is clawing through Nathan's old bedroom at Andrew's house looking for evidence of this relationship. It's possible!
Maybe he's with another woman (who is Beyoncé)
I serve at the pleasure of Beyoncé Giselle Knowles-Carter. Maybe, for whatever reason, Nathan has been called upon by the Carter family. What choice does he have other than to answer that call? Parkwood isn't the White House; there is an airtight inner and outer circle of employees. Maybe he's doing something on Bey's Lemonade follow-up or just cleaning up Jay's edges. Either way, if Parkwood hired that man, of course we wouldn't be hearing from him. And Issa would respect this!
Maybe he's a Scientologist now
He lives in Los Angeles!
Maybe he's watching To All the Boys I've Loved Before
Based on an informal survey of specious scientific value, it is impossible to watch To All the Boys I've Loved Before one single time. Everyone I know who has watched and loved this movie has watched it once and then watched it a second time immediately after. (I have text messages and Instagram DMs to prove this empirical data, collected by me.) Maybe Nathan was hanging out at his friend's house and they decided to watch something on Netflix, and suddenly, it's four hours later and they're on their third watch, trying to figure out how exactly Noah Centineo did that back-pocket spin move.
Maybe he had hotly coveted tickets to a sports game — say, Game Six of the World Series. And maybe, while he was waiting for his friends to meet him pregame, he ducked into a bar for a drink. And maybe he was sitting at the bar when in walked a really beautiful woman. And maybe they started talking until Nathan's other friends got to the bar. And maybe Nathan really liked her, so he slid his tickets over to one of his friends and said, "Sorry guys, I gotta see about a girl."
Yes, this is almost verbatim from Good Will Hunting, but that doesn't make it any less plausible. Also, Nathan just seems like someone who would really, really like Good Will Hunting.
Maybe he read the news
I mean, have you read the news? It'd make me want to disappear too.
Maybe he's just the quiet type
One of my friends, who often gets involved in drama that would make for a very entertaining Insecure B plot, recently thought she was being ghosted by a guy. (She wouldn't agree to let me use this hilarious anecdote unless I linked her Instagram.) When she asked him about it, he texted her back something to the effect of "I wasn't ghosting you I just didn't feel like participating in the convo." Is this the wave Nathan is on?
Maybe he's been taking Ubers
Nathan and Issa met during a Lyft Line ride, when he got in a skirmish with another passenger. Lyft opened an investigation into the incident and Issa was let off the hook, but what if Nathan wasn't? According to my research — Googling "what happens if you get into a fight in a lyft but it's not your fault" — it's unclear whether Nathan would be punished with some type of lifetime ban from the ride-sharing service. So maybe he's just an Uber guy now.