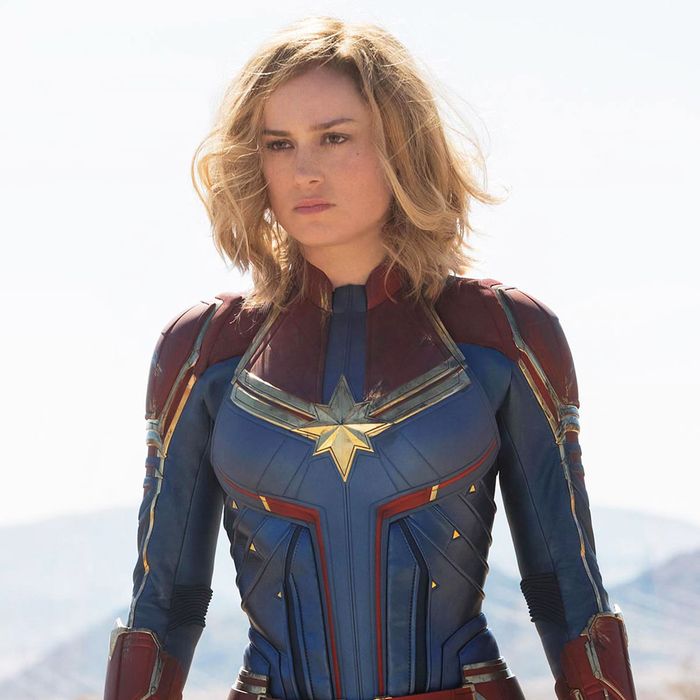 Photo: Chuck Zlotnick/Marvel Studios
When Marvel unveiled the invigorating trailer for Captain Marvel, they did so in a way that buried an important lede: Captain Marvel's gem of a cat, Chewie, might be lurking in the corner of the brand-new poster — and if he is, that may open up the character's eventual connection to the Avengers franchise.
The series first introduced Chewie (as in, that Chewie) in 2006, before Carol was promoted to the rank of Captain. The good orange boy acted like any fuzzy feline, until a 2014 encounter with the Guardians of the Galaxy revealed Chewie's true nature. Guardians' Rocket Raccoon then identified the cat for what he really is: a Flerken. Gasp!
Flerkens are not cats, but rather a powerful alien race that takes the form of cats, for some reason. In addition to sharp teeth and scratchy claws, the Flerkens have tentacle mouths and can lay eggs. They're also able to travel through dimensions at will, exactly like regular cats.
While it's basically impossible to deny the existence of a cat (or "cat") butt lurking in the Captain Marvel poster, it's tougher to ascertain what it means. After all, Marvel has neither announced nor confirmed a role for this Very Important Cat in the official trailer and stills released thus far. It is likely, though, that he's at least part of the film. By August, for example, the internet got wind of merchandise that suggested the cat was indeed part of the blockbuster and had been rechristened Goose. That would mean Carol — a noted a Star Wars fan — is potentially being tweaked to a Top Gun–lover for the movie. Whether that's to enhance the film's nostalgia vibe — she is a pilot, after all — or an attempt by Disney to separate its Star Wars and Marvel properties is unknown. Still, all signs point to Flerken — and a potential future showdown with Rocket on the silver screen.
Vulture has reached out to Disney for comment on this extremely important matter. One thing people do know for sure: Brie Larson cuddling up to a cat-alien is indeed enough to break the internet. Quite possibly, the entire universe.