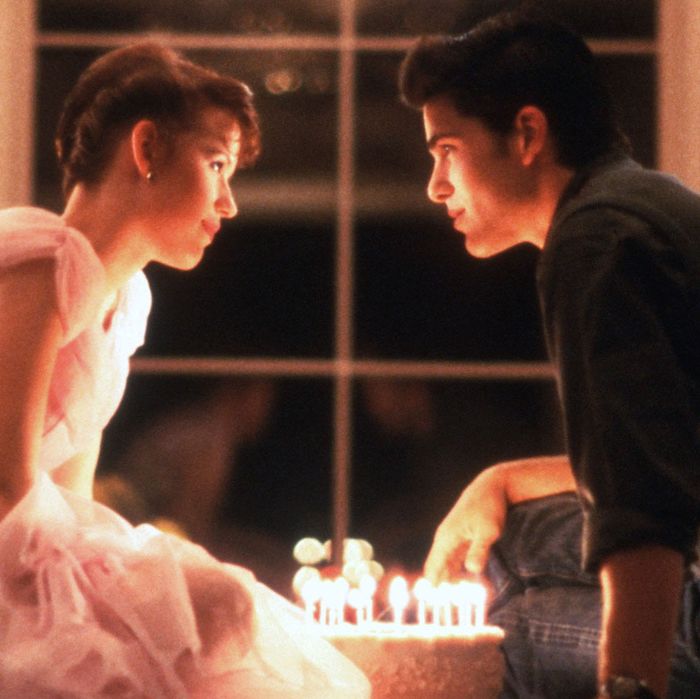 Sixteen Candles
Photo: Universal Pictures
It's easy to get swept up in a cute teen romance. They're fun, there's the nostalgia factor (we were all teens once!), and they're full of so much hope — the feeling that this is just the beginning. But here's the thing: Because we're all so busy getting swept away and having fun and remembering what hope feels like, we don't always have the most discerning eye when it comes to who our hero has chosen to fall in love with. Sometimes, when you take a closer look at what's going on and who we've been spending cinematic time with, you realize that this person is no good at all and our hero can do much, much better.
Don't get me wrong, some of your favorite teen rom-com love interests are just fine — wonderful, even! — but we owe it to ourselves and our rom-com heroes to examine this idea further. And so Vulture has taken it upon itself to put a sampling of love interests from teen comedies (spanning from the '80s to today) to the test and find out which ones are worthy — and which ones should just go home already.
Love Interest in Question: Jake Ryan (Michael Schoeffling) from Sixteen Candles (1984)
The Interested Party: Samantha Baker (Molly Ringwald)
What's the Situation Here?: Samantha Baker is having the worst 16th birthday. Everyone in her family is too busy with her sister's wedding the next day to remember it (or her, really), she's caught the eye of an extremely aggressive geek, and she embarrasses herself in front of her crush, Jake Ryan, multiple times. Little does she know that Jake found a note she dropped in which she admits that he's the guy she'd most like to have sex with, and now he's interested. The two cross paths at the school dance, Jake does some recon on the sophomore, and eventually he shows up at the wedding the next day to sweep her off her feet and celebrate her sweet sixteen the way everyone should: With cake! Also, kissing.
Jake's Pros: Well, Sam calls him "beautiful and perfect," but the only real thing he has going for him is that he drives a cool car.
Jake's Cons: You mean aside from having absolutely no personality (honestly, could you imagine if he was the main protagonist of this thing)? He also complains that his girlfriend is insensitive in the same conversation that he decides to send her home with a freshman because she's so drunk, she won't know the difference and he wants the kid to have fun. He also only shows interest in Sam once he finds her note saying she'd have sex with him. Also, why does he think it's okay to call Sam's house late on a Friday night? That's just rude. I could go on but I feel like you get the picture.
Is He Worth All the Trouble?: Ugh, no. Jake and his sweater vest are not worth any trouble. He is so boring and also awful, fingers crossed that Samantha took her kiss and her cake and found someone else to crush on junior year.
Love Interest in Question: Diane Court (Ione Skye) from Say Anything… (1989)
The Interested Party: Lloyd Dobler (John Cusack)
What's the Situation Here?: Lloyd Dobler is in love with Diane Court. He's a nervous, lovable kickboxer and she's an aloof brainiac who only has time for her father and bettering herself — she is seemingly out of his league. But Lloyd makes her laugh, so she takes a chance and the two high-school grads spend one blissful summer living and loving and dealing with Diane's dad's tax-fraud issues. She puts him in the friend zone once, dumps him later, but eventually comes to realize she needs Lloyd in her life. They head off to England together, where Diane will go to school and Lloyd will do what he thinks he does best: be with Diane.
Diane's Pros: Lloyd loves her because she's smart, beautiful, and very classy. More important, she can admit she underestimated Lloyd and she picks out excellent partywear. That white dress with floral headwear always and forever!
Diane's Cons: She calls Lloyd basic. She chooses her manipulative dad over him at first. But the biggest offense: SHE ACTUALLY GIVES HIM THE PEN.
Is She Worth All the Trouble?: Here's the thing — not many people are worthy of the precious gift that is Lloyd Dobler, even if that whole boom box thing is, in reality, very rude. Diane Court comes pretty close. She definitely brings a lot of baggage from both of her parents, and I do worry that her dad is right when he tells him that Lloyd's not a permanent part of her life, but Lloyd seems so sure. When she wants him back and Lloyd asks if she just needs someone or she needs him, she says him, so I'm cautiously optimistic that she's here for the right reasons.
Love Interest in Question: Josh (Paul Rudd) from Clueless (1995)
The Interested Party: Cher Horowitz (Alicia Silverstone)
What's the Situation Here?: Cher's running around Beverly Hills trying to make the world a better place, setting up teachers, rolling with the homies, teaching us to use the phrase "As if" more, and saving new friend Tai (Brittany Murphy) from herself, until one day it hits her: She's in love with her sarcastic, doofy ex-stepbrother Josh. Sure he spends most of his time making fun of her for being vain and selfish, but he's a college freshman who spends way too much time at his ex-stepfather's house to not be interested in her. Still, Cher angsts over these feelings and what they might mean for their friendship. But then he stands up for her when her dad's legal associate calls her dumb, tells her she's beautiful, and they kiss. All is well.
Josh's Pros: He sees the good in Cher, believes in her more than she believes in herself. He would also do anything for her — like spend time with Tai — just because Cher asks him. Oh, and he's a total Baldwin.
Josh's Cons: Hideous dancer. Reads Nietzsche poolside.
Is He Worth All the Trouble?: Yes! There is no need to be totally buggin' here.
Love Interest in Question: Zack Siler (Freddie Prinze Jr.) from She's All That (1999)
The Interested Party: Laney Boggs (Rachael Leigh Cook)
What's the Situation Here?: Artsy loner Laney Boggs is doing just fine with her glasses and her emotionally closed-off heart when Zack, school president/jock/fourth-highest GPA getter/assumed prom king comes along and badgers her into hanging out with him for no apparent reason. She is appropriately suspicious. We all know that Zack's only paying attention to her because of a bet he made with his douchey best friend: Zack can make any girl prom-queen-worthy in six weeks no matter how tragic — even the heinous Laney Boggs! Remember guys: SHE WEARS GLASSES. Also she is CLUMSY. And she's into art! But despite Laney being such a TRAGEDY, Zack and Laney find a real connection and fall for each other. When the bet is exposed, Laney is understandably disgusted but Zack "apologizes" and they end up kissing in her gorgeous backyard.
Zack's Pros: He's cute, charming, smart, and he's nice to his sister — a unicorn when it comes to teenage boys. He's also extremely protective of Laney's younger bullied brother Simon (Kieran Culkin) and it is very endearing. Still, the greatest gift Zack bestows on us all is the phrase "there was some major wiggage," for which we can never repay him.
Zack's Cons: He has multiple chances to stand up for Laney and never does. His "apology" at the conclusion of the movie is "I made that bet before I knew you" which is actually not an apology at all — he's still the type of guy who would take a misogynistic and extremely offensive bet in the first place. I'm glad he gets Laney to open up, but did he have to completely change her look? What if she likes overalls, Zack? THEY ARE VERY COMFORTABLE. And if the way he treats Laney and then expects to be forgiven for his transgressions without learning from them isn't enough, there's also the fact that the dude carries around a hacky sack at all times. No, you be silent, be still, Zack.
Is He Worth all the Trouble?: Pass. He's a decent starter boyfriend but has no long-term potential. He's extremely charming and they have real chemistry (why did Prinze-Cook not become the Hanks-Ryan of teen rom-coms in the '90s?), but, like, why didn't he once try to call off this terrible bet?
Love Interest in Question: Bianca (Larisa Oleynik) from 10 Things I Hate About You (1999)
The Interested Party: Cameron (Joseph Gordon-Levitt)
What's the Situation Here?: The focus of this modern-day The Taming of the Shrew is clearly the love story between Patrick (Heath Ledger) and Kat (Julia Stiles), but that swoony paint-ball-fight-ridden romance wouldn't be possible without new kid Cameron peeping his eyes on popular sophomore Bianca (Kat's sister) and instantly falling for her. Despite repeated warnings that Bianca is vapid and only into "model" Joey (Andrew Keegan), Cameron makes it his mission to woo Bianca, who spends most of the movie treating the nerd like trash — until she realizes he's the only person who really respects her as a person. They go to prom together, where Bianca ends up punching out Joey on Cameron's behalf. It seems very cathartic!
Bianca's Pros: Aside from the aforementioned defending of Cameron's honor, there's not much. Although Cameron would tell you it's her smile and that she's "totally pure," there are literally no other reasons why he wants her, he needs her, oh baby oh baby.
Bianca's Cons: Um, her personality? She's horrible to Kat (not the easiest person to get along with but still) and Cameron and never really acknowledges that. She also thinks it's cool to wear a crop top to prom.
Is She Worth All the Trouble?: No! She takes entirely too long to realize that Cameron is better for her than Joey, and yes, knocking out Joey is an epic move, but does it redeem her bratty behavior? She never apologizes for anything!
Love Interest in Question: Aaron Samuels (Jonathan Bennett) from Mean Girls (2004)
The Interested Party: Cady Heron (Lindsay Lohan)
What's the Situation Here?: It's not technically a rom-com, but the Cady–Aaron love story is integral. New girl Cady has a tough time navigating the high-school world after being home-schooled while growing up in Africa. It becomes even trickier when she develops a thing for Aaron, on-and-off boyfriend of Queen Bee Regina George (Rachel McAdams). Aaron spurns Cady when he realizes she's becoming a carbon copy of Regina, but Cady redeems herself with a big speech about being kinder to each other and wins Aaron back. It's pretty grool.
Aaron's Pros: He's nice, cute, and popular — definitely the type of guy a new girl might fall for. He's very aware of the date, which isn't a must-have in a boyfriend, but a nice bonus, and he looks really sexy with his hair pushed back. He seems to be over immature high-school mean-girl bullshit …
Aaron's Cons: … yet he repeatedly dates Regina, the most unapologetically mean girl you'll ever meet. This makes no sense. Also, he's pretty dumb.
Is He Worth All the Trouble?: Is Aaron Samuels worth setting off a holy war with Regina George? Uh, no. He's a snoozefest who dates a (beloved) monster. Cady obviously still has a lot to learn.
Love Interest in Question: Blue/Bram (Keiynan Lonsdale) from Love, Simon (2018)
The Interested Party: Simon Spier (Nick Robinson)
What's the Situation Here?: Human angel person Simon is a closeted senior who falls in love with another closeted kid at his school over anonymous emails. Simon spends the entire movie trying to figure out who "Blue" might be, which causes a lot of angst. Simon is eventually outed and Blue disappears — until Simon decides he deserves a great love story and makes a Grand Gesture. It all goes down on a Ferris wheel, Blue reveals himself to be Bram, and it is all very, very adorable.
Bram's Pros: Although we don't know his true identity until the end of the movie, we know a lot about Bram through his emails as Blue: He writes very thoughtfully, he understands Simon in a way no one ever has, and he is bonkers for Oreos. A real keeper!
Bram's Cons: When Simon's secrets come to light, he's bullied and ostracized and it's pretty terrible — Bram never comes to his rescue. He's just not ready to put himself out there like that, even for Simon. UNTIL HE IS, YOU GUYS.
Is He Worth All the Trouble?: Very much so. His reluctance to come out feels understandable and he doesn't leave Simon hanging when it really counts. The boys inspire each other to be brave, and you can't ask for much more than that when it comes to teenage romance.
Love Interest in Question: Peter Kavinsky (Noah Centineo) from To All the Boys I've Loved Before (2018)
The Interested Party: Lara Jean Song Covey (Lana Condor)
What's the Situation Here?: Shy girl Lara Jean writes a love letter any time she has a crush so overwhelming she needs to get it out of her system. These letters are not meant to be read by anyone, so naturally they get mailed out (little sister/queen Kitty did it!) and drama ensues. One of those letters goes to Lara Jean's sister's ex-boyfriend Josh, which breaks all sorts of sister code, so to make sure Josh doesn't think Lara Jean still has those feelings for him, she enlists the help of another letter recipient, Peter Kavinsky. Lara Jean and Peter agree to pretend to be dating to both help Lara Jean and make Peter's ex jealous. OBVIOUSLY, the two develop real feelings for each other. Their romance is almost thwarted by a steamy, in all senses of the word, hot-tub rendezvous that goes public, but eventually Peter defends Lara Jean's honor and Lara Jean realizes she doesn't want to pretend with Peter anymore.
Peter's Pros: He's a dreamboat. He's a very tall cool guy who takes designated driving seriously, packs treats for road trips, is kind to little sisters, and is secretly very sensitive.
Peter's Cons: He could definitely communicate his feelings much better and he spends way too much time with his ex-girlfriend.
Is He Worth All the Trouble?: Oh, definitely. He helps Lara Jean open up in a way that even makes her dad cry.
Love Interest in Question: Jamey (Noah Centineo) from Sierra Burgess Is a Loser (2018)
The Interested Party: Sierra Burgess (Shannon Purser)
What's the Situation Here?: Oh boy. Jamey is interested in mean-girl cheerleader Veronica (Kristine Froseth), but Veronica is not into it at all and gives him the titular loser Sierra's phone number in hopes of humiliating two fine people with one proverbial stone. When Sierra starts receiving texts from this cute boy and feels a connection, she decides to keep the Veronica ruse up and eventually goes so far as to get Veronica involved to make the lie, which moves from texting to phone calls to an actual date, believable. If you think that sounds like catfishing, it is! One time Sierra even runs into Jamey in real life and pretends to be deaf so he doesn't recognize her voice, so there's also that. Sierra's lie is eventually exposed and Jamey is, obviously (thankfully) furious. But with a little help from Veronica and a song Sierra writes, she wins him back. There is kissing!
Jamey's Pros: He's an intellectual quarterback who likes talking on the phone and hangs out with his little brother on the weekends — what's not to love?
Jamey's Cons: Seriously, like, zero. Okay, maybe the fact that he falls for the whole kiss switcheroo thing with Veronica and Sierra, but other than that he is a dream.
Is He Worth All the Trouble?: Jamey is too good for this world and too good for catfishing meet-cutes.