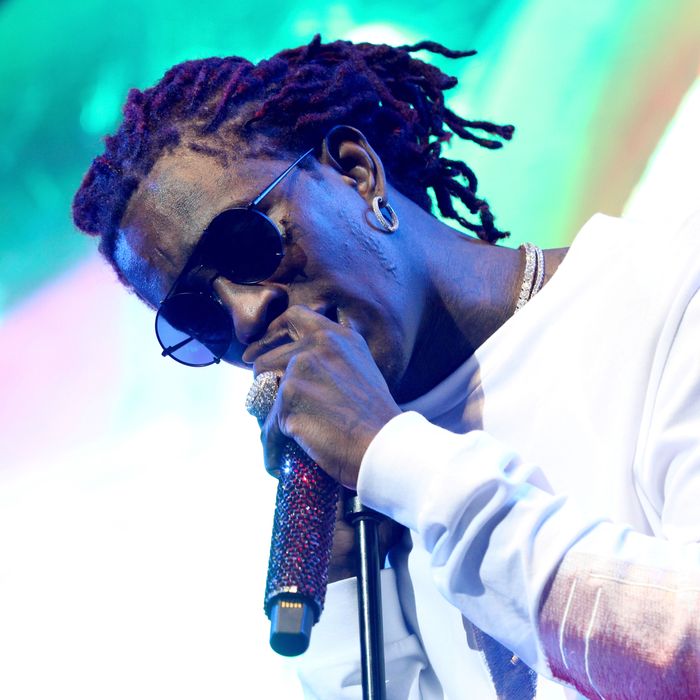 Photo: Bennett Raglin/Getty Images for BET
On Sunday night, Atlanta rapper Young Thug released On the Rvn, about 14 days after he tweeted "Album in 2 days," announcing its title as On the Run in the next tweet. In the end, pretty much everything changed, from the title to the date to the type of release, now an EP: With six songs clocking in at 21 minutes, it's shorter than the seven-song albums Kanye West has been releasing this year, or for that matter the eight- and nine-song collections Young Thug released in 2016. Still, if it's not too little, too late, it might please fans who were expecting last month's Slime Language to be a solo album, only to end up with a collaboration-heavy showcase for artists from his YSL label (that arrived a week after its announced release date, naturally).
Erratic, unpredictable release schedules have become the norm in hip-hop in 2018 — Young Thug's biggest influence and sometime rival, Lil Wayne, just missed yet another announced date for Tha Carter V on Friday, while several of Kanye's five weekly mini-albums arrived hours or a day or two behind the week's new releases. Nicki Minaj's Queen was pushed back a week, and then ended up coming out on its original date anyway, only about 12 hours late. At one point, big artists releasing surprise albums was the new normal, but we seem to be back in the mid-2000s heyday of constantly shifting release dates, with a streaming-era twist.
Of course, Young Thug's On the Rvn appears to have been conceptualized on the fly anyway. The rapper announced its existence the day after a warrant was issued for his arrest in DeKalb County, Georgia, stemming from drug and gun charges from an arrest last year. He didn't really go on the lam, though: Over the next few days, he turned himself in, and then was back out on bail. On the opener "On the Run," Young Thug declares "I'm on the run bitch, I just took off on the cops" over the sound of sirens, but it's the only song that refers directly to his predicament. As usual, we have no idea whether most of Young Thug's new music was recently recorded or comes from his notoriously large backlog of unreleased material.
Young Thug has a long history of confusing rollouts: Barter 6 was released in April 2015 on the tail of a lengthy promotional cycle that touted it as an album, but a day later Lyor Cohen, who runs 300, the label Thug is signed to, released a statement referring to it as a mixtape and touting his next release, Hy!£UN35, as Thug's actual debut album (a Hy!£UN35 tour followed in 2016 but the record itself never materialized). In February 2016, the day before his Slime Season 3 mixtape was due out, he abruptly changed the title to I'm Up (and changed the cover art hours after it hit iTunes), releasing another project as Slime Season 3 a few weeks later. In April 2017, Young Thug tweeted that Drake was the executive producer of his next album, but Beautiful Thugger Girls arrived two months later with no trace of Drake's involvement. All along the way, he kept promising to change his MC name to 'No, My Name Is Jeffery' or 'SEX,' only to remain Young Thug. For his fans, the next release is always gonna be the big one, until it isn't.
On the Rvn is, if not an album, then at least pretty potent for an EP. Half the beats are from London On Da Track, the Atlanta producer behind some of Thug's biggest hits, with "Climax" combining acoustic guitar and rising R&B star 6lack with Thug beatboxing on record, for the first time in his career. "Sin" features one of the weirdest young rap stars who isn't Young Thug, show-business scion Jaden Smith, to surprisingly good effect. And the closer "High" is the long-awaited collaboration with Elton John, who has been singing Thug's praises since 2015.
"High" was recorded in 2016, and leaked last month labeled a remix of John's classic "Rocket Man." Truthfully, it's neither a remix nor a proper duet — John's vocals are from the 1972 original, although it's unclear if he played the new piano parts on the track — but the results are surprisingly beautiful. In the three decades since Run DMC met Aerosmith, lots of young rappers and old rock stars have reunited for overhyped collaborations, but few of them have the simple unforced charm of "High." It sounds like that crossover hit Thug has been waiting for.
September 2018 marks five years since the first mixtape appearance of "Stoner," the song that spurred Young Thug's rise from the Atlanta's trap-rap underground to a mainstream star that regularly makes appearances on the Hot 100. At the time, he was the squeaky-voiced weirdo with androgynous fashion sense who drew sharp criticism and homophobic dismissal from rap's more conservative circles. But in the half decade since then, he's become a treasured and acclaimed rapper who commands the enthusiasm of fans and critics like few others. J. Cole, rap's most staunchly traditionalist current superstar, called Young Thug a genius this year, and the two have been touring arenas together for the last couple months.
But the mercurial public persona that feeds Young Thug's mystique has also stymied his career progress. "Stoner" and the two other hits that drove his ascent, "Danny Glover" and Rich Gang's "Lifestyle," never appeared on a full-length album or mixtape — 2014 belonged to Young Thug, but contractual confusion over which label held the rights to release his music prevented an album from reaching stores that year. Most of the half-dozen projects he's released since then have been light on mainstream hits — 2015's platinum single "Best Friend" appeared on Slime Season, a mixtape without a proper retail release. And 2016's Travis Scott collaboration "Pick Up the Phone" appeared on both Thug's album Jeffery and Scott's far more successful Birds in the Trap Sing McKnight. While his closest contemporaries Future and Migos rack up multiple-platinum albums, Young Thug still doesn't have so much as a gold album.
2018 has felt like an inflection point for Young Thug, the juncture where he'll either become a major star or start becoming more of a symbolic figure like faded stars often do. It already feels like his influence is becoming more ubiquitous than his own voice — two of 2018's breakout rap stars, Atlanta's Lil Baby and Memphis's Gunna, are heavily influenced by Young Thug's delivery. Gunna is part of Thug's YSL label, and both appear on Slime Language's hit single "Chanel (Go Get It)," holding down the song's verses while Young Thug merely delivers the chorus. Twice this year, I've thought I heard Young Thug's voice on a superstar's album only to realize that someone else was trying very hard to sound like him — Drake on "Mob Ties," the most popular non-single from Scorpion, and PartyNextDoor on "Wouldn't Leave" from Kanye West's Ye.
This year, Young Thug appeared on two No. 1 songs on the Hot 100 in a supporting role — his featured verse on Camila Cabello's "Havana" was one of the more mild-mannered cameos he's ever made, and he was the most prominent of several uncredited rappers, including Quavo and 21 Savage, whose ad-libs and background vocals populated Childish Gambino's viral hit "This Is America." The song and video felt a bit like an unofficial companion piece to Atlanta, twisting playful and familiar tropes of southern rap into something a little darker, although the video's violent imagery seems to do more heavy lifting than the song's minimal verses. It bears mentioning that Childish Gambino is up for Lyricist of the Year at the BET Hip-Hop Awards, though "This Is America" is the only rap song he's released so far in 2018 (Young Thug has never been nominated for the award).
At the end of "This Is America," Thug's voice comes to the forefront and he declares "America, I just checked my following list and … you muthafuckas owe me." In the song's air of coy ambiguity, the statement was widely taken to refer to the country's debt to black men. But in the context of Young Thug's career, it seemed appropriate for him, of all the men on the song, to say those words. In July he called himself "the drip god" on Instagram, crediting himself with opening doors for individuality in hip-hop: "I made the way for young n***** to open up and be they self. I did this. I got crucified."
One of the best songs on On the Rvn, "Real in My Veins," seems to comment directly on the state of Young Thug's career as he's lagging behind Travis Scott, whose popularity has exploded since the days when he needed a Thug verse on some of his singles to build his buzz. "Tell the critics that they talkin' about the fuckin' founder / Tell Scott I'm on the way."
We often hear that for all the music Young Thug has released, he has far more in the vaults. In 2016, he claimed to have "40 songs" with Kanye West in the can. This year, Lil Uzi Vert said he and Young Thug have "like 1,500 songs together." Dozens of unreleased Young Thug tracks were bootlegged in 2014 and 2015, many of which were given official release on his Slime Season mixtape series. By that measure, the six songs on On the Rvn seem like placeholders. But it also hits the mark far more than the other EP he released earlier this year, Hear No Evil, which featured three star-studded tracks that sounded like they aimed for the charts but missed.
One of Young Thug's mentors, Gucci Mane, experienced many personal setbacks during his creative prime that held him back from greater commercial success. His music isn't as good as it used to be, but the rap game that he'd help shape was so grateful to have him back that Gucci wound up with the highest-charting albums and singles of his career. At 27 years old, it seems far too early to proclaim Young Thug an influential elder statesman like Gucci, watching his creative progeny outperform him on the charts. But if he keeps up these confusing, scattershot releases, he'll probably never get a moment of his own.