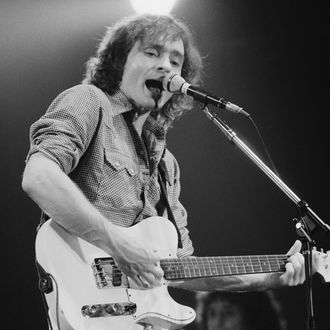 Photo: Michael Putland/Getty Images
Marty Balin, founder of '60s rock group Jefferson Airplane, died Thursday at the age of 76. A representative, Ryan Romanesco, confirmed his death to the New York Times, noting that the musician had died on the way to the hospital, but declining to give a cause of death.
Alongside lead singer Grace Slick and guitarist Paul Kantner, Balin provided vocals for one of the most influential psychedelic bands of the era, in addition to owning San Francisco nightclub the Matrix, where Jefferson Starship was initially conceived as a something of a house band. A member of the group during festivals like 1969's Woodstock and Altamont, Balin left Jefferson Airplane in 1971, only to be persuaded to return in 1974 when members of the group reinvented themselves as Jefferson Starship, becoming a full member in 1975.
Having written and sung one of the group's biggest hit, Miracles, Balin eventually left Jefferson Starship in 1978, after the departure of Grace Slick. According to the Times, he subsequently turned down the opportunity to front the newly launched band Journey, choosing instead to pursue a solo career. Balin later played with members of Jefferson Airplane and Jefferson Starship for a number of reunion shows.