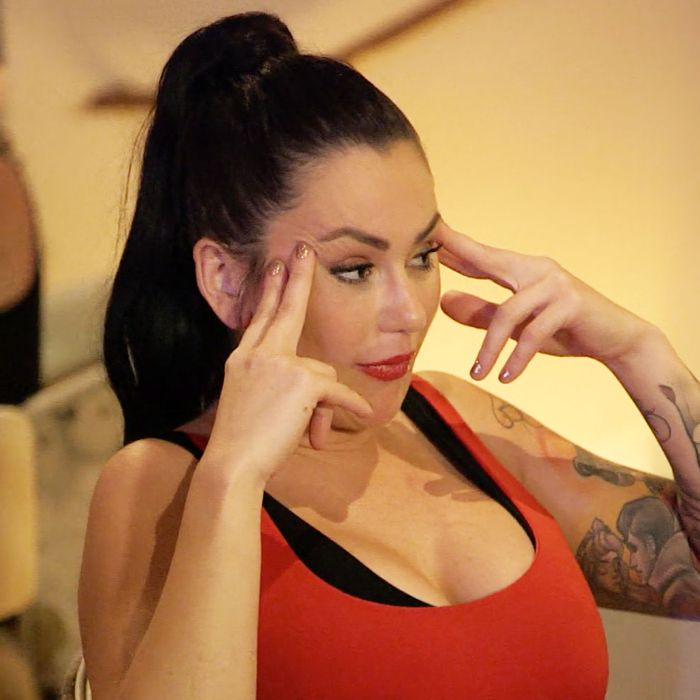 This very special Jersey Shore Family Vacation dispatch is brought to you from Vulture's satellite recap bureau on the actual Jersey Shore, where — given that it's mid-September — everything is gray and damp, and the vibe is more "Everyday is Like Sunday" than "Surfin' U.S.A." (To be clear, I am having a great time.) While the gorilla juiceheads may have entered hibernation, the Wawas, blissfully, remain plentiful.
Far away in Las Vegas, Seaside Heights' own Anastasia Romanov has returned to the royal court to assume her rightful mantle as the gang's bratty, pants-pooping scamp of a little sister. Jenni, who's barely acknowledging Angelina's existence, is irritated with Nicole both for inviting her and being friends with her at all; Nicole is frustrated with Angelina, her guest, for coming in so hot; Angelina is, well, coming in extremely hot, and if you take a drink every time you hear the phrase "coming in hot" on this television show, I will be sure to send flowers to your grave, because you will be dead.
Like Jenni, I was under the impression that they'd made up in Miami; unlike Jenni, I am not convinced that such an obvious pun as "Jersey Whore" is the gravest insult in the history of human communication, even if it was objectively uncalled for. Their beef remains unsquashed, and if it continues to be stored at these warm temperatures, deeply unsanitary.
Angelina finally semi-apologizes for slapping Vinny, more or less only because she can't abide having two roommates despise her at once. "It was a fun slap," she objects. "It wasn't anything crazy."  Ron suggests that Vinny and Angelina have "one more hate-bang to get out" (dedicated students of Jersey Shore will recall that our resident Staten Islanders had sex way back in season two, during which time Angelina was dating Jose, who bought her a Fossil watch, can you believe) which he predicts will occur within the next 36 hours. But Angelina is engaged now, and more pressingly, as she tells Vinny, "Honestly, I don't remember your dick." This is the closest Jersey Shore will ever come to Don Draper telling Ginsberg, "I don't think about you at all." Vinny compares his member to an eggplant, a can of spray paint and AriZona iced tea, but fails to refresh her memory.
In the all-girls car on the way to a (sure) Giada de Laurentiis restaurant, Angelina maintains her "Jersey Whore" volley was in response to Jenni calling her a "dirty hamster," and also that her frenemy was, in fact, "acting like a fucking whore." This launches a debate about the important semantic distinctions between whore and bitch, until Angelina relents. "You're a mother," she says. "So you're not a whore. You're a bitch, there you go." This is as close as we're going to get to a ceasefire.
Over dinner, Angelina enters full hyper goofball mode, which I personally find charming, perhaps because I am watching it on TV and not sitting next to her wondering if she's going to get us all kicked out of the restaurant. "We're booby sisters and sex sisters," Angelina says of Nicole, realizing that they've both patronized the same cosmetic surgeon as well as Vinny's penis. Then she sets her sights on the artist formerly known as JWoww. "Show me your tits!" she chants over and over again, until Jenni gets up from her seat and takes a spare chair among strangers at a nearby table.
At the club, Jenni dodges Angelina when she tries to sit on her lap and when she tries to snap a selfie with her. Inspired by Nicole shoving ice down her own cleavage, Angelina decides to play the prank (well, if you can call it a prank) forward on Jenni, who flees the moment Angelina starts reaching for her boobs. Angelina chases Jenni across the dance floor, until finally — to the delight and confusion of the cheering clubgoers surrounding them — they're locked in a standing jiu-jitsu match, made all the more surreal by the big smiles plastered on their faces throughout. Jenni emerges the victor by no small margin, trapping Angelina in a headlock before releasing her with a half-hearted backhand to the cheek. Jenni, who apparently believed Angelina was trying to expose her boobs by force, tells Mike, "Bring me home or I'm gonna go to jail."
Early the next morning, a producer wakes Vinny up to give him the very sad news that his Uncle Sal has passed away (I know what you're thinking, and no, different uncle). He leaves for home, missing Pauly, who returns to Vegas shortly thereafter. The human prank that is Angelina pays off when he flips the lights on his room to find her nestled (or, in Nicole's words, marinating) in his bed. Who pranks the prank-war champion? Nicole does, apparently, "but I don't want him to get me back, because I hate pranks." For now, at least, Pauly is otherwise occupied, summoning guest services to change out his mattress and dump the bedding into a red hazmat disposal bag.
Whether her eating a burger and fries on the toilet last night was the cause or a symptom, Nicole is feeling off. Her secondhand tension with Jenni doesn't help, either. And so she decides to invite her best friend Joey, who proves his compatibility with this group by seemingly answering her FaceTime call naked, to come to Vegas. He gleefully accepts.
This, for Jenni, is the last straw in the novelty oversize fishbowl cocktail that is this vacation. She wanted family time; instead, she got Angelina and now Joey (no offense, Joey). And so she announces to the group that she's going home tomorrow. In response, Nicole storms out of the room. I hate it when Mom and Mom fight!