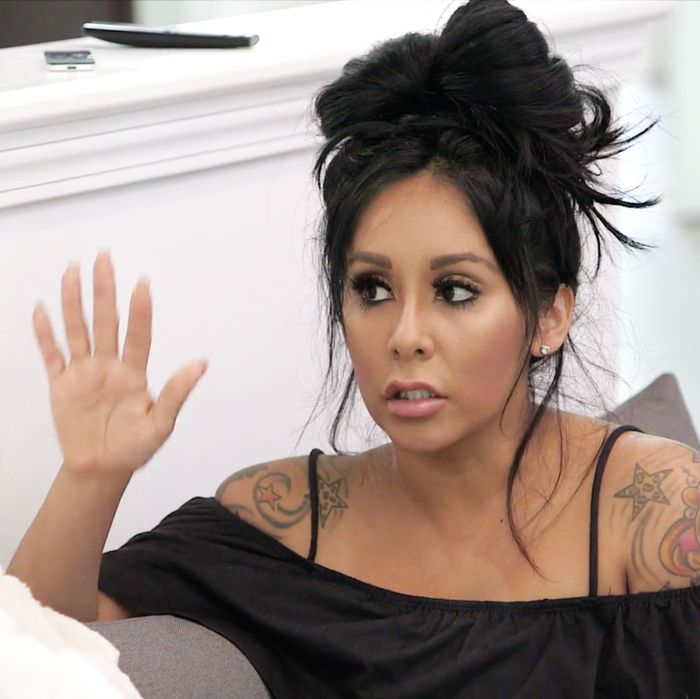 This is a strange episode in an already strange season, with our cast scattered to the four vaguely Hawaiian Tropic–scented winds. With Jenni, Nicole, and Angelina all back on the East Coast, the boys have Sin City to themselves. First up on the sexy stag-weekend agenda is an afternoon of baby shopping. Single-dad mode Ron has to set up his place to accommodate Ariana now that Jen has moved out. (They call this their "Four Guidos and a Baby" day, but I am disappointed to inform you that, in practice, it involves exactly zero infant sightings.)
At a very cute baby store, Pauly picks out same the piggy bank he got for his own young daughter. He also aggressively and repeatedly emphasizes the "J" in Babybjörn and slaps cartoon stickers of his face onto a product — and, when she objects to this, onto the back of a shop employee who definitely deserves a raise.
Jen may have left the house she shared with Ron — the "war zone," as Pauly puts it — but the ghost of her lingers in the form of (at least) two smashed-up TVs. As they unload their purchases, setting up mobiles and stacking neatly folded blankies, Pauly, Mike, and Vinny mess around on the "famous" staircase where Jen streamed one of her many fights with Ron on Instagram live. "It's like a museum of bad decisions," Vinny says. But beyond the obligatory ball-busting, there's at least one real moment of catharsis brought about by the decade-long friendships here, when the dudes help lug one of the trashed TVs out to the curb. Also, less movingly but still notably. Mike stuffs a Babybjörn with a bag of chips for convenient snacking.
At dinner, Pauly clinks his glass and makes an announcement: He and Vinny are having a "bromittment ceremony." Okay. "He said yes!" Pauly screams into the restaurant, over and over again, to reluctant applause from their fellow diners. Family Vacation season two is beginning to feel like a tired parent coming up with activities to busy their fidgety kids on the last days of summer break. Okay, let's go buy diapers! Okay, let's go to a buffet! Okay, let's get married, sort of! Maybe they need a vacation from this vacation, and maybe, so do I.
They hightail it to a wedding chapel with the ambiguous and perhaps even vaguely ominous name of "A Special Memory." "Do you do bromittment?" Vinny asks the woman at the front desk. "Um. Do you guys wanna hear a little bit about our packages?" replies the second person featured in this episode who definitely deserves a raise.
They opt for the Endless Love package, with a ceremony presided over by an Elvis impersonator. Pauly dons a borrowed blazer; Vinny wears a tiara and veil that I assume are also borrowed, although let the record reflect that this is not stated explicitly.
Designated flower girl Mike — keeping a tight grip on the box containing their complimentary cake — needs to work on his technique, throwing the petals directly over himself so that they all land on his head. (If you are wondering whether Mike will make it through the entire ceremony without forking some buttercream into his face hole, he will not.)
We're treated to a montage of bromantic moments from the history of Pauly and Vinny's onscreen friendship, and while the whole imagine two dudes getting married, how kooky would that be premise is more than a little tiresome, at least they seem to be genuinely enjoying themselves. "You're orange, I'm pale. You have muscles, and I don't," Vinny tells his bro-to-be at the altar. "But at the end of the day, you're the ying to my yang, and I want to do T-Shirt Time together for the rest of our life." I'm getting married in six months and I think my vows just wrote themselves. Not-Elvis pronounces them "brother and brother" and they hug. In the obligatory gazebo outside, they pop bottles (or at least, bottle, singular) to celebrate.
Back in the Garden State, Jersey Shore's other OTP takes steps toward jamming the two halves of their figurative BFF necklace back into one shiny heart. Nicole arrives at Jenni's house with a peace offering in the form of booze — this is the longest they've gone without speaking. Jenni accepts that she should have been better at communicating just how upset she was at Nicole for failing to send her a Mother's Day video rather than letting her resentment fester. (If Nicole apologizes in return, I don't think it makes the edit.) Jenni swears to never not tell her best pal anything ever again, the sweetest tongue twister I've ever heard.
With that fight healthily resolved, Nicole is off for a Pretty Woman makeover scene, taking Angelina shopping in the hopes of transforming her personality into something altogether less, I don't know, befitting a sentient trash bag. "Her dressing that way will actually put her mood hopefully in a classier way. That's what happens to me," explains Nicole, angling compellingly for a guest spot on Queer Eye. Then Nicole calls up Jenni and lovingly berates her into making lunch plans with Angelina. But will a diplomatic summit between the delegate from Jersey Whore and the Staten Island Dump ambassador accomplish anything in this tense political climate?
The boys' last stand in Vegas takes them to, where else, Swim Night at Drai's. Pauly invites a surely fire-code violating number of bikini-clad girls into their cabana. (Tag yourself, I'm the woman in the black one-piece looking exhausted as the guys shout "thot tub!" and "Thotchella!" over her head.) This may sound like something Donald Trump would tell an extremely baffled reporter about NATO, but New Mexicans are the new Canadians. Vinny and Pauly manage to befriend four gals from the Land of Enchantment. I know I am old because I am horrified that the four women coming back to the hotel don't seem to be wearing anything but damp swimsuits (I suspect shoes are also too much to ask), and they must be freezing to death in the taxi AC. "I can't stop shaking my ass," one of them says, and maybe that's just the shivering.
The New Mexicans waste no time in conquering the stripper pole in the living room shower and twerking all over the suite like they're marking their territory, with various exposed body parts obscured by censor bars. Mike, betrothed to the fair Lady Laurens, spends most of the evening see-no-evil-ing with his hands over his face. When of their guests asks him if he wants to "play," Mike responds frantically, "No no no no no no," and it would not surprise me if there were many more no's uttered at frequencies not perceptible to human ears. Ronnie (who is … single? Not single? Sort of single?) also resigns himself to observing from a distance, albeit more gleefully, especially when one woman takes it upon herself to climb into his lap.
The one woman who doesn't end up in bed with Vinny and/or Pauly in their joint sex dorm room happily dines on late-night burgers and fries with Ronnie and Mike. In what may be a last-minute play for the Prank War Championship belt, Big Daddy Sitch encourages her to interrupt whatever acts of coitus are in progress behind closed doors by offering her friends food.
Predictably, her three hungry friends defect quickly from the bone zone.
"It's my birthday! It's my birthday!" one of them cheers while she digs in. "Oh, good for you," Mike says. Happy birthday, ma'am.