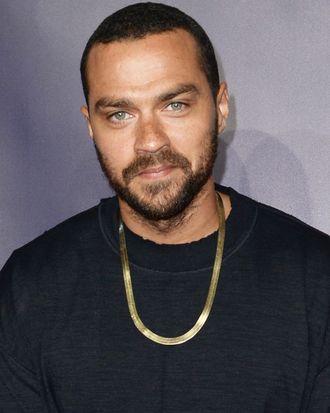 Photo: Andrew Toth/Getty Images for The Webby Award
The light-skin Lord giveth, and the light-skin Lord taketh away: Jesse Williams is facing backlash online after posting a meme (?!) to promote Till, his directorial debut. On Monday afternoon, Williams framed photos of Emmett Till's mother Mamie Till-Mobley after the Colin Kaepernick Nike ads to, effectively, meme Emmett's death and Mamie's mourning. "Believe in something. Even if it means sacrificing everything," reads the black and white images of Till-Mobley crying.
Williams announced Monday that he would direct Till, a feature based on Keith A. Beauchamp's 2005 documentary The Untold Story of Emmett Louis Till. The movie will focus on Till-Mobley's fight for justice after her son was brutally murdered after being accused of flirting with a white woman. Per Deadline, Whoopi Goldberg will produce and act in the movie.
Williams deleted the tweets promoting the Till announcement later on Monday afternoon. Production on Williams's movie is expected to start next summer.
Update, September 26: Jesse Williams has apologized for meme-ing Emmett Till's death. "While some clearly understood my intention and its connection to Mamie's real life, many didn't," Williams wrote. "As much as I'd like to address what my intentions were and the meaning of those images, it's more important that I first acknowledge that I seem to have offended and possibly hurt some of the very people I aim to uplift."