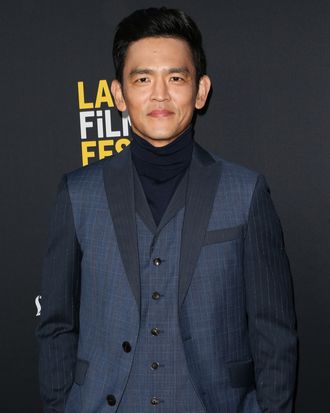 John Cho.
Photo: Paul Archuleta/Getty Images for Film Independen
Post-Searching, John Cho is co-starring in Ike Barinholtz's political comedy The Oath. When the Barinholtz character refuses to sign a national declaration of loyalty to the president, Cho plays a government agent who comes knockin'. Cho is characteristically good at playing the calmly unsettling agent who arrives without warning, and the goofy role was a good time. "When I was younger I was just really worried about the next job, and now it feels like I'm allowing myself more to think about what would be fun, what would be a crazy situation — what would you have never thought about doing when you started 20 years ago?" he told Vulture at The Oath's L.A. premiere at the ArcLight Hollywood. The movie definitely fits those descriptions: Cho crashes a family's Thanksgiving festivities and gets into a fistfight with Barinholtz in the living room.
"I honestly can't believe I'm in that place, not that I'm an A-lister and can green-light anything I want. It's just sort of my mind is opening up to things I want to say and do," Cho continued. "I'm more in this space now where I'm evaluating projects based on this rationale: Is there a reason for that to be here? Like, you look at a television show and you go, 'Does that need to exist?' But if I feel like, 'Yes, it needs to be made,' then that's exciting for me."
As a younger actor, Cho says he didn't have the same luxury: "When I was young, I didn't think that way because I couldn't afford to."
Reporting by Scott Huver.