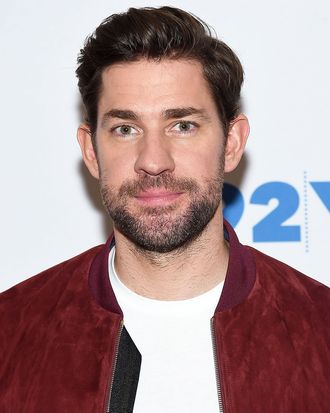 John Krasinski.
Photo: Jamie McCarthy/Getty Images
You don't have to be a TV star to know that it often takes a new series a few swings and misses before landing on its feet. Need proof? Look no further than John Krasinski and his Jim Halpert on The Office. In conversation with Stephen Colbert as part of 92Y Talks last night, Krasinski covered a lot of ground, reflecting on his summer smash A Quiet Place, his starring role in Amazon's new Tom Clancy's Jack Ryan, and, yes, his days of yore on The Office. While the series went on to become a genre-defining docu-comedy and must-watch TV for NBC's Thursday night lineup, Krasinski admitted that it wasn't smooth sailing from the start. He remembers the pilot, for instance, not really having an identity of its own — it was too exact a translation from Ricky Gervais's British comedy of the same name.
"If I'm honest, I remember the pilot of The Office was word-for-word the British show at the time," he said. "It made no sense to any of us because I think there are actually British jokes in there that don't even apply [to Americans]." That's of course not to disparage his first days on set, though; The actor clarified that just being there "was amazing as a family and as a group and as a circus, and I'll never forget it." But it wasn't until the American series' second episode, "Diversity Day," that he knew he was a part of something special. Sitting with Colbert, he cited that fan-favorite installment as his favorite of The Office's nine seasons.
"B.J. Novak wrote 'Diversity Day,'" Krasinski said to a round of applause in the 92nd Street Y auditorium. "I remember that day when [the diversity sensitivity counsellor played by Larry Wilmore] comes in and says, 'My name is Mr. Brown,' and Michael says, 'I'm not gonna call you that.' It was that moment combo'd with Kelly slapping him [for his impression of a bodega owner] where I said, 'Oh my God, we're a part of something totally unique — and I don't think anyone will watch this. But I knew it was really good and I [remember thinking] we were a part of something special."