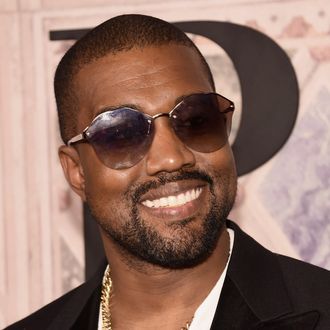 Kanye West.
Photo: Gary Gershoff/WireImage
Vulture here, your one and only source into the scandalous party shenanigans at New York Fashion Week. First we had Cardi B and Nicki Minaj getting into some potential fisticuffs action at Party A on Friday evening, and now over at Party B, Kanye West and his dragon energy are throwing journalists out for their uncouth lines of questioning. Such a report comes from THR, who writes West was approached by a female journalist at Ralph Lauren's 50 year anniversary (this detail is important for later) to ask him about Tyson Beckford's recent social media back-and-forth with his wife, Kim Kardashian. (Long story short, it's a mini-feud that involves everything from body shaming to sexual history.) West, angry and believing this question wasn't in the spirit of Fashion Week, then demanded the journalist be booted from the party — or he would leave instead. "Ralph Lauren would be disappointed to have a journalist ask me questions like this at his show," West told the party's PR team, per THR. "Either she leaves or me, you decide."
Further expressing his anger, West left the party until his team received confirmation that the journalist was indeed kicked out. Good thing he came back, because he then got to sit with [Drake & Josh voice] Oprah!!!
And Hillary Clinton. What would his buddy Trump say?