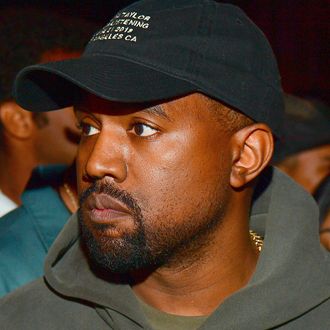 Kanye.
Photo: Prince Williams/Getty Images
Kanye is out of the Sunken Place and fallen into an even deeper depressive hole: Instagram. He recently wiped his whole page clean and revamped it with snapshots from his daily life back in Chicago, and sometimes that means casual strolls underneath the train tracks to get a few things off his chest — namely, all the men who've recently wronged his wife. "First of all I wanna address Nick Cannon," he begins in the first of four videos, explaining that he wanted to talk about things that haven't been "sitting right with his spirit." He tells Cannon not to speculate in interviews about Kim Kardashian's sexual history, which Cannon (who formerly dated Kim) recently did when he said he thought Kim slept with Drake, which Kim strongly denied.
Which leads us to Kanye's second video, where he says that Drake should've shut down that rumor himself immediately. "It's people making rumors or thinking that you fucked my wife and you're not saying nothing," he says. "If I had a girlfriend from Chicago and her name was Renita and you were married to Rihanna, I wouldn't make no song called 'RiRi.'" He's referring to the fact that Kim's family nickname is KiKi, which could've been confused for the KiKi named in Drake's song "In My Feelings" that fueled the rumors.
His final words are for Tyson Beckford, who body-shamed Kim on Instagram: "Don't speak on my wife, bro. None of y'all speak on my wife, period. What is you talking about? I'm married. We're in love. We're a family." He added, "As men, all three of you, come to talk to me. We'll work it out. We'll come to a resolution." Kanye says he took to Instagram to criticize them publicly because none of them got on the phone with him to discuss their issues in private. A real Gandhi, indeed.