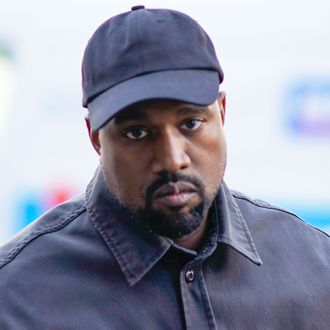 Ugh.
Photo: Edward Berthelot/GC Images
This Saturday Kanye West will release yet another album, which inevitably means he has opened his mouth to the media to promote it and nothing but word vomit has spewed out. Kanye stopped by the offices of The Fader on Thursday for … well, who can really be sure? They report that he previewed new music off Yandhi, revealing that Tekashi 6ix9ine and XXXTentacion — SoundCloud rappers accused of varying degrees of abuse — will both be featured on the album (the latter posthumously). And he's awaiting vocals from Rihanna for the hook on a song. But, mostly, he came to deliver his version of a TED Talk. Wearing a MAGA hat once again — which he said he redesigned and "put positive energy into" — paired with, of all things, a Colin Kaepernick sweatshirt he also said he designed that morning, Kanye somehow out-Kanyed himself.
Among his many talking points, Kanye said he would've preferred Louis C.K., another abuser, host SNL this week (where he's performing) instead of Adam Driver. He considers Donald Trump and alt-right loudmouth Alex Jones "matrix-breakers." If Kanye had been a slave — a choice, remember — he said he would've "run, fought, or got killed"; also one of his new songs reportedly contains the lyric "I'm giving up my slave name." (Meanwhile, Kanye apparently thought there were only 800 slaves in the 1800s — try 3.9 million.) And, if you're still with us, Kanye also said he believes that when a woman undergoes plastic surgery, her "pussy count goes back to zero." He's even made a whole song with 6ix9ine about this theory, as it relates to the dictionary definition of "artificial," apparently. Anyway, how's your week going?
Update, September 28: Following Kanye West's visit to The Fader, the magazine has removed the rapper's quotes about Donald Trump and Alex Jones. Per the eagle eyes at Spin, West's quote calling Trump and Jones "matrix-breakers" is no longer in The Fader's coverage of Kanye's trip to their office, and there isn't an editor's note addressing the edit.