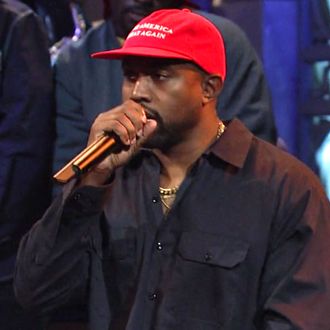 You know how at the end of every SNL episode, the cast and host all get together and hug as slow piano music plays and people wave and it's all nice? In SNL's season 44 premiere, that warm and fuzzy stuff was replaced with Kanye West performing "Ghost Town" with Kid Cudi and 070 Shake while wearing his Make America Great Again hat. Man, he really loves that thing. West did begin to invite the cast up on stage with them toward the end, but the broadcast abruptly ended just as Pete Davidson and Heidi Gardner stepped out. Apparently after the TV cameras turned off, though, Kanye did what Kanye does and decided to share some thoughts with the audience, who reacted with a mix of firm claps and boos. This included Chris Rock, who captured parts of it in his Instagram stories, while other users also posted bigger clips of the speech. Here are as many as we could find, posted in an order that makes about as much sense as we could manage:
Update 9/30 11:12am: Cast member Chris Redd, who is quickly making a name for himself as a man who has no time for this, tweeted shortly after the show ended to make his feelings on the incident known. "I wasn't on stage for that," he wrote, with a middle finger emoji to hammer the point home.
Update 9/30 12:18pm: Kanye is awake and offering up his version of events, which is that everything went great and was so much fun! He says Lorne even invited him back to host! Which, hey, wouldn't even be the most controversial hosting choice they've made.
Update 9/30: Meanwhile, over on Instagram, Michael Che weighed in with what everyone was thinking as they waited on-stage for Kanye to complete his lecture.