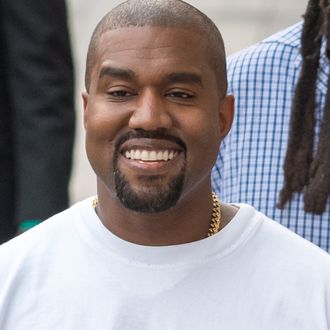 West.
Photo: RB/Bauer-Griffin/GC Images
Thursday night saw the debut of the world's first ever Pornhub awards with creative director Kanye West, streaming live on both Pornhub and wegotlove.com. Not only that, but Yeezy himself performed at the awards, along with Teyana Taylor, Young M.A, Blackbear, and Dana Dentata. West also premiered a music video which he co-directed (and executive-produced by Spike Jonze) for a new song featuring Lil Pump called "I Love It." All this whilst honorees accepted monsterish dildo trophies, designed by West himself, on a set surrounded by giant video screens that played works from the artist Richard Kern. It looked like an episode of Black Mirror but, like, with porn (the show was actually designed in collaboration with West's DONDA creative house and Willo Perron, the man who most recently served as creative director for Jay-Z's 4:44 album.)
Young M.A was even presented with a young visionary award following her performance, and when we say these were monster dildo trophies we aren't being juvenile, according to the press release: "Kanye has designed a bespoke erotica-inspired award statue for each of tonight's unique categories. In line with the futurist theme, the award statues represent imagined alien sex toys." Oh, Kim Kardashian did not win 'Celebrity of the Year' though, even with her husband at the helm of the show, so at least we can be sure none of this was rigged.
Yeezy also provided wardrobe and styling for all the night's presenters (including the presenter who appeared naked, at Kanye's instruction.) You can see some of the awards in some only slightly NSFW photos and videos below.
As part of the event, Kanye also debuted a song called "I Love It" featuring Lil Pump, for which he later dropped a baffling music video. Wild!