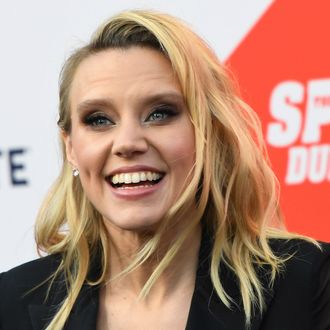 McKinnon.
Photo: MARK RALSTON/AFP/Getty Images
Sorry, brunette performers of the world, but this is a Fox News sexual-harassment drama we're talking about. Deadline reports Saturday Night Live star Kate McKinnon is the latest actress to join Charlize Theron, Nicole Kidman, and Margot Robbie in director Jay Roach's upcoming Roger Ailes movie. It depicts the downfall of the Fox News chairman and CEO, played by John Lithgow, and the time leading up to his resignation in 2016.
Former Fox & Friends anchor Gretchen Carlson, portrayed in the film by Kidman, sued Fox News earlier that same year after being fired, saying her dismissal was an act of retribution by Ailes for rejecting his advances, inspiring other women to come forward with allegations of sexual misconduct. According to Deadline, McKinnon will play a producer character not based on a real person. So, yes, technically she didn't have to be blonde, but they were going for verisimilitude here.